Past Event
Ronald Lockett—Once Something Has Lived It Can Never Really Die: The Studio Education of the Junk House
MARCH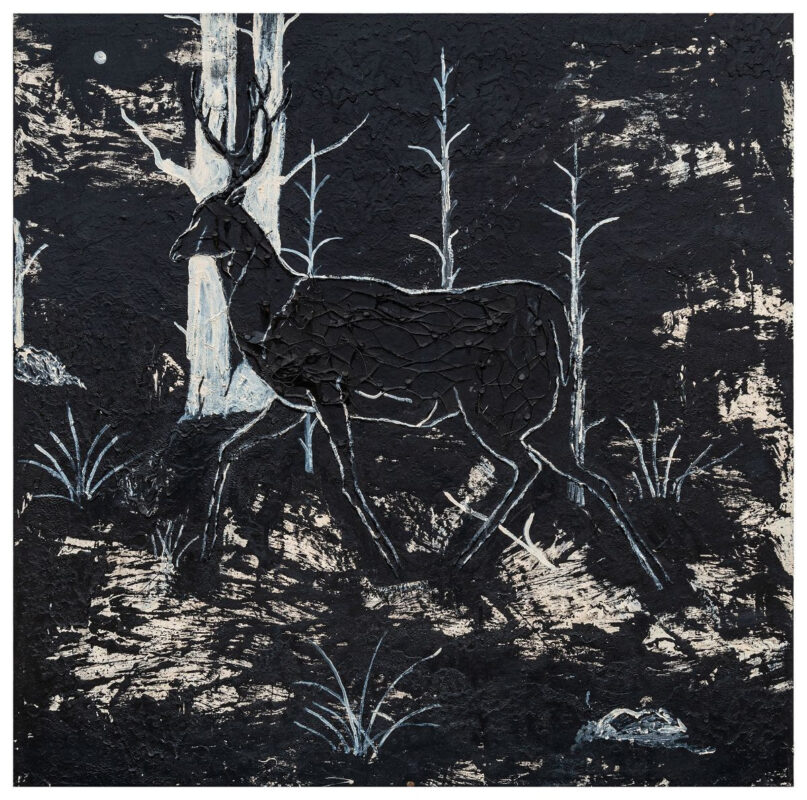 Ronald Lockett, Instinct for Survival, 1991, enamel and wire on wood panel, 48 x 48 x 2 inches.
MARCH is pleased to present Something That Has Lived Can Never Really Die: The Studio Education of the Junk House, an exhibition of assemblages and paintings by Ronald Lockett. Divided between the gallery's two spaces, the fourteen paintings installed here provide the viewer with a cursory view of the artist at the height of his powers.
A Black deer wanders alone in a sparse forest, its body pierced by nails and metal fencing, led only by instinct and the dim light of a painted moon. The year is 1991 and David Lockett, the artist's brother, has been captured at the onset of a new war, seven thousand miles away in Iraq. Powerless, but not without an implicit understanding of survival, Ronald Lockett articulates a desperate prayer in the form of a painting—a guiding force and talisman for his brother's safe return—an Instinct for Survival.
Lockett created dozens of works employing the symbol of the deer in the first years of his artistic life, a creative avatar to express the complicated realities of his existence in Bessemer's Pipe Shop. Deer are virile, noble, and stealthy, but also gentle, delicate, and unusually attuned to their surroundings. Their senses are heightened: they see better; they hear better. They are hunted by all. During the life of a buck, his antlers are shed only to grow again. In this regard, they are symbols of regeneration, of rebirth. Buck also happened to be the nickname of the artist's older cousin and artistic mentor, Thornton "Buck" Dial who provided Lockett with both inspiration and creative refuge at a formative moment in the young man's life.

In 1987, Ronald Lockett made the life-affirming decision to forgo a formal art school education and work alongside Dial in the studio affectionately and strategically called the junk house, a ramshackle outbuilding behind Dial's home. It is here that Lockett developed his visual language: deer, wolves, antelope, bison, and other endangered animals—potent symbols of nature's majesty but also man's cruelty—are joined by three-dimensional meditations on the Holocaust, the activities of the Klan, the Oklahoma City Bombing and other mass tragedies. Menace and threat are counterbalanced by utopian visions, metaphor-laden self-portraits, and the omnipresent potential of rebirth.

Ronald Lockett (1965-1998) was slight of build and sentient to the point of grace. He grew up in the wilds of post-industrial Bessemer, Alabama where he lived with his mother until her death and remained in his childhood home until his own untimely demise, the result of AIDS-related illness. The basic circumstances of his life are important to note as the artist never spent more than a few weeks away from his childhood home but was able to mine far-flung histories, both personal and shared, with deference and aplomb. Lockett, somewhat precariously, existed in a historical crossroads between two generations, after the great mid-century social movements had ended and just before the dominance of urban culture and television. He was a unique talent, influenced equally by Dial and Bob Ross, who he watched paint on television, incorporating some of the celebrity's techniques into his own work.

Ronald Lockett: Once Something Has Lived It Can Never Really Die: The Studio Education of the Junk House is divided between the gallery's two spaces representing the yin and yang of being: night and day, tragedy and triumph, suffering and redemption, death and resurrection. Despite an overwhelming sense of being trapped, he was able to imbue his work with unrelenting sensitivity and depth through visual moorings to a much larger world. The fourteen paintings installed here provide the viewer with a cursory view of the artist at the height of his powers. All attest to the fundamental nature of man, alone in the wilderness, beguiled in equal measure by threat and beauty—an open prayer to the void.

---