Upcoming Event
Russell Sharon, Roots: A Retrospective
Randall, MN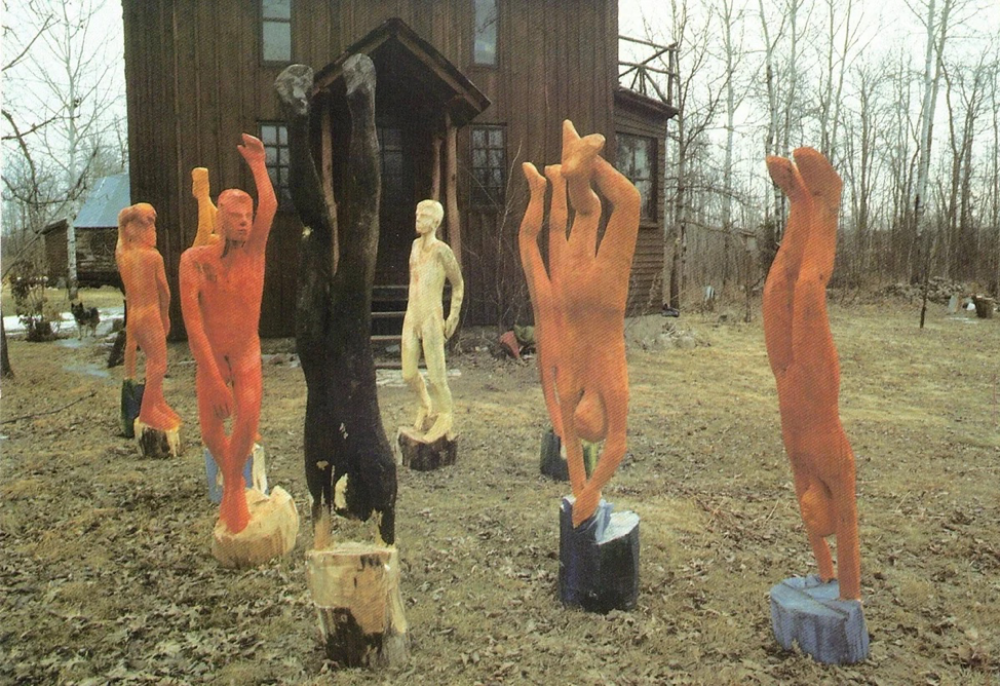 Chainsaw People, c. 1985. Painted carved wood, lifesize.
With paintings and sculpture in private collections and museums worldwide, legendary Morrison County native opens his studios and sculpture garden inside his magical rural compound
In "Roots: A Retrospective" October 14-15, Russell Sharon explores his lifelong obsession with wood, showcasing sculptures from New York, Miami, and Mexico City alongside dramatic newly found art pieces from his fields: rebalanced branches called "Debutantes" -- and portents of what's to come -- upended tree trunks.
Whether working with thick metallic wire, tree branches, or canvas, Russell Sharon's painting and sculpture are magically grounded in the natural world and will be prominently on display throughout his rural compound near Randall, Minnesota, in Morrison County October 14-15 with "Roots: A Retrospective." Sharon's original hand-built home and art-filled gardens are filled with studio buildings and man-made and natural outdoor sculptural settings, in a world that lies just down the road from the family farm where he was raised and immersed in the material and spiritual wonders of the natural realm.
"I grew up totally obsessed with nature, and the trees – what a tree smells like, what it does for a human, the warm little bubbles of inspiration that come to you when you pay attention to them," Sharon says. "I like to see what happens when Mother Nature — that's what I call the forces of nature — is acknowledged as being a part of things."
Sharon says his young life was saved reading the transcendentalist poet and philosopher Ralph Waldo Emerson. Whether by coincidence or twist of fate, Sharon would later learn Emerson was a distant relative.
Although Sharon lived in New York in the 1980s during the peak of the East Village art scene, art critic Carlo McCormick observed that Sharon's work has always remained taken inspiration from his coming of age in Morrison County. His resume includes an expansive 1988 exhibition at the Center for the Fine Arts in Miami, as well as gallery exhibitions in New York, South Beach, Miami, and Rome, Italy.
Residing in New York during the late 1980s, Sharon lost many close friends and members of his artistic community to the AIDS epidemic. Today, Sharon's full creative life in Morrison County is framed by sharing his sorrow about environmental degradation, plus the joys found in nature, and his experience as an HIV survivor.
With the new "Roots" exhibition, the artist will feature early "chainsaw sculptures," diving figures created from dead Dutch Elm trees given new life by the artist. Also, on view are metal sculptural "doodles" and stunning new works: whole tree trunks dramatically upended and replanted with their roots facing the broad sky overlooking Sharon's 100- acre property, where Minnesota's western prairie grasses and rolling fields meet northern hardwood forests, scenic ponds and lakes. The root-exposed trunks look like birds aching to be freed into the sky, and or sacred crowns of Earth.
A serious but also whimsical complement to these majestic upside-down trees includes a collection of rebalanced tree limbs, which the artists calls "Debutantes."
"One day I started turning tree limbs upside down, and they looked so graceful and sexy. After assembling about 20 of them, I looked at them and thought they looked like debutantes and dandies, going to a ball," Sharon says. Referring to the work of Marcel Duchamp, Sharon added, "My work is all about found art, found objects. Only instead of something manufactured, it is something natural, something organic."



---