Past Event
Scarlet Letters: Performances by Timothy DuWhite and Jordan Arseneault
La MaMa Galleria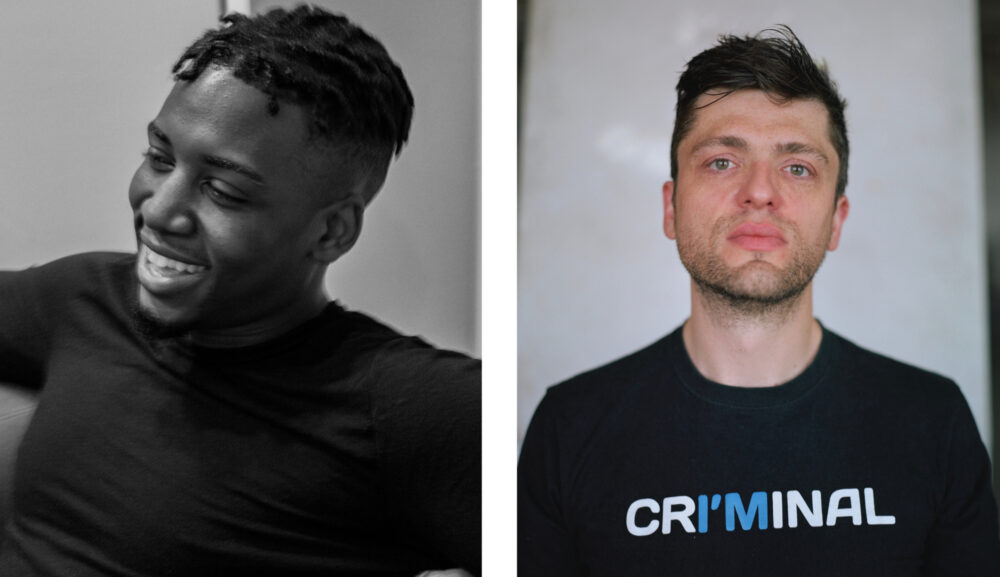 Left: Timothy DuWhite, photograph courtesy of the artist. Right: Jordan Arseneault, photograph by Jasper Lam.
An evening of performances by Timothy DuWhite and Jordan Arseneault with Mikiki reframing narratives of desire and criminalization, in conjunction with Visual AIDS' summer exhibition Cell Count.
In 1993, the artist Frank Green premiered The Scarlet Letters, a 90-minute performance discussing his experience of stigma and surveillance following a positive HIV test. Green incorporated over fifty published reports of legal action taken against people living with HIV in the performance, noting employment discrimination, denied travel visas, criminal transmission, forcible testing, enforced abstinence, and the refusal of medical care.
Inspired by this critical work of performance, Scarlet Letters presented work by Timothy DuWhite and Jordan Arseneault that considers HIV criminalization from the perspective of people living with HIV, shifting narratives away from intent and criminality by considering desire and self-worth. Timothy DuWhite performed an excerpt of Neptune, his one-man show premiering at Dixon Place in July. Jordan Arseneault performed The Two Steves' Lament with Mikiki, followed by a performance lecture on media coverage of HIV criminalization. After the performances, the artists discussed their work with co-curator Asher Mones in relation to the broader themes of Cell Count.

Timothy DuWhite, Neptune
On a journey where we all are given the chance to wrestle with the question 'What makes me hard to love?', a young, black, queer, HIV positive boy is lost on his way to a date. A date with who? His father? The cute guy at Popeyes? A white supremacist? God? Neptune can be described as a sexy bedtime story, a rumor, or that poignant thing your grandma once said. A poetic contemporary spin on the fairytale tradition, this performance exposes the violence, grace, humanity, prejudice, wit and other shards of our lived complexities.

Jordan Arseneault, The Two Steves' Lament
An imaginary epistolary romance between two real-life HIV positive men, each imprisoned for non-disclosure in Canada, both named Steve. Montreal-based performer Jordan Arseneault will read the role of STEVE BIRON and Toronto-based multidisciplinary artist Mikiki will read STEVE BOONE. The fictional dialogue is based on imagined emotions and realities of two gay men tried and convicted in two sensationalized cases of HIV non-disclosure criminalization from 2011. Following the performance, Arseneault will present his 20-minute lecture about his experience of the media coverage of these events, as a poz erstwhile journalist who watched in horror as the two cases reached a fever pitch: one the so-called "poz vampire" whose MSN chats were submitted as evidence in court, the other, a Québécois man who was so catatonically depressed due to prison segregation before trial that his court date had to be postponed. The scene is an excerpt from (MORE) Propositions for the AIDS Museum (2017, projets hybris), and is presented in its English version for the first time.

Complete program and discussion:
Artist Bios
Jordan Arseneault is a performer and film curator in Montréal. Arseneault employs song, cello, drag, and original/found text in his performance work. He has developed two social practice workshops, Fear Drag (2010–present), and Disclosure Cookbook (with artist Mikiki, to be performed at M:ST Performative Arts in October 2018). His collaborative performances Serocene (MIX NYC, 2014, with Matthew-Robin Nye) and Propositions for the AIDS Museum (projets hybris, 2014–2017) and his participatory works address issues of criminalization, stigma, HIV/AIDS, addiction, queerness and community. His agitprop poster Silence = Sex, made for Toronto's 2013 PosterVirus campaign was part of Visual AIDS' 2017 VOICE = SURVIVAL exhibition at the Rubin Foundation's 8th Floor gallery and is featured in the catalogue for the exhibition Art, AIDS, America in an essay by Sarah Schulman.
Timothy DuWhite is the Program Director at New York Writers Coalition, a non-profit dedicated to providing writing workshops to underserved communities, and much of his work is about being black, queer, HIV positive and having to either navigate or evade varying state apparatuses to remain alive. His writing has been featured at the United Nations/UNICEF, Apollo Theater, Nuyorican Poet's Cafe, La Mama Etc. and Dixon Place, and he has made appearances/ keynote speeches at San Diego State University, Columbia University, Oregon State University and Columbia College Chicago.
Mikiki is a performance and video artist and queer community health activist of Acadian/Mi'kmaq and Irish descent from Newfoundland. Their work has been shown in artist-run spaces, public galleries, performance festivals and self-produced interventions internationally and throughout Canada. Mikiki has worked across the country as a sexuality educator in public schools, a bathhouse attendant, a drag queen karaoke hostess, a gay men's sexual health outreach worker, a harm reduction street outreach worker and an HIV tester. Mikiki currently lives in Toronto.
---
---
Related Artists