Past Event
Scott Hunt: Truth Goes Up in Vapors
Spring/Break Art Show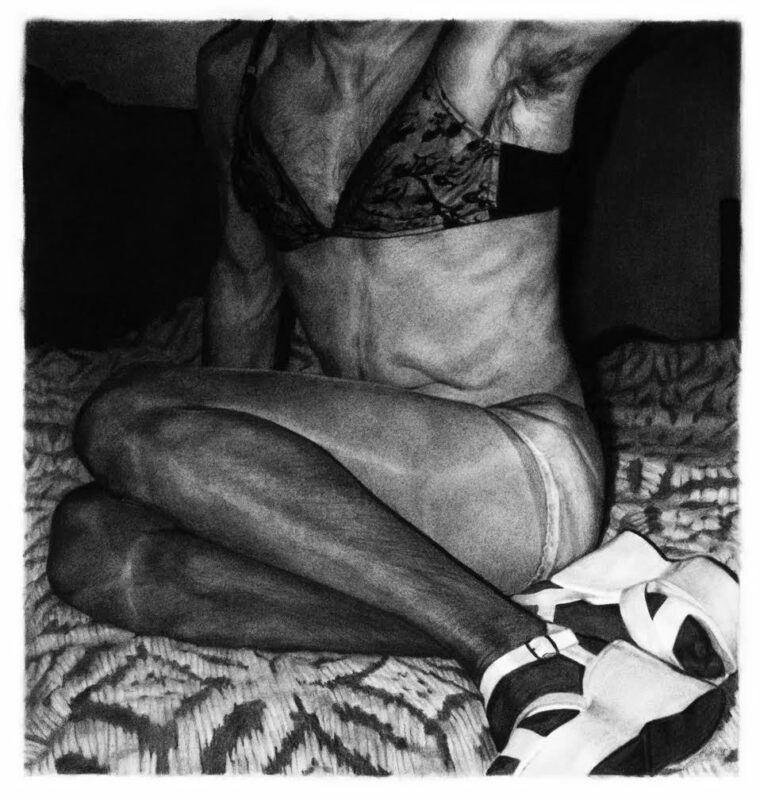 Scott Hunt, Chenille, 2013, Charcoal on paper, 15 x 14.25
Scott Hunt: Truth Goes Up in Vapors
Curated by Nelson Santos
Spring/Break Art Show: Fact & Fiction
Booth E15
866 United Nations Plaza, NYC
March 6-11, 2019
11:00 am – 7:00 pm
March 5, 2019
VIP FIRST LOOK: 11am - 4pm
VIP OPENING NIGHT: 4pm - 8pm
Tickets: https://springbreakartshow.eventbrite.com
Scott Hunt's The Truth Goes Up in Vapors exhibition for Spring/Break presents mysterious hyper realistic drawings that blend fact and fiction to expose an intrinsically Gothic view of America with a queer, dark humor. From the medium, to the image and subject matter, Hunt's works plays with dreamscapes and nightmares that take us on a ride of what is real and what is fantasy.
Biography:
Scott Hunt produces meticulously crafted charcoal drawings and pastel works on paper that are narrative and/or allegorical in nature. He has had seven solo shows in the U.S. and Europe and has been included in several group exhibitions including "Really?,"curated by Beth Rudin deWoody. His drawings are part of the permanent collection of contemporary art at The Israel Museum, Jerusalem, The Lucas Museum of Narrative Art, Los Angeles and the Colecção Madeira Corporate Services Drawing Collection in Portugal. Hunt's work has appeared in such publications as The New York Times, The New Yorker, Harpers, The Atlantic Monthly, Esquire, The Boston Globe, and GQ Magazine. His book, Twice Told: Original Stories Inspired by Original Art (Dutton 2006), won an award from The American Library Association for Best Art Book of the Year. Hunt is the recipient of the 2017 FID Prize for Drawing.

SPRING/BREAK Art Show 2019
Over 100 curators will premiere new artworks created by over 400 artists, for the eighth annual SPRING/BREAK Art Show 2019, this year's central art theme is, FACT AND FICTION which presents works dealing with memory, history, cultural conspiracy, propaganda, appropriation, and psychedelia, a focus on subjects related to the utterly un-provable, pseudoscientific, and mythopoetica.
SPRING/BREAK Art Show is an internationally recognized exhibition platform using underused, atypical and historic New York City exhibition spaces to activate and challenge the traditional cultural landscape of the art market, typically but not exclusively during Armory Arts Week. All artworks in SPRING/BREAK are displayed and available for purchase online, giving artists unknown, emerging, mid-career, and beyond a virtual compliment to their tactile exhibition. http://www.springbreakartshow.com/