Past Event
SCREENING OF "WOJNAROWICZ: F*CK YOU F*GGOT F**KER"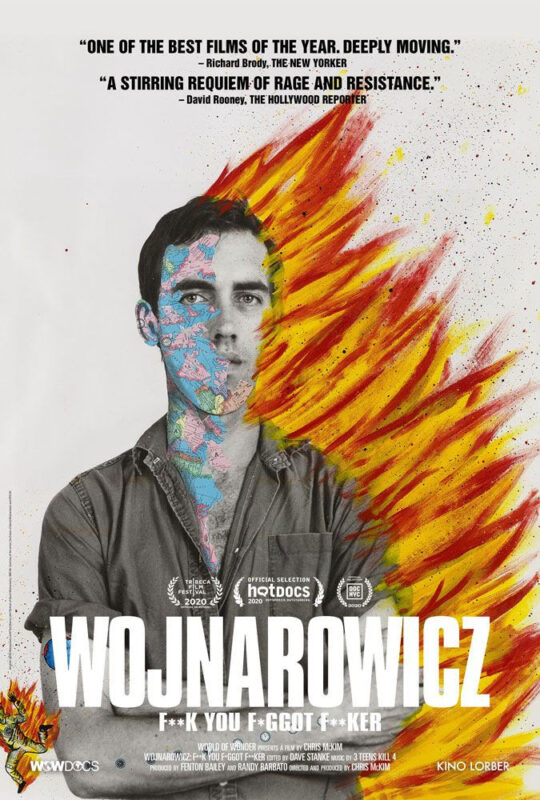 Join The Center for a special presentation of the critically acclaimed film "Wojnarowicz: F*ck You F*ggot F**ker," presented in partnership with Kino Lorber, World of Wonder, and Visual AIDS. This film tells the story of one of America's greatest, unapologetically queer artists. Q+A with filmmakers to follow.
Please note: The Center is thrilled to be welcoming the community back to in-person events. Their utmost priority is the health and safety of its staff, visitors, and community. The Center is actively monitoring the ongoing situation with COVID-19 and the Delta variant as well as the guidelines from New York City, New York State, and the CDC. The Center will keep guests apprised of all requirements for entry to the building and will continue to update this page with current safety policies.
To request an accommodation for this event, please contact Richard Morales at rmorales@gaycenter.org or 646.502.6370 by November 16, 2021.
ABOUT THE FILM
"Wojnarowicz: F**k You F*ggot F**ker" is a fiery and urgent documentary portrait of downtown New York City artist, writer, photographer, and activist David Wojnarowicz. As New York City became the epicenter of the AIDS epidemic in the 1980s, Wojnarowicz weaponized his work and waged war against the establishment's indifference to the plague until his death from it in 1992 at the age of 37. Exclusive access to his breathtaking body of work—including paintings, journals, and films—reveals how Wojnarowicz emptied his life into his art and activism. Rediscovered answering machine tape recordings and intimate recollections from Fran Lebowitz, Gracie Mansion, Peter Hujar, and other friends and family help present a stirring portrait of this fiercely political, unapologetically queer artist.
DAVID WOJNAROWICZ
David Wojnarowicz was an American artist and AIDS activist. Throughout his career, he used painting, performance, film, and photography to draw attention to civil rights and gay identity within American popular culture. Many of Wojnarowicz's projects are drawn from his own life or from individuals he met during his travels: After dropping out of school, Wojnarowicz began hitchhiking across the United States before eventually settling in the New York art scene. While living with AIDS in the 1980s, he wrote of his art: "I'm in the throes of facing my own mortality and in attempting to communicate what I'm expressing or learning in order to try and help others I am effectively silenced. I am angry." He is perhaps best known for his black-and-white film "A Fire in My Belly" (1986–1987) which, 18 years after his death, sparked national controversy. When the piece was exhibited in 2010 at the Smithsonian in Washington, D.C., protests led by the Catholic League revived a conservative culture war similar to the one that had surrounded photographer Robert Mapplethorpe decades earlier, and brought renewed interest in Wojnarowicz's life and work. Born on September 14, 1954 in Red Bank, NJ, he grew up partly in New York City. He returned in the late 1970s and fell in with a group of East Village artists that included Nan Goldin, Kiki Smith, and Peter Hujar, all of whose work explored in on personal identity in various ways. Wojnarowicz's work are in the collections of the Whitney Museum of American Art in New York and the Walker Art Center in Minneapolis, among others. The artist died of AIDS at the age of 37 on July 22, 1992 in New York, NY.
About Visual AIDS:
Founded in 1988 to address the devastation of the AIDS crisis on the arts community while impacting change through art, Visual AIDS is the only contemporary arts organization fully committed to HIV and AIDS awareness through producing and presenting visual art projects. Early initiatives such as Day With(out) Art and the Red Ribbon continue to have worldwide impact. Our contemporary programs include grants to HIV+ artists, working with estates to preserve artistic legacies, and sharing the work of artists through our Archive and online Artist Registry. Visual AIDS strives to represent a diversity of voices within the HIV community by presenting exhibitions, public events, publications, and artist projects that raise awareness and highlight contemporary issues, reminding viewers and audiences that AIDS IS NOT OVER.
This year's Day With(out) Art video program ENDURING CARE will be on view throughout December 2021 in the Keith Haring Room at The Center.
CHRIS MCKIM
Emmy award-winning filmmaker & TV producer Chris McKim graduated from Penn State University's film program in 1995. He soon hopped a train for New York City and began his career at Miramax Films where he worked till 2000, first as international marketing manager before moving to post-production. While there, he once hit Harvey Weinstein in the head with a door. In 2001, he met Randy Barbato and Fenton Bailey of World of Wonder which was the start of countless creative adventures beginning with documenting the making of their scripted feature "Party Monster." Chris was with former televangelist Tammy Faye Messner as she began chemotherapy while directing and producing "Tammy Faye: Death Defying" about her battle with cancer. He's bounced around the world with Big Freedia as showrunner and executive producer of the docuseries "Big Freedia Queen of Bounce," and for four years, he shared a cubicle with RuPaul, helping to create the ground-breaking juggernaut "RuPaul's Drag Race" as showrunner & executive producer of the first four seasons. In 2016, he co-directed and produced the Emmy-winning documentary "Out of Iraq" which had a special screening at the United Nations hosted by US Ambassador Samantha Power. In addition to directing and producing the award-winning documentary "Freedia Got a Gun," which was selected for the 2020 Tribeca Film Festival and premiered on NBC's Peacock, he directed and produced the feature documentary "Wojnarowicz: F*ck You F*ggot F*cker" about 80s artist, writer and activist David Wojnarowicz which was selected for the 2020 Tribeca Film Festival and Hot Docs.
FENTON BAILEY & RANDY BARBATO
Producers, World of Wonder Co-Founders
For over twenty years, World of Wonder has introduced audiences to new worlds, talent, and ideas that have consistently made people go wow. Programming highlights include: Emmy Award winning "RuPaul's Drag Race" (VH1/Logo), "Million Dollar Listing" LA & NY (Bravo); award-winning films and documentaries including "Party Monster", "Mapplethorpe: Look at the Pictures," "Inside Deep Throat," "The Eyes of Tammy Faye," "Carrie Fisher's Wishful Drinking," "Monica in Black and White," and Emmy Award winning "Out of Iraq." After creating a substantial digital footprint with its YouTube channel WOWPresents (1M+ subs), WOW formed its own SVOD digital platform with WOW Presents Plus, along with an award-winning blog, The WOW Report. Turning the convention scene on its head, the bi-annual RuPaul's DragCon is the world's largest drag culture convention, welcoming over 100,000 attendees across LA and NYC. Co-founders Randy Barbato and Fenton Bailey were honored with the IDA Pioneer Award in December 2014, celebrating exceptional achievement, leadership, and vision in the nonfiction and documentary community, named to Variety's Reality Leaders List in 2017, and chosen for the OUT100 list in 2018 for their trailblazing work in the LGBTQ+ community. World of Wonder was also selected for Realscreen's 2018 Global 100 list, which recognizes the top international non-fiction and unscripted production companies working in the industry today.