Past Event
Screening of Shane Aslan Selzer's film "I Love You No Matter What"
Hybrid Event: Roski Graduate Gallery & Zoom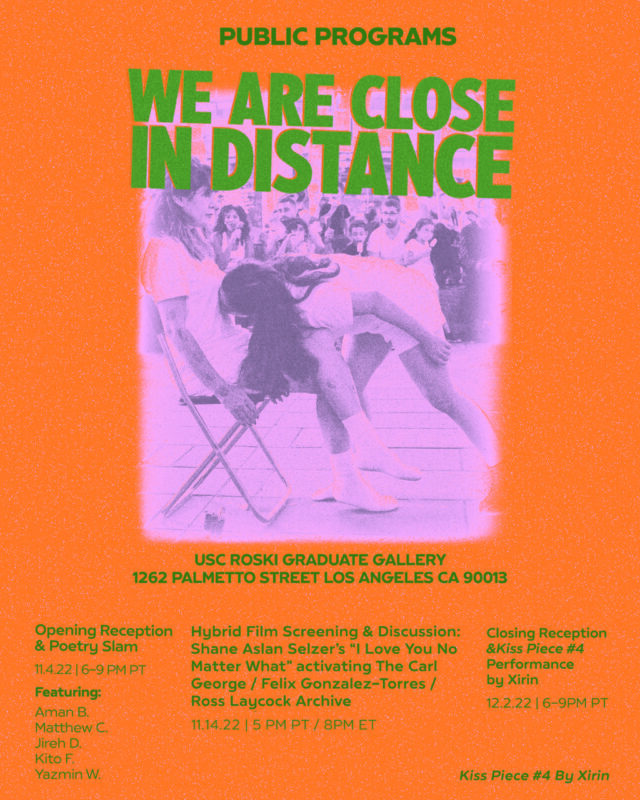 A short interactive archival film animating the Carl George, Felix Gonzalez-Torres, and Ross Laycock archive produced and directed by Shane Aslan Selzer and the Social Action Archive Committee, in collaboration with Carl George, artist and close friend of both Felix Gonzalez-Torres and his partner, Ross Laycock. Following the screening, there will be a short discussion and Q&A presented by Tracy Fenix and Diego Dela Rosa, MA Roski graduate students with the artists.

RSVP for the virtual presentation here (5PM PST/8PM EST).
The film will also screen in-person at the USC Roski Graduate Gallery in Los Angeles. See here for more information.
The Carl George / Felix Gonzalez-Torres / Ross Laycock Archive at Visual AIDS is a document collection on loan to Visual AIDS from artist Carl George. The collection is a testament to a long-lasting friendship between Carl George (b. 1958), Felix Gonzalez-Torres (1957–1996), and Ross Laycock (1959–1991), and offers a window into the love, respect and humor of three friends who shared a deep, personal understanding of how AIDS affected every aspect of their lives. The collection provides a rare source of information on Ross Laycock and Felix Gonzalez-Torres's relationship, illuminating connections that inspired the oeuvre of Gonzalez-Torres. A small collection of archival materials will be on view at Mateo Roski Gallery until December 4, 2022. The entire Carl George / Felix Gonzalez-Torres / Ross Laycock Archive is held at Visual AIDS in NYC and is open for viewing to any and all individuals by appointment.

More about the artists:
Shane Aslan Selzer is an artist and the founder of The Social Action Archive Committee, an artist network leading the development of a new project with the Carl George, Felix Gonzalez-Torres & Ross Laycock Archive at Visual AIDS.
Carl George is a curator and an artist specializing in experimental film and collage. He is a founding member of the art collective Allied Productions and has been actively involved with ABC No Rio and other arts organizations in New York City for more than thirty years.

Presented as part of We Are Close in Distance, an exhibition considering how physical, temporal, and archival space has the power to unite as well as divide through the excavation of interpersonal, intergenerational, and spatial intimacies.
---
| | |
| --- | --- |
| | Saturday, November 5, 2022 |
---
Related Projects
---
Related Artists