Past Event
SHRINE: DJ SET, POETRY READING, PUBLIC DISCUSSION
Participant, Inc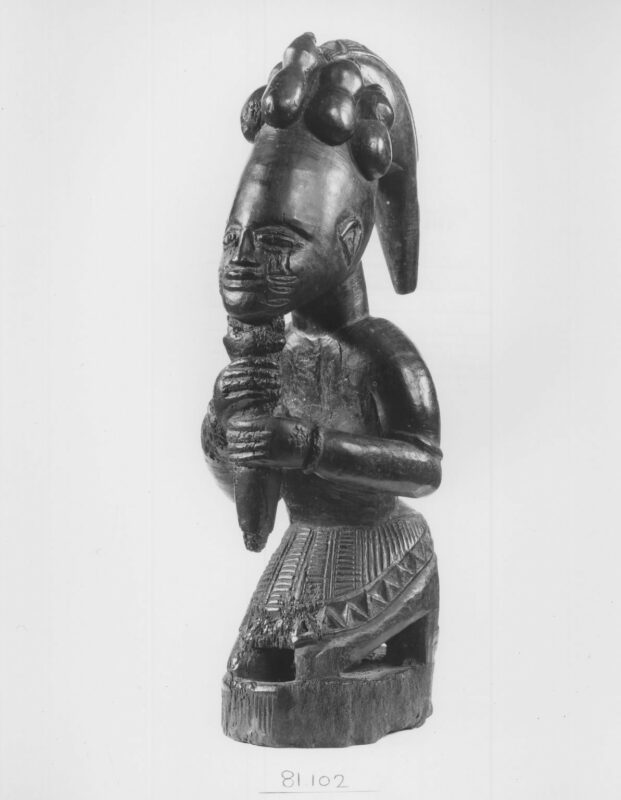 Kneeling Figure (Eshu-Elegba). Height: 11 in. (28 cm). Yoruba. Late 19th, early 20th century. Photographic reproduction. Brooklyn Museum. Arts of Africa Collection. Gift of Dr. and Mrs. Joel Hoffman. Copyright: Creative Commons Attribution 3.0.
Raymond Pinto, Serubiri Moses, Pamela Sneed, Jaime Shearn Coan, and Kojo Abudu
SHRINE: DJ SET, POETRY READING, PUBLIC DISCUSSION
Sunday, July 19, 7pm EST on Zoom
ASL is available by request for this event; please email lia@participantinc.org by Monday, July 13.
Shrine: DJ Set, Poetry Reading, Public Discussion, an evening of commemorations dedicated to Assotto Saint and Rotimi Fani-Kayode, conceived as a platform for re-memory and revisiting 1980s sexually dissident history in NYC.
This event relates to an upcoming archival exhibition and live performance, Notes on Exodus (working title) to be performed by Raymond Pinto and curated by Serubiri Moses. Notes on Exodus follows several months of archival research on Saint and Fani-Kayode at the Schomburg Archives in Harlem and other libraries in New York. The project is yet unfolding, in two parts, and will activate the exploration by both figures of African religious and spiritual practices, Vodou in Haiti, and Ifa in Nigeria. Drawing from primary sources such as letters exchanged between the two artists, the project will signal for action toward survival during the AIDS crisis. The project will explore loss, aesthetic re-connection and displacement, ritual ecstasy, and queer desire.
Assotto Saint was born in Les Cayes, Haiti, in 1957. Saint ran the pioneering poetry press, Galiens Press, NY, and published a poetry collection, Stations (New York: 1988). Rotimi Fani-Kayode was born in Nigeria in 1955. Fani-Kayode published a book of photographs, Black Male / White Male (London: 1988). Both lived in New York City in the 1980s, and exchanged letters after Fani-Kayode moved back to London.
The program includes: Raymond Pinto, performer, who has worked on Broadway and with various dance companies over the past five years; Serubiri Moses, independent writer, curator, editor, and faculty member at Hunter College; Pamela Sneed, renowned poet and author of the poetry and prose manuscript, Funeral Diva (2020); Jaime Shearn Coan, Ph.D., CUNY Graduate Center and Scholar-in-Residence at the Schomburg Center for Research in Black Culture; and Kojo Abudu, critic, curator, and researcher based between London, Lagos, and New York.
Zoom event link: https://zoom.us/j/98288951247
---