Past Event
"Something to do before bed" online performance
Cue Arts - ONLINE Performance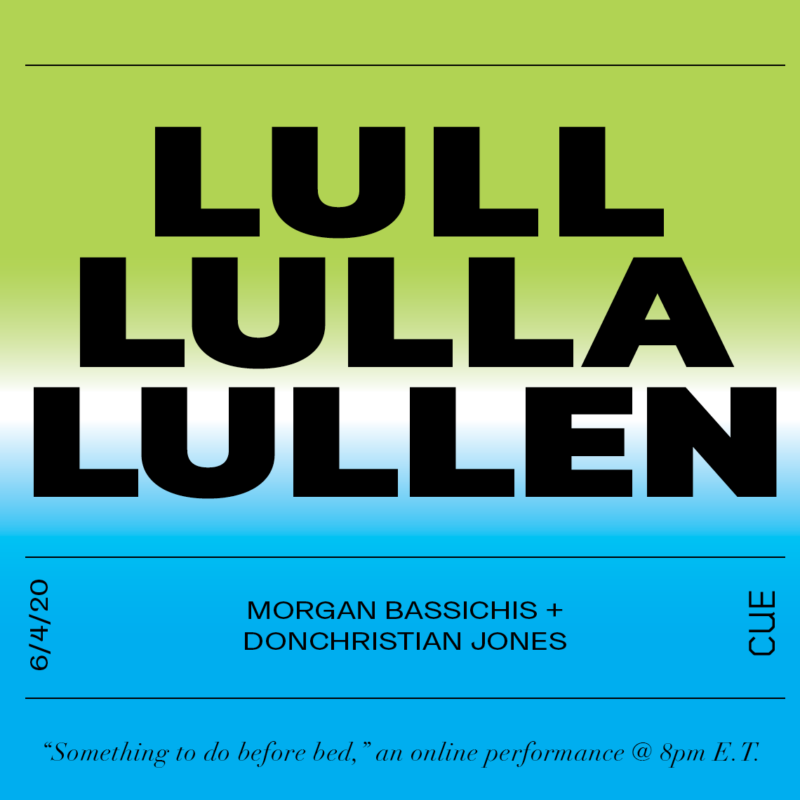 Lull Lulla Lullen series at Cue Arts
A performance by Morgan Bassichis and DonChristian Jones
Thursday, June 4, 8pm (Eastern Time)
RSVP for Zoom link

In their collaborative performance, Something to do before bed, Morgan Bassichis and DonChristian Jones invite viewers to join them as they move through their bedtime rituals. Set to music, the artists will clean and prepare their apartments for sleeping as a practice of kindness towards their spaces and themselves. Attendees will be encouraged to do the same alongside them, holding space together through our shared routines.

If you have specific access questions or needs, please contact info@cueartfoundation.org and we will do our best to accommodate you.

Morgan Bassichis is a comedian and musician whose work often draws on historical archives. Recent shows include Nibbling the Hand that Feeds Me (Whitney Museum, NYC, 2019), Klezmer for Beginners (co-created with Ethan Philbrick, Abrons Arts Center, NYC, 2019), Damned If You Duet (featuring Malik Gaines, Helen Messineo-Pandjiris, Ethan Philbrick, and Mariana Valencia, The Kitchen, NYC, 2018), and The Faggots & Their Friends Between Revolutions (co-created with TM Davy, DonChristian Jones, Michi Ilona Osato, & Una Aya Osato, New Museum, NYC, 2017). Their year-long musical improvisation with Ethan Philbrick, March is For Marches, is available from Triple Canopy, and their live recording of More Protest Songs! at St. Mark's Church (featuring Kyle Combs, Elizabeth LoPiccolo, Sam Greenleaf Miller, and Rhys Ziemba) is available online.

DonChristian Jones is a Philly born, New York-based artist, singer/songwriter, and producer. His work spans musical and time based performance, rap albums, video and public murals, blending genres of painting and performance installation. DonChristian has shown and performed at The Whitney Museum, MoMA PS1, New Museum, Brooklyn Museum, Carnegie Center, and was an artist-in-residence at the Robert Rauschenberg Foundation, Captiva, Florida in 2017. DonChristian's debut album "Where There's Smoke," available online, was listed by Forbes as one of The Best Hip Hop Albums of 2018.
Lull, lulla, lullen is a weekly installment of collaborative performances that draw upon the lullaby—songs that have served to soothe and express worry, while also passing down cultural knowledge. One of the ways moments of isolation, uncertainty, and mourning can affect our collective imagination is in the form of vivid dreams and restless sleep. In response, the lullaby acts as a prompt for caring for one another while sharing narratives of resistance, resilience, loss, and hope.

Taking place online every Thursday in June, this series of evening performances invites artists to address current states of un-rest. Each week we have invited one artist to participate and, in turn, asked them to invite a second artist to collaborate with them. The resulting works take the form of bedtime rituals and dreams for the future, explorations of traditional Lakota lullabies, guided meditations, telenovelas, and sing-alongs.