Past Event
The AIDS/ART/WORK conference
A STARTING POINT FOR CONTINUING DIALOGUE BETWEEN ARTISTS, ACTIVISTS, AND WORKERS ENGAGED IN HEALTH PROMOTION AND HIV PREVENTION.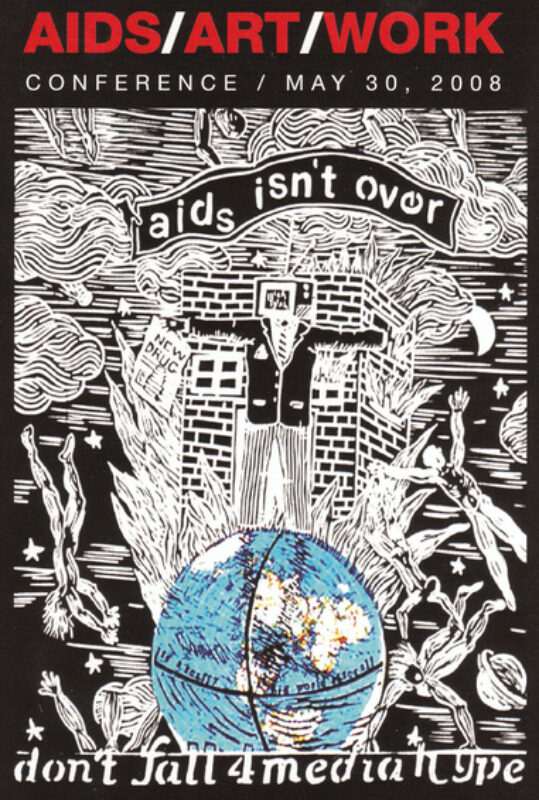 The AIDS/ART/WORK conference presented by Visual AIDS, CLAGS and Dr Paul Sendziuk, explore the past, present and future of AIDS art, activism and prevention, and the connections between them.
Presenters include Robert Atkins, Alexandra Juhasz, David Roman, Richard Sawdon-Smith, Julia Bryan-Wilson, Derek Jackson, Jean Carlomusto, Paul Sendziuk, Patrick "Pato" Hebert, David Gere, Marilyn Martin, Jim Hubbard, Edwin Ramoran, and Ivan Monforte.
The conference examined the sometimes uneasy but often productive relationship between art inspired by AIDS and HIV/AIDS prevention. The organizers of AIDS/ART/WORK intended the conference to serve as a starting point for continuing dialogue between artists, activists, and workers engaged in health promotion and HIV prevention. Over 100 individuals from university professors, graduate students, journalists, archivists, curators, artists, and other traveled from different parts of the United States and the world to attend the conference.
An outline of the key themes and questions raised at the conference can be found at www.aidsart.org.
The AIDS/ART/WORK conference is part of The Art of AIDS Prevention, a project conceived by Dr Paul Sendziuk of The University of Adelaide, Australia, and produced in collaboration with Visual AIDS. It investigates the way in which people living with HIV/AIDS, and the communities most affected by the disease, have been represented in the visual arts in Australia, South Africa and the United States of America.
A follow-up conference organized by Dr Paul Sendzuik was held in Australia in February 2010.