Past Event
Tom Bianchi: 63 E 9th Street : Vintage Polaroids and New Constructed Paintings Exhibition
Johannes Vogt's Next Door Guest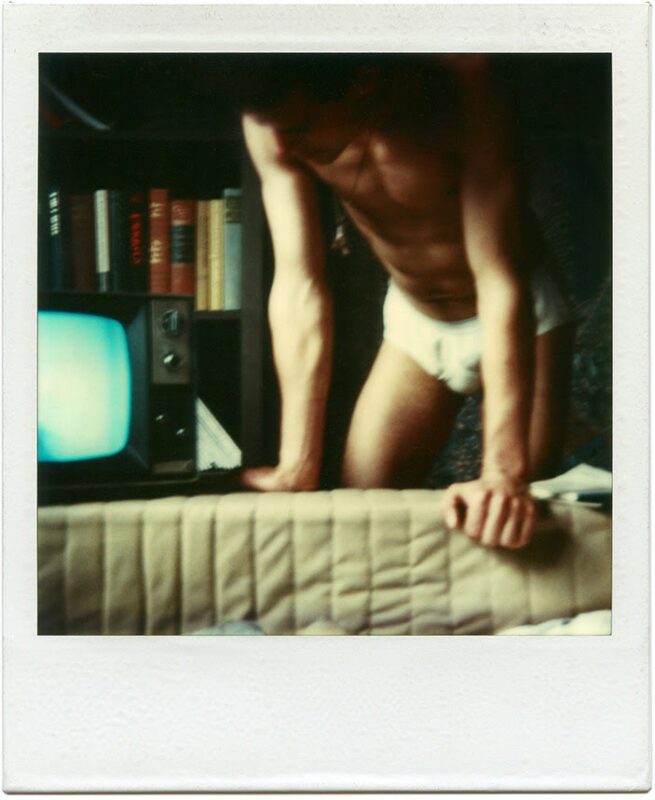 In 1975, Visual AIDS Artist Member Tom Bianchi moved to New York City and took a job as in-house counsel at Columbia Pictures. That first year Bianchi was given a Polaroid SX – 70 camera by Columbia Pictures at a corporate conference. He took that camera to the Pines on summer weekends (those pictures became the book, Fire Island Pines. Polaroids 1975 – 1983), but he also employed the camera in his NYC apartment at 63 E 9th Street. Whereas Fire Island is an expansive communal experience happening on a sunny sand bar outside of the city under huge open skies, Bianchi's New York apartment was an intimate track lit den, a safe stage where he and his friends invited each other to play out their erotic night games. These images take us behind the closed door of his apartment. "We were in the early days of a revolution that seemed inevitably headed to a more loving, playful and tolerant way of being. We were innocents," Bianchi recalls.

It is an essential document of urban gay life, a time before the AIDs crisis, full of intimacy and experimentation. It is personal. Michael Denneny has written, "Tom's photographs were a life-affirming testimonial to the way we aspire to live now."
Bianchi is a person of many pasts. While best known for his iconic photographs, he was first a corporate lawyer, then a painter. Betty Parsons and Carol Dreyfuss hosted his first one-man painting show in 1980, leading to a favorable review by Hilton Kramer. Composed of densely layered strips of paper, each obsessively painted with acrylic and often using materials at hand such as Polaroid cases and grocery bag handles, these opulent large-scale works were abandoned when Bianchi's partner, David Peterson, died of AIDS in 1988. The future was uncertain and photography had an immediacy that seemed crucial at the time.
Now, nearly 40 years later, Bianchi has begun re-exploring painting. A series of puzzle pieces and doors are the backdrop for these works, filled with a private codes and black-and-white photographs, many of which were also shot in the era of 63 9th East 9th Street. Referred to internally as "tablets," these new compositions are a bridge between his early abstract work and his photographic legacy.
This is the first exhibition of this work, both the photographs and the painted constructions.
* * *
Tom Bianchi has published 16 books of photographs, poems, and essays primarily covering the gay male experience. In 1990, St. Martin's Press published Out of the Studio, Bianchi's book of male nudes, frankly gay and affectionally connected. Fire Island Pines Polaroids 1975–1983 was honored by Time magazine's list of the Best Photo Books of 2013. Published this year, 63 E 9th Street is available through Damiani Press.
Bianchi's work has been shown in galleries and museums from Tokyo to Berlin and Cologne and throughout the US and Canada for over 30 years, including Jean Albano Gallery (Chicago); Milwaukee Art Institute; Fahey Klein Gallery (Los Angeles). In 1984, he was given his first solo museum exhibition at the Spoleto Festival in Charleston, South Carolina. His semi-abstract large-scale constructions have been commissioned for a host of clients including IBM, Bank of America and Saks 5th Avenue.
Opening Preview: June 5, 6 - 8pm
Gallery hours are Tuesdays through Saturdays, 11am-6pm, and by appointment.
---