Past Event
Tom of Finland Emerging Artist Competition
Tom of Finland Artist Competition Deadline: September 13!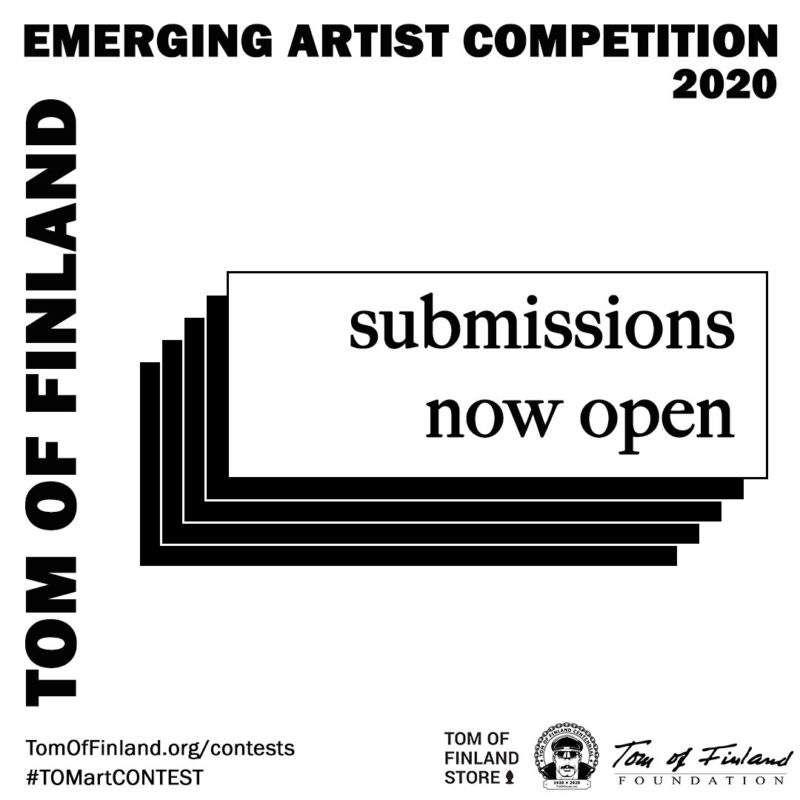 The purpose of this contest is twofold: to encourage artists to share their erotic work and to elevate the field of erotic art by rewarding some of the best current examples. The contest is open to any artist with the exception of previous winners of this contest, or artists who are already selling erotic work commercially. All others are eligible: advertising designers, art students, or just midnight doodlers – anyone who creates erotic works of art.
THE RULES:
This competition is for emerging artists only. An emerging artist is defined as an artist who has not commercially sold work that portrays sexuality.
All submissions must be received by the closing date of 13th September 2020 at midnight PST.
After submissions close, the judging process begins. Judges will make their scores and the results will be tabulated. All competitors will be notified of the final results and their entries posted on our website. Winners will also be announced and highlighted on our website. Winners will be announced 3rd October 2020 to coincide with the Tom of Finland Foundation's 2020 Art and Culture Festival.
The entry fee for a single work is $25, or 2 entries for $35. Entrants may submit the appropriate fee using the SUBMIT ENTRY FEE buttons found in the ENTER THE CONTEST section below.
Artists may submit either one or two pieces, but may not receive more than one award in any given category.
Subject requirement for submissions is limited to the erotic, which may include heterosexual, homosexual, lesbian, pansexual male or female, surrealism, fetishism, fantasy, or any combination thereof. Non-erotic artwork, artwork depicting minors (under 18 years-of-age) or bestiality will be disqualified.
We ask that all artists submit works that are original to themselves. If the submission is modeled (identical or to some degree) on the work of another artist, it must be indicted:
MY ARTIST NAME Title (after Henri Matisse), 2005, Oil on canvas, 12″x14″
So that the work can be judged accordingly.
Categories:
The competition is open to all media. Submissions may include photography, drawings, paintings, mixed media, collage, sculpture, three dimension art, or digital renderings. (Final decision of category placements will be determined by the Foundation.)
(A) Single Figure, (B) Dual Figures, (C) Multiple Figures, (D) Fantasy, (E) Photography
When a work fits in more than one category, it may default to one with the least competition from the other entries.
Deadline: September 13, 2020 at midnight PST
To read more application details click here.