Past Event
Tree of Heaven: Rafael Sánchez
Marlborough Contemporary, NYC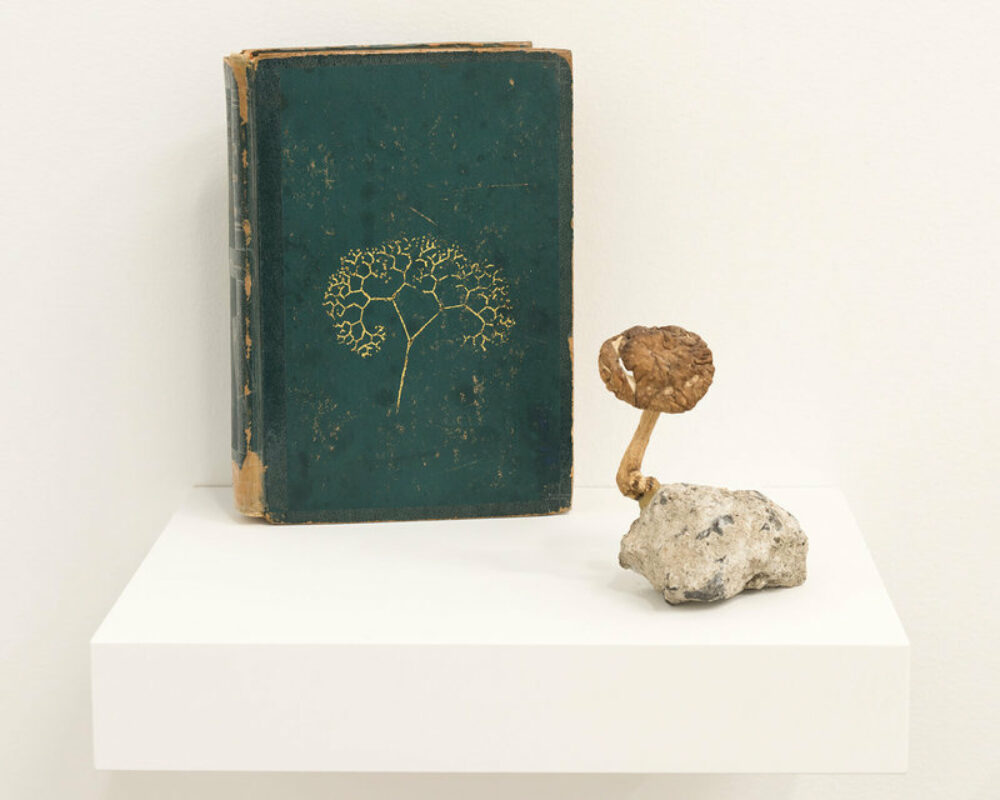 Left:Tree of Heaven, 2004, gold leaf and tape on book, with wear, 8 x 5 1/2 in. Right: Chariot, 2016, petrified mushroom, cement shard, epoxy, 3 x 1 1/2 x 1 1/2 in.
Visual AIDS Artist Member Rafael Sánchez presents his solo exhibition Tree of Heaven, an installation with his poem sculptures which combine performative objects with a panoply of used household items. Balloons, honey, shavers, batteries, dust, light bulbs, books, fruit peelings, bread ends, street shards, branches, splinters, and objects flattened fuse with a matrix of universal symbols, structures, and spirits—in tandem with the nuances of the room itself.
As in much of Sánchez' practice, seemingly arbitrary tangents become elliptical source pools of meaning and craft. As a non-English speaking child in 1960s Flushing, Queens, and later Woodside, the landscape seemed a virtual forest of trees to the young boy. It was much later he realized that the common Ailanthus altissima tree, which grows everywhere out of cracks in the cement, was seen by most as a weed: a symbol of urban blight. While the show's title refers to Francie Nolan's ailanthus tree in Betty Smith's novel A Tree Grows in Brooklyn, Sánchez sees the ailanthus as a 'tree of life' or anima mundi—the soul of the earth as a symbolic connecter between all living things.
As Sánchez puts it, "I recall my earliest memories when we lived in Queens, and I barely knew we were from somewhere else, somewhere far away. Most vividly I remember peeling potatoes in the kitchen with my mom and making drawings with the peels onto the steamy window panes…color forms made of earth. The potato curls turned to spirals, connecting me to my mom and all things. This remains the source of my joy and work."
Sanchez' practice oscillates between the studio and the stage. While trained in traditional studio methods, he has become known in underground circles for shapeshifting performance and theater works. What is perhaps lesser known is that art and theater find confluence in drawing as his primary medium—drawing as an open conduit between form and the unconscious. Roberta Smith has noted this aspect of his work, comparing it to Brecht and Cocteau. Perhaps Sánchez may be closer to Beuys in his activation of material as potential and means of transit between the worlds of the real, the imagination, and the narrative of one's own life.
This plasticity results in a multitude of approaches from the artist's hand. A doodle can spark boundless streams of thought—paintings, costumes, environments, films, plays, and even installations for the outdoor bookstand that Sánchez runs. A sensitivity to site and context may be the strongest indicator of the continuum within the artist's open practice. Tree of Heaven also includes collaborative gestures by presenting a Polaroid portrait of Sánchez by artist Gail Thacker and a recent drawing of one of his sculptures by artist-writer Jorge Clar.
Tree of Heaven is the first one-person exhibition since his show at Participant Inc in 2004. That year marked the beginning of what was to become a decade-long partnership with artist Kathleen White. Sánchez and White collaborated continually until her death in 2014. Since then, the nature of drawing and its connection to loss, and the nature of dust in itself as essential element became the artist's existential obsession.
Still, themes of loss and dust as material have run through the architecture of much of Sánchez' work since the beginning. In his hands dust becomes an agent of liberation—straddling the philosophical area between existence and non-existence, refocused as creative prima materia, the starting point for an alchemical opus.

Performance Video Link:
Gallery hours:
Mon – Fri 10-5:30
Sat 10-4
---