Upcoming Event
VAVA VOOM Honoring Lambent Foundation, Antonio Sergio Bessa, Carlos Gutierrez-Solana
Houston Hall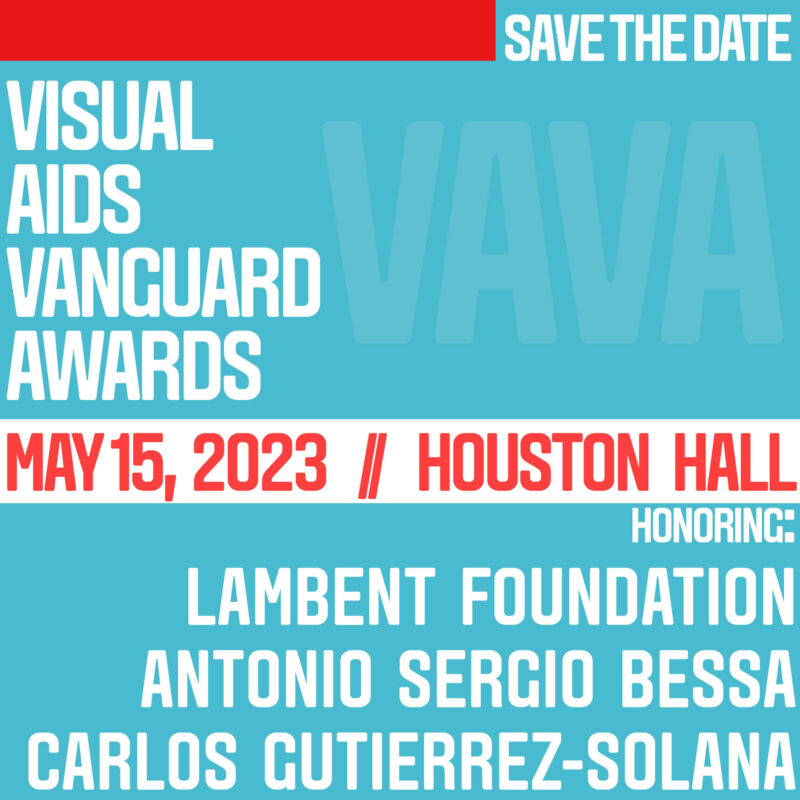 Mark your calendars to join us in honoring 35 years of programming at our much anticipated Visual AIDS Vanguard Awards (VAVA)! This annual celebration of the Visual AIDS community is a fabulous time to gather with new and old friends while supporting our vital work.

This year we are thrilled to be honoring our supporters from around the cultural world of New York City who have impacted our work and work around HIV/AIDS in deep ways.

The VAVA 2023 honorees are: our long-standing funders at Lambent Foundation; Chief Curator Emeritus of the Bronx Museum, Antonio Sergio Bessa; and Visual AIDS Artist Member and Board Member Carlos Gutierrez-Solana.

Join us Monday, May 15, as we return to Houston Hall for a beautiful evening of celebration and fun, hosted by Linda Simpson with incredible performers announced soon!

Interested in joining the VAVA Committee or sponsoring a table?
Email Shawn at sescarciga@visualaids.org for more info
Purchase tickets here
If you are unable to attend in person, please consider a donation at the ticket level to help support the event and this momentous milestone for Visual AIDS! Donate here.
We have a limited number of $175 tickets for Visual AIDS Artist Members and those in the HIV+ community available. Please email Shawn at sescarciga@visualaids.org for more details.
Lambent Foundation is Visual AIDS single largest funder and has been our long-time partner, helping to make our work possible since 2010. Lambent works at the intersection of art, culture, and social justice. Through their grantmaking, they explore how contemporary art and aesthetics serve as a strategy for promoting thriving cultural practices in Nairobi, New Orleans, and New York City. Lambent works to transform philanthropic practice by promoting a culture of reciprocity, joint commitment, and mutual accountability among funders and grantee-partners. Lambent advances equity within the world of contemporary art — from major museums to artist collectives. Lambent values artists, creative practice, and cultural practitioners as crucial contributors to movements for social change and justice. Learn more.


Antonio Sergio Bessa is chief curator emeritus at the Bronx Museum, which he joined in 2003. A scholar of concrete poetry, he has organized several exhibitions on themes related to text-based art, and his essays on concrete poetry have been widely published in anthologies, journals, and websites. He is the author of Öyvind Fahlström: The Art of Writing (2008), and editor of Novas: Selected Writings of Haroldo de Campos (2007), in collaboration with Odile Cisneros), and Mary Ellen Solt: Toward a Theory of Concrete Poetry, (2010). Bessa organized several exhibitions at the Bronx Museum including Joan Semmel: A Lucid Eye (2013), Paulo Bruscky: Art is our Last Hope (2013), Martin Wong: Human Instamatic (2015, in collaboration with Yasmin Ramirez), Gordon Matta-Clark: Anarchitect (2017, in collaboration with Jessamyn Fiore), The Life and Times of Alvin Baltrop (2019), and Darrel Ellis: Regeneration (2022, in collaboration with Leslie Cozzi). As an educator, he worked as a contractual instructor at the Metropolitan Museum of Art, from 1998 through 2004; led a seminar on artists' writings at the School of Visual Arts (2001-2004); taught Museum Education Issues at Columbia University's Teachers College from 2006 to 2016; and was a visiting faculty member for the Bennington College Museum Fellows Term Program for Spring 2022.

Carlos Gutierrez-Solana is an artist, curator, arts administrator, museum professional, birdhouse maker, and gay man. He has been a Visual AIDS artist member since 2000 and board member since 2017. As an artist he has exhibited his work and site-specific installations and presented his performances throughout the country since 1972. Originally trained as a figurative/representational painter most of the work has focused primarily – though not exclusively, on the body, specifically the male body, gender, sexuality, space manipulation, mark-making, and AIDS. He has worked, and continues to work, with a variety of materials formats and genres including (but not necessarily restricted to): painting, drawing, sculpture, performance, theater, dance, glass, collage, text, and computer imaging, and now birdhouses.
As a curator he has developed numerous exhibitions and events in a wide range of subjects and media (including hooked rugs; ceramics; architecture; fashion, drawing, installation, photography, painting, sculpture, and AIDS) on both coasts and throughout New York State, but he is probably best known as "that guy who did a miniature golf course created by artists for Artists Space." Exhibits he has created have been presented at the University Art Museum, Berkeley, CA; The Queens Museum, NY; The Newark Museum, NJ; The Munson Williams Proctor Institute, Utica, NY; Jamestown Community College, NY; Lake George Arts Project, NY; and Artists Space and the New York Transit Museum, both in NY, among others.
As an arts administrator and museum professional he has been an exhibit designer/fabricator for the Staten Island Children's Museum; curator for the Queens Museum; director of the Visual Artists Program for the New York State Council on the Arts – for 10 years; artistic and executive director of Artists Space, and deputy director for the New York Transit Museum. He's also lectured extensively on a variety of subjects, participated in numerous workshops with both school-age children and adults, and served on many art panels throughout the country.
As a gay man he's been out since 1970 and was diagnosed HIV+ in 1989. He has been asymptomatic with an undetectable viral load for many years. He is single and leading a happy, productive life.
---
---
Related Artists