Past Event
XFR Collective Presents: Queer Gems from our Leslie Lohman Residency
Spectacle Theater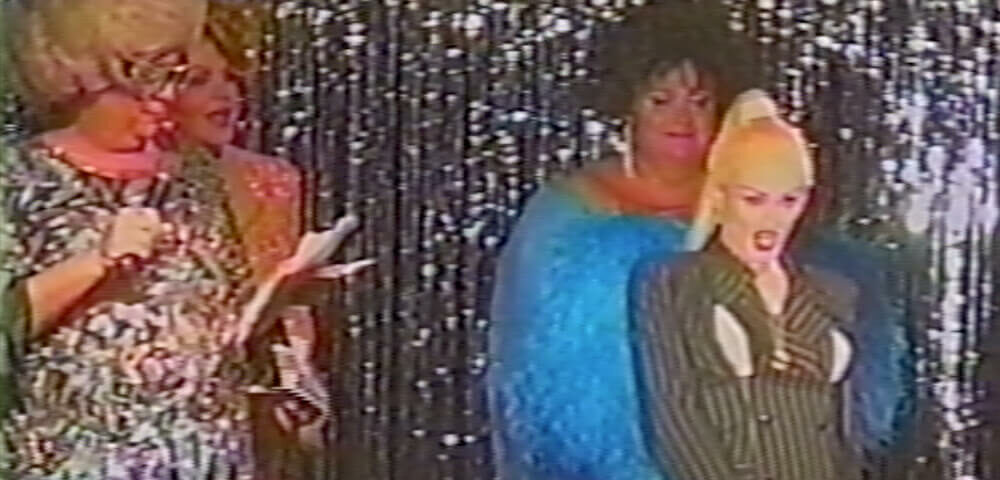 Radical tape transfer collective XFR is back with another grab-bag of goodies from their summertime residency at the Leslie-Lohman Museum, Manhattan's foremost collection of queer art and culture! These recently-digitized jewels were transferred from original materials provided by museum members, and offer a rare glimpse into the bygone world of queer home video culture.
From consciousness-raising protests to community-made PSAs and drag queen beauty contests, the films included in this program represent the equally radical and joyous past of LGBTQI filmmaking. Thanks to the technical whizzes at XFR, we can continue to exhibit these incredible films well into the future.
Members of XFR Collective and TBD guests will provide introductions, anecdotes, and contexts throughout the screening.
POETIC VISIONS / SHATTERED DREAMS REAL ART WORKS
dir. Carlos Gutierrez-Solana. 8 mins.
Gutierrez-Solana memorializes the friends and loved ones he has lost to the HIV/AIDS crisis through a performance art piece wherein he shatters large panes of glass while an audience looks on.
BLUE BATHROOM BLUES PRESENTATION
dir. Frederick Weston. 8 mins.
LESBIAN AVENGERS SKATE-IN
dir. Clarity Haynes. 14 mins.
Lesbian Avengers Skate In protest during the summer of 1993 in Fairfax, Virginia for greater visibility of lesbians in American culture.
GMHC DANCE-A-THON PSA
dir. David Mandel. 3 mins.
Produced by Gay Men's Health Crisis Multimedia Department, this short PSA was created to help gay men become aware of how HIV/AIDS is spread and how to practice safe sex.
MISSFIRE ISLAND 1995
dir. David Mandel. 29 mins.
This is a drag competition that takes place yearly on Fire Island, called Miss Fire Island. Each of the many contestants are introduced on stage in front of a large audience.
ISLANDS IN THE STREAM
dir. Larry Krone. 5 mins.
Music video for the song made famous by Kenny Rogers and Dolly Parton.
INTERVIEW AND CLIPS FROM HOMO TEENS AIRED ON DYKE TV
dir. Joan Jubela. 7 mins.
Looking to capture a sense of what it is like to be an LGBTQ teen, filmmaker Joan Jubela offered cameras to New York City's young people for them to capture their own lives. Jubela also interviews them about their experiences.

Weston presents poems and slides from his series Blue Bathroom Blues at the Neuberger Museum of Art for World AIDS Day, held in cooperation with Visual AIDS.
---