Past Event
XFR WKND
Participant Inc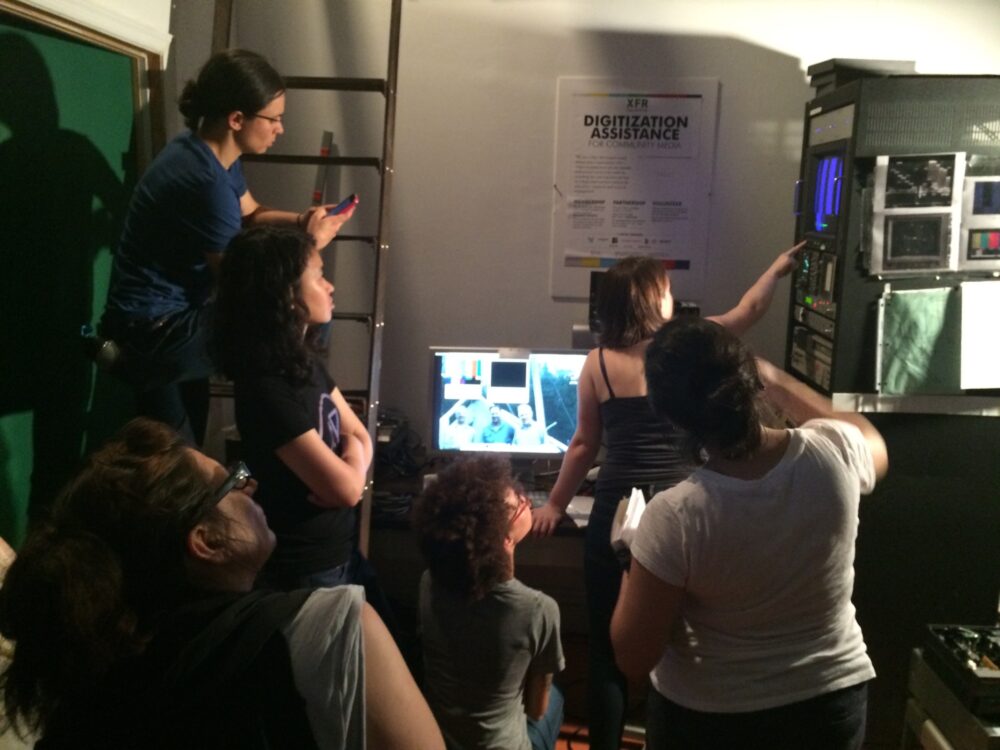 XFR Collective rack at Andrea Callard's studio, 2015. Photo courtesy of Andrea Callard
XFR WKND
July 27–28, 1–7PM

A weekend of analog video transferring with XFR Collective. The program is presented in conjunction with Visual AIDS' summer exhibition Altered After, curated by Conrad Ventur at Participant, Inc.
During XFR WKND, XFR Collective (pronounced "transfer collective") will offer free digitization services and provide a space to discuss strategies for preserving personal and community media.
Drop-in appointments are first-come, first-served, and participants should be aware that the works they bring for transfer will be publicly viewable during the transfer, and they are expected to remain present for the duration of the appointment (approximately two hours).
Visitors to the exhibition are also welcome to watch and ask questions while we work. If you are unavailable or unwilling to make a public appointment, XFR collective offers small scale digitization services. Learn more on our How We Work webpage.
Formats: All media submitted must be original material that was created by the participant, or original material that the creator agreed to allow the participant to have digitized. All rights and permissions to material must be attended to by the participant. The following media formats can be accommodated:

Video (NTSC only): VHS, Hi8, and MiniDV
Process: XFR members will advise participants on best practices for preservation and transfer. This includes both inspecting the tape, gathering necessary information, and digitizing the tape. To determine what work to select for digitization, participants are asked to consider a 2:1 ratio of digitization to assessment time. For example, two hours of tape transfer necessitates one hour of preparatory or troubleshooting time. Since old tapes can be susceptible to deterioration or mold, participants are advised to select the media you would most like preserved, but also to bring back up material in case your first choice of tape requires more in-depth conservation work than we will be equipped to perform at your appointment.

Storage and distribution: All materials that are digitized by XFR Collective will be made publicly available on the Internet Archive, a nonprofit institution whose mission includes offering "free and open access to all the world's knowledge" and providing permanent access for researchers, historians, scholars, and the general public to cultural heritage collections. All participants will be able to download preservation-grade digital versions of their materials from the Internet Archive. Selections from the digitized content posted on the Internet Archive may be informally screened at future XFR Collective events. Since access is an important part of XFR Collective's mission, appointments will be prioritized for those that agree to online access.
XFR Collective is a non-profit organization that partners with artists, activists, individuals, and groups to lower the barriers to preserving at-risk audiovisual media – especially unseen, unheard, or marginalized works – by providing low-cost digitization services and fostering a community of support for archiving and access through education, research, and cultural engagement. At its core, our collective aims to support the inclusion of all peoples in the preservation, and circulation of media created by artists, individuals, and organizations.
---
| | |
| --- | --- |
| | Wednesday, July 10, 2019 |
| | Sunday, July 21, 2019 from 7:00pm–9:00pm |
| | Thursday, August 8, 2019 from 7:30pm–9:00pm |