Past Event
Visual AIDS and NewFest present ZERO PATIENCE (1993)
BAM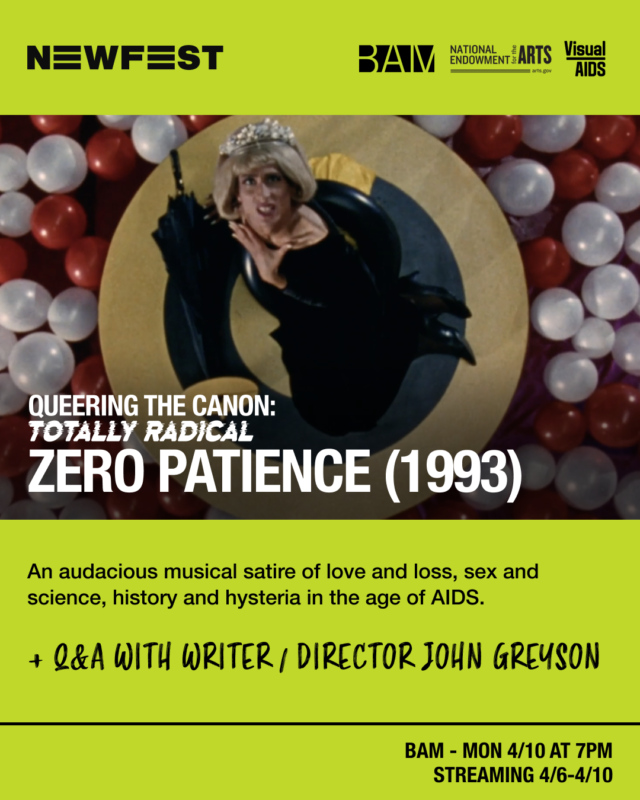 An audacious musical satire of love and loss, sex and science, history and hysteria in the age of AIDS
Visual AIDS is pleased to be NewFest's community partner to present John Greyson's 1993 film Zero Patience. Visual AIDS Programs Director Kyle Croft will host a Q&A with John Greyson after the screening.
In Zero Patience, writer/director John Greyson conjures an audacious musical satire of love and loss, sex and science, history and hysteria in the age of AIDS. Renowned Victorian Sir Richard Burton plans a sensationalist museum display focusing on "Patient Zero," the gay French-Canadian flight attendant accused of bringing AIDS to North America; but the exhibit is put on pause by the appearance of Patient Zero's ghost, who exposes truths and belts out a few witty ballads that feature singing sphincters, an ACT-UP proxy activist group, and commentary-laded lyrics.
Please note that this is a ticketed event organized by NewFest. Tickets are available to purchase here. Use the code VISUALAIDSQTC to get $5 off each ticket.

A limited number of free tickets are available to Visual AIDS artist members; please email kcroft@visualaids.org to request one.