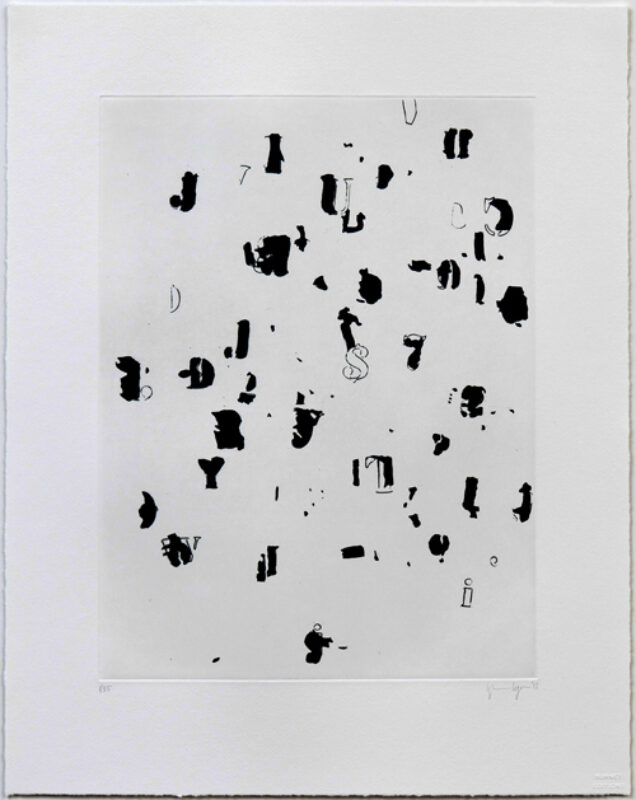 Inaugural Benefit Print for Visual AIDS
Glenn Ligon
Notes on the Prelude, 2012
Aquatint with drypoint
Plate size: 16" x 12"
Sheet size: 21 1⁄2" x 17"
Edition size: 35 with 10 Aps
- - - SOLD OUT - - -
In his new print project, Glenn Ligon continues to reflect on the structure of language and the formal effects of text and radically pushes the boundaries of non-representation. "Notes on the Prelude," an etching with aquatint and dry point, is the newest image in this investigation.

The linguistic underpinnings upon which Ligon has built his work have here reached new levels of abstraction, as this work is not drawn from any precise literary or cultural source. Most of Ligon's work is indeed rooted in appropriated text: from the writings of Jean Genet and James Baldwin, to the highs and lows of popular culture and politics. In "Notes on the Prelude," there is no such quotation; rather a more formal self-appropriation of the stenciled letters which the artist has used since the late 80's.

The stencils have been used over the years in the studio in the making of large canvases or small works on paper. They bear the marks and memories of the artist's decisions and point to his increasing pursuit of abstraction. The small imperfections, the reversal of some letters and the smudging of the marks form an idiosyncratic lexicon of Ligon's oeuvre. The ambiguity of the title wonderfully sums up the ambiguity of the print itself, as "Notes on the Prelude," alludes both to a beginning and a self-critical relationship to it, language pushed into a new relationship to abstraction.
---