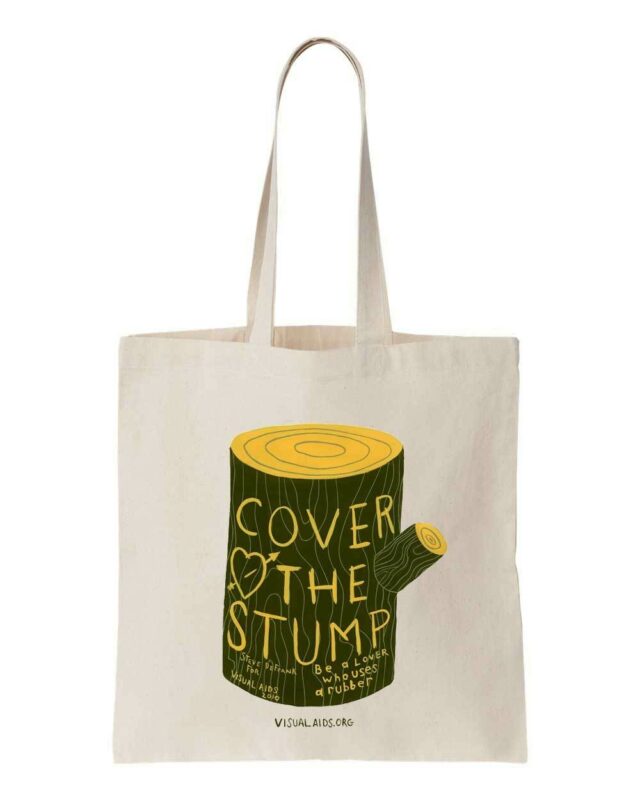 "Cover the Stump. Be a Lover who uses a Rubber" is Steve DeFrank's message for his 2010 Print+ Tote Bag.
Steve DeFrank's Statement and Message
Sometimes working in the studio one can feel like pissing in the wind. What I do can seem so ridiculous and I wonder what effect my work has. When asked by Visual AIDS to create a work about safer sex, I went online to see what kinds of messages were currently out there. I talked to my students at School of Visual Arts about which ads were most effective to them and to my shock they said that they couldn't recall any safer sex ads at all. Most of them had no education about safe sex... I loved the challenge of creating a tote for Visual AIDS that would broadcast a message about safer sex.
Steve DeFrank lives and works in New York City. He has had solo exhibitions at Margaret Thatcher Projects, NY; Clementime Gallery, NY; Peinine Hart Gallery, NY; Clifford Smith Gallery, Boston; and Vedanta Gallery, Chicago. His work is in the collections of The New Museum of Contemporary Art, SEI/West Family Collection, The American Academy of Arts and Letters, and Michigan State University, Kresge Art Museum. His work has been reviewed in Zink, Beautiful/Decay and Gay City News. Steve DeFrank also teaches at The School of Visual Arts in New York City.
SOLD OUT
---