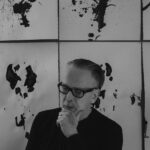 Andrew Zealley is a Toronto-based cultural practitioner whose work has been situated at the shifting nexus of HIV/AIDS, queer identity, and the body since 1990. Organized around sound and listening practices, Zealley's creative work extends from audio and music methods to inform mixed disciplines and media — including video, photography, bookmaking, archiving, pedagogy, AIDS activism, and public sex practices.
Zealley holds a Ph.D. through the Faculty of Environment and Urban Change (EUC) at York University; research project: Risky Beeswax: Artistic Responses to the Biopolitics of HIV/AIDS. His dissertation includes the audio intervention, Soft Subversions, published as a 2LP vinyl record edition in February 2021. Vinyl distribution: https://www.seance-centre.com/other-releases/house-of-intergenerational-soft-subversions. Books and sound distribution: https://artmetropole.com/.
Zealley currently lives and works in his studio, adores Ildefonso and Roland, and imagines the sounds of records records records. What are you wearing?: [email protected]
Photograph by Roberto Bonifacio.

View Zealley's video intervention Lucid Dreaming Ludic Waking (2020), here:
Listen to "Harm (Reduction Mix)" (2020), here:
password: PASTORAL POWER
listen to "Riot Action" (2020), here:
password: PASTORAL POWER

Read Less Read More