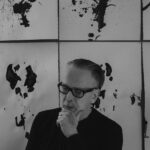 Andrew Zealley presents a new vinyl phonograph, Andrew Zealley & House of Intergenerational: New Variant (Disco Hospital Books & Records, PNPLP -05). Earlier in 2023, he published two vinyl phonographs, House of Intergenerational: METHODOLOGY LP (PNPLP-03) and House of Intergenerational: METHODOLOGY EP (PNPLP-04). Each record is pressed on black vinyl in an unnumbered edition of 200, and are mastered by Stefan Betke. http://discohospital.com/ https://houseofintergeneration...
•
Zealley is a Toronto-based artist whose work has been situated at the shifting nexus of HIV, queer identity and ecologies, public sex practices, and the body since 1990. Organized around sound and listening practices, Zealley's creative work extends from audio and music methods (and structures) to inform mixed disciplines and media — including music, video, photography, bookmaking, pedagogy, and activism.

Zealley holds a Ph.D. through the Faculty of Environment and Urban Change (EUC) at York University; research project: Risky Beeswax: Artistic Responses to the Biopolitics of HIV/AIDS. His dissertation includes the audio intervention, Soft Subversions, published as a 2LP vinyl record edition in February 2021. Books and sound distribution: https://artmetropole.com/.
What are you wearing?: safespacedynamite@gmail.com
Photograph by Roberto Bonifacio.

Read Less Read More