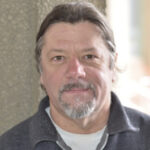 ANDY FABO / BIOGRAPHY
Andy Fabo is an artist, art critic, independent curator, AIDS activist and art educator. In 2005 he was given a retrospective at the Canadian Museum of Contemporary Canadian Art, an exhibition that featured his work over thirty years in diverse media. His art has ranged from a series of mixed media paintings, Studs, exhibited in his 1979 A Space exhibition – a landmark for Queer Art in Canada – to his collaborative videos work created with Michael Balser his current evolution into digital media. He was a founding member of the nationally influential ChromaZone collective (1981-85), a group that revived the body as subject matter in painting and drawing, as well as reviving representational and social issues in those practices. Andy Fabo was first diagnosed as HIV+ in 1986, the year that the test was initially available in Canada. This was also the year that his lover, Tim Jocelyn, a textile artist and curator, died of HIV related infections. Tim Jocelyn and Andy Fabo collaborated on a landmark show, Chromaliving, that presented a mutated artists'version of a department store in 10,000 square feet of retail space on a prime retail street in Toronto and featured at least 300 artists, creating artist-made furniture, clothing, accessories and installations. In the mid-nineties he had his first AIDS-defining opportunistic infection, pneumocystis (carinii) jiroveci pneumonia, but was fortunate that the multi-drug protocol had been developed by the time his HIV infection had begun taking a physical toll. Andy Fabo was one of the first artist working in painting and drawing who responded to the AIDS pandemic, making several bodies of work that dealt with the body in crisis, loss and memorializing, exploring affect and the visceral in the light of catastrophic bodily experience. In some exhibitions, like Diagnosis (1991), he took a less subjective and more activist and informational approach to the AIDS crisis. A year after the demise of Tim Jocelyn, Andy Fabo met video artist Michael Balser and they began a series of collaborative media projects over a span of fifteen years. One of their first projects was a video work, Survival of the Delirious (1988), that won numerous awards including Best New Narrative at the Atlanta Film Festival, was highlighted at the International Kijkhuis Media Festival in Den Hague Holland and it is included in the Art Against AIDS anthology that VTape and Video Data Bank in Chicago co-produced in 1989. It is in the collections of museums around the world including the National Gallery of Canada and the MOMA in NYC. Blood Risk, a video work by the couple that was a restaging of Cocteau's Blood of a Poet in the wake of the AIDS pandemic also show extensively internationally, including Artists Space in NYC (1990). Michael Balser died of an AIDS-related cancer in 2002 and Oboro in Montreal mounted a retrospective of their collaborations in 2003.
Another bout of pneumonia landed Fabo in the hospital for three weeks in the summer of 2012, reacquainting the artist with his inner PWA. Consequently, he produced a body of work titled Delirious at the Borderlines that was made up of a drawing series and five eight foot vertical scrolls in digital media that explored the hallucinatory aspects of a near-death experience.
Read Less Read More