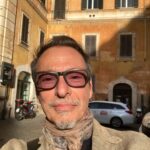 Carmine Santaniello
b.1955
New York-based artist Carmine Santaniello has exhibited nationally and internationally, with work appearing in numerous publications in the US and Europe. The Art of Man magazine USA, Mascular magazine UK, Boner magazine Germany and Character magazine France to name a few. His art is in the private collection of Charles Leslie as well as the permanent collection of the Leslie Lohman Museum. In addition, he shows with Mooi-Man Gay Male Art Gallery, The Netherlands, and the Affordable Art Fair Amsterdam, and has been featured in Your Daily Male, Mooi-Man Gay Male Art Gallery's annual calendar.
Collage is an integral part of his art and is usually the starting point for each work. Employing the traditional method of cut and glued paper, he creates new faces out of amassed facial images. While incorporating elements of his own photographs of exterior environments such as graffiti or street art. "I love the contrast of the beautiful male form in a somewhat marred, abstract urban setting" remarks Santaniello. Some works remain as collage, some become drawings, some artist books or articulated paper dolls, but most become monoprints utilizing lithography.
Through the juxtaposition of techniques and mediums, he creates evocatively charged works of art. These new works have an erotic edge with a voyeuristic feel to them. Each subject is confined behind a vale of marred imagery. The juxtaposition of these graffiti-like images over the portrait, stimulate a prurient response. The viewer is drawn deeper into the art through a kinetic vale of images to reach the subject itself: the portrait.
Read Less Read More
Artist Statement:
"I am greatly inspired by urban images such as graffiti, dripping/splattered paint, marred subway tiles, posted bills etc… To me I see them as intriguing environments that work so well to house my figures and portraits. I love the contrast of the beautiful male form in a somewhat marred urban setting. For me, artistically as well as aesthetically the combination of the two creates an emotionally charged work of art."
SELECTED EXHIBITIONS:
2022-2010
The Colors of Change, Art Dealer Street Online Exhibition. Curated by Bianca Mofodda
The Queer Cuts: Reimagining Queer Collage The Center, New York, NY curated by Richard Morales
Heritage, Queens College, Flushing, NY
The Firefly Art Gallery, Art on Paper, Northport, NY
Drawings in a Time of Renewal, The Plaxall Gallery, Long Island City, NY, Curated by Carol Crawford
The Studio Door, Pride+ 2021, San Diego, CA
The Firefly Art Gallery, Honey I Shrunk the Art, small works exhibition, Northport, NY
SALMAGUNDI CLUB, New York Open "Figuratively Speaking" 2021 Exhibition, New York, NY
The Atlantic Gallery, Long Island City Artist members exhibition. New York, NY
"ARTIST NAVIGATING 2020", an online exhibition in collaboration with the Queens Memory Project virtual archives and the Long Island City Artist
BLACK AND WHITE 2020, Brooklyn Waterfront Artist Coalition, Brooklyn, NY Juried Exhibition
POSCARDS FROM THE EDGE, Visual AIDS Annual Benefit, Bortolami, NYC
ART & AIDS: Alegría The Leslie-Lohman Museum of Art, New York, NY
OFF THE WALL II, Affordable Art Fair, The Plaxall Gallery, Long Island City, NY
ARTE PARA LA GENTE ChimMaya Art Gallery, Los Angeles, CA
EROTICA-2019 Filippo Ioco Studio & Gallery, Barcelona, Spain
LIC-ARTIST MEMBER SHOWCASE The Plaxall Gallery, Long Island City, NY
STONEWALL VILLAGE 50th Anniversary Benefit Exhibition, Casa, New York, NY
MEMBERS EXHIBITION, Robert Blackburn Printmaking Workshop, New York, NY
RECLAIMING MY PRIDE, Metrosource Magazine Freedom Tower, New York, NY
POSCARDS FROM THE EDGE, Visual AIDS Annual Benefit, Various Galleries NYC
I AM NOT A LABEL, ChimMaya Art Gallery, Los Angeles, CA
LIC ARTS OPEN 2018 Spring Exhibition The Factory Gallery, Long Island City, New York City
BOY BORDELLO, PSPS Leslie-Lohman Museum of Gay and Lesbian Art, New York, NY
LEATHER PRIDE BELGIUM, Galerie Mooiman Gay Male Art Gallery, The Netherlands

AFFORDABLE ART FAIR AMSTERDAM, Galerie Mooiman Gay Male Art Gallery, The Netherlands

COLLAGE ETCETERA, Two Man Show, PSPS Leslie-Lohman Museum of Gay and Lesbian Art, Curated by Charles Leslie, NYC

FOURTH ANNUAL OUT & OUT SHOW, ChimMaya Gallery, Los Angeles, CA
FIGURATIVELY SPEAKING, DVAA, Narrowsburg, NY Curated by Rocky Pinciotti
CITY BOYS ONLINE, Mezmarket.com
ANTEBELLUM ANNUAL HALLOWEEN SHOW, Los Angeles CA Invitational
EROTIC LATINO/LATINA CELEBRATION Antebellum Gallery, Los Angeles, CA Curated by Rick Castro
LITHOGRAPHY: HERE & NOW, Robert Blackburn Printmaking Workshop, NY, NY
BEFORE THE RAINBOW, Chelsea Eye Gallery, NY, NY, Curated by Tracy Von Becker-Legge
ART OF MEN BY MEN Leslie Lohman Museum of Gay and Lesbian Art, New York, NY
PARSONS REUNION ALUMNI EXHIBITION, Arnold and Shelia Aronson Galleries, New York, NY Juried
NAKED IN NEW HOPE, Sidetracks Art Gallery, New Hope, PA Invitational
OUT & OUT, ChimMaya Art, Los Angeles, CA
OLYMPIC CHALLENGE: Adonis Art Gallery, London, UK
THE FLESH: ChimMaya Art, Los Angeles, CA
UNCENSORED: Queer Art and the Church, , PSPS Leslie-Lohman Museum of Gay and Lesbian Art, NYC, Curated by Charles Leslie
Solo Show: RECENT WORKS, Chelsea Eye Gallery, New York, NY
ARTPORN-LOUNGE @ HustlaBall Berlin,Germany, Curated by Franz Werner
Pop-Up Museum of Queer History, POP-UP SOHO, Leslie Lohman Gay Art Foundation, New York, NY, Curated by Evette Ale
QUEER FROM ZERO TO ONE HUNDRED, TNC Gallery, New York, NY Invitational
Solo Show: SELECTED MONOPRINTS AND HYBRIDS, Delaware Valley Arts Alliance, Narrowsburg, NY
BACK TO THE BASEMENT, Leslie Lohman Gay Art Foundation, New York, NY
Solo Show: WORKS ON PAPER Manhattan Graphic Center, New York, NY
LAYER CAKE, Manhattan Graphic Center, New York, NY
DRAWN TOGETHER, Leslie/Lohman Gay Art Foundation, New York, NY
AYER Y HOY, The Nutshell Arts Center, Lake Huntington, NY
DIVING INTO THR DETAILS, NatureArt Gallery, Williamsburg, NY Curated by Elisa Decker
RED AND WHITE, Lascano Gallery, Great Barrington MA
9th ANNUAL NATIONAL ART EXHIBITION, Saint Johns University Chung-Cheng Gallery, Jamaica, NY Juried
IMAGINARY PORTRAITS: GAY LOVERS IN HISTORY, Leslie/Lohman Gay Art Foundation, New York, NY
GLAXOSMITHKLINE, Pharmaceutical Conference/Exhibition, Washington DC
ART, ACTUALLY, PAINTING, DRAWING, SCULPTURE, Leslie/Lohman Gay Art Foundation, New York, NY
Solo Show: MOSAICS Chelsea Eye Gallery, New York, NY
POR-TRAIT, The Outsider Studio, Livingston Manor, NY
FRAMING AIDS, Queens Museum of Art, Flushing, New York, Curated by Hector Canonge
ADVOCATE MAGAZINE'S 35th ANNIVERSARY SHOW Juried
ABSTRACCIONES, Galeria Mirabueno, Old San Juan, Puerto Rico
ABSTRACT AND MINIMAL WORKS, Lascano Gallery, Great Barrington, MA
Curated: MONOPRINTS: ONE OF A KIND, The Gallery at Chelsea Eye, New York, NY
MOVEMENT IN ART, Hudson Guild Gallery, New York, NY Invitational
GUEST SPEAKER, Gay and Lesbian Art Group, The LGBT Community Center, New York, NY
SELECTED COLLECTIONS:

The permanent collection of the Leslie Lohman Museum of Gay and Lesbian Art, New York, NY

Charles Leslie, Director Emeritus, Leslie Lohman Museum of Gay and Lesbian Art, New York, NY

Nelson Santos, Executive Director, Visual AIDS New York

Elaine Giguere, Executive Director, DVAA, Narrowsburg, NY

Sophia Loren, Geneva, Switzerland

GlaxoSmithKline, Pharmaceutical Company, North Carolina,

American International Group, New York, NY