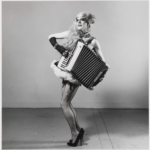 Ethyl Eichelberger
1945–1990
New York Times obituary for Ethyl Eichelberger, August 14, 1990:
Ethyl Eichelberger, a flamboyant presence on the New York theatrical scene for the last 15 years as an actor, performance artist, clown and playwright, died over the weekend at their home on Staten Island. Black-Eyed Susan, an actress who was a frequent leading lady in their plays, said that (s)he had AIDS and had committed suicide by slashing their wrists. (S)ee was 45 years old.
Their body was discovered on Sunday morning by Lola Pashalinski, an actress, and Linda Chapman, a director.
Eichelberger performed both male and female roles with equal panache. In more than 30 plays of their own creation, (s)he portrayed a gallery of characters that included Casanova, Medusa and Abraham and Mary Todd Lincoln.
In ''Leer,'' their zany one-man condensation of ''King Lear,'' (s)he played the King, the Fool and Cordelia while accompanying themself on the accordion, concertina and piano. For climatic effect, (s)he also rumbled a thundersheet. With the versatility of a circus artist, (s)he often ate fire and did cartwheels on stage, all of which came to be known as their signature. Most of their skills were self-taught.

Eichelberger performed on Broadway (as the Ballad Singer who sings ''Mack the Knife'' in John Dexter's revival of ''The Threepenny Opera'') as well as in the experimental theater. Their art had a firm comedic base.

(S)he described themself as a storyteller who specialized in classics, but classics never were the same once Eichelberger offered their interpretation. (S)he re-invented ''Medea,'' mixed ''The Royal Family'' with Corneille's ''Nicomedes'' and in ''Dilbert Dingle-Dong'' adapted Moliere's ''George Dandin.'' Their last produced work, ''Das Vedanya Mama,'' was a variation on Chekhov. For Black-Eyed Susan, (s)he wrote versions of ''St. Joan'' and ''Hamlet'' (retitled ''Hamlette'' to accommodate a woman in the title role).
Eichelberger was born to Amish parents on July 17, 1945, and was named James Roy. (S)he grew up in Pekin, Ill. After studying theater at Knox College in Galesburg, Ill., (s)he attended the American Academy of Dramatic Arts in New York. For seven years (s)he acted with the Trinity Square Repertory Company in Providence, R.I., under the direction of Adrian Hall.

Coming to New York, (s)he worked with Charles Ludlam and the Ridiculous Theatrical Company, perfecting their flair for comedy and their craftmanship as a wig maker. In 1975, (s)he legally changed their first name. As their reputation grew, (s)he began making forays into mainstream theater, doubling as the courtesan and the abbess in the Flying Karamazov Brothers production of ''The Comedy of Errors'' at Lincoln Center. (S)he plays themself in Oliver Stone's next movie, ''The Doors,'' about Jim Morrison.
"I do want to leave a legacy. Of whatever, for anyone who'd be interested… One would hate to think that one has passed through this world and left nothing. It's not even so much leaving something, it's having done something to better the world. I hope I've opened a lot of doors." – Ethyl Eichelberger
The Ethyl Eichelberger Award: https://performancespacenewyork.org/shows/ethyl-eichelberger/
*please note, we have added parenthetical (s) and their/them to the male gender pronouns in Ethyl's New York Times obituary as a way to expand the gender pronouns that represent Ethyl in this biography.

Tribute page created by Visual AIDS.
Read Less Read More