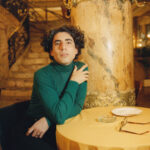 Feliciano Centurión
1962–1996
Feliciano Centurión was born in San Ignacio de las Misiones, Paraguay in 1962. He settled in Argentina in 1974. He studied Visual Arts at the Escuela Nacional de Bellas Artes "Prilidiano Pueyrredón" and at the school of fine arts "Ernesto de la Cárcova". Since 1987 he exhibited in various areas of Buenos Aires and Asunción. In the 1990s he was part of the Group of artists associated with the Gallery of the Cultural Center Ricardo Rojas (dependent of the University of Buenos Aires). In 1994 he represented Paraguay in the fifth Havana Biennial. He died of AIDS-related complications in Buenos Aires in 1996.
Profile picture by Alberto Goldenstein.
This tribute page was created by Visual AIDS.
Read Less Read More
From the The Blanton Museum of Art regarding Luz divina del alma [Divine Light of the Soul], circa 1996, Hand embroidered pillow:
Few objects are as intimate and common as a pillow. Pillows are associated primarily with rest, but they also evoke love, sex, and illness. All four connotations emanate from small pillows whose covers Feliciano Centurión embroidered at the hospital where he received treatment for the HIV-related complications that led to his early death. Like other artists associated with the "light" aesthetic in Buenos Aires during the 1990s, Centurión embraced kitsch and rejected the distinction between craft and art. He also subverted conventional gender roles by using embroidery, a medium that is traditionally considered women's work and reflects a delicate, feminized aesthetic. Here the overblown sentimentality of the phrase that constitutes the title, stitched below a pair of oversized blue eyes with frilly lace lashes, is both comic and poignant. The eyes humanize the pillow and invite one to read adoration, longing, sadness, fear, or peaceful acceptance into its gaze. Centurión's careful embellishment of pillows makes them repositories for poetic reflections presented with a gentle sense of humor.