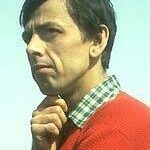 Felix Partz (of General Idea)
1945–1994
Felix Partz, born in Winnipeg, Manitoba, was a Canadian artist and a co-founder of the artist collective, General Idea, with Jorge Zontal and AA Bronson.
General Idea, which was formed in Toronto in 1969, exhibited widely in North America and Europe and was the subject of several retrospectives. Each member took on new names- Felix Partz, born Ronald Gabe, Winnipeg, Manitoba, Canada, 1945-1994. Jorge Zontal, born Slobodan Saia-Levy, Parma, Italy, 1944-1994 and AA Bronson, born Michael Tims, Vancouver, British Columbia, Canada (born 1946).
They lived and worked together, each bringing experience and talent in various media. They produced art in many media that would infiltrate and be inspired by popular culture over 25 years. The group developed a witty, slick-looking form of Conceptual art that borrowed liberally from advertising and other art. They were known for their magazine FILE (1972-1989), their unrelenting production of low-cost multiples, and their early involvement in punk, queer theory, AIDS activism, and other manifestations of the other. In 1974 they founded Art Metropole, Toronto, a distribution center and archive for artists' books, audio, video, and multiples, which they conceived as the shop and archive for their Gesamtkunstwerk: The 1984 Miss General Idea Pavillion, a kind of meta-museum. From 1987 through 1994 their work addressed the AIDS crisis, with work that included some 75 temporary public art projects. Their major installation, One Year of AZT/One Day of AZT, was featured as a project at the Museum of Modern Art and now resides in the collection of the National Gallery of Canada. General Idea is also well known for its appropriation of Robert Indiana's colorful "Love" emblem, which it changed to read AIDS.
General Idea exhibited internationally, including solo exhibitions include: Haute Culture: General Idea. Une rétrospective, 1969-1994, Musée d'Art Moderne de la Ville de Paris, Paris and Art Gallery of Ontario, Toronto (2011); FILE Magazine / General Idea Editions, Torpedo Kunstbokhandelen, Oslo (2010); The 1984 Miss General Idea Pavillion, The Art Gallery of York University, Toronto (2009).
Mr. Partz tended toward the iconoclastic. While still at the University of Manitoba School of Fine Arts in Winnipeg, his hometown, he made photocopies of famous artworks for his print-making class. At the time of his death he had just finished work on a series of AIDS-related General Idea projects that incoporated mutated simulations of works by Mondrian and Duchamp.
Partz died on June 5, 1994 of AIDS-related causes.
The group was dissolved with the deaths of Partz and Zontal in 1994.
Read Less Read More