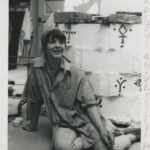 Garland Eliason-French
1942–1996
Garland Eliason-French was born on December 21, 1942 in Chicago, IL and later grew up in Peoria, IL in 1945. Eliason-French briefly attended Sarah Lawrence College, NYC and later transferred and graduated from Bradley University with a Bachelor's degree in Fine Arts. Eliason-French received her Master's Degree in Fine Arts from the Art Institute of Chicago in 1968. Eliason-French identified as a feminist and matriarch who embodied themes of mythological feminist symbolisms in her paintings.
Garland contracted HIV from a blood transfusion given after injuries suffered from mental illness. Garland passed away due to AIDS-related complications on April 23, 1996 at St.Vincent's Hospital.
Tribute page made by Visual AIDS and the Estate of Garland Eliason-French.
Read Less Read More