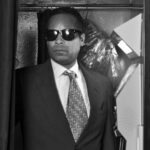 JACK WATERS is a visual artist, film maker, writer, media artist, choreographer and performer.
His visual art was represented in 2014 in the Visual AIDS exhibition "Ephemera As Evidence" at La Mama Galleria, and in 2013 at "NOT OVER: 25 Years of Visual AIDS" also at La Galleria, and in "Not only this, but 'New language beckons us'" at Fales Library and Special Collections, NYU. He exhibited in the 2008 three person show "Triple Threat" at Frise, the gallery in Hamburg Germany.
His film "Berlin New York" was shown on the November 2002 Sundance Channel's "Underground Shorts: Politics" program. He and life partner/collaborator Peter Cramer were subjects of the PBS series "In The Life" 2002 season premier for their video installation "We Remember" at NYC's Donnel Library windows.
His video short "The Male Gayze" was shown at the Whitney Museum Of American Art's February 1995 exhibition "The Black Male". Water's film works are the subject of preservation by Visual AIDS' Estate Project for Artists With AIDS. Waters is the creator of the interactive digital artwork "Superschmoozio© The Game Of the International Art Market", a project fostered by Franklin Furnace's Future of The Present residency at the New School for Social Research.
As a journalist he has published articles on politics, cultural affairs, and reviews in visual arts, film, and media. He was a founding contributing writer for Color Life, the news journal for Lesbian, Gay, Bisexual, Transgendered and two-spirited people of Color, and for LGNY, New York City's LGBT news bi-weekly.
Cramer and Waters were a catalytic force behind POOL, a dance/performance collective in the early 80's. POOL explored contact and other forms of improvisation, emphasizing combined theatrical forms, ritual, activism and group dynamic, creating performance work, choreography, and ephemeral events in NYC, throughout the U.S., and internationally.
Collections housing Water's works include NYC Library Of Performing Arts, The Film Makers' Cooperative, NYC Public Library AIDS Activist Video Collection, and the archives of Allied Productions, Inc., the non profit arts umbrella organization that he and Cramer co-founded and manage. Waters and Cramer are subjects of an oral history on the website and catalogue of the Smithsonian Institution in Washington D.C..
Waters is a 1979 graduate of the Dance Division of the Juilliard School.
Read Less Read More
My earliest training is influenced by the works of the German expressionist multi media movement artist Mary Wigman and her partner, the kinesthesiologist Rudolph Von Laban. Their collaboration melded aesthetics, sociology, and physics into a broad-reaching practice in a defining point of modernism. Collaborative working, collective process and cross media has been a lifetime methodology in my art-making and social practice. From my experience in low/no budget film production I have developed a resourcefulness instilled by limited access to the high-end. This ability to not only adapt, but to excel in making the best use of available resources has become ingrained as an organic aesthetic approach that recognizes form and content as mutually dependent. Much of my process involves drawing, painting, and sculpture as I frequently exhibit in forums and venues dedicated to the visual arts. Similarly, I use writing and musical forms as a basis for my creative composition. I merge visual art and live art/performance with moving image and installation in frequent collaboration with my life partner Peter Cramer. Our work strives to refute the arbitrary constrictions imposed by the strict boundaries of genre with the understanding that not conforming to recognized standards warrants control -- and self definition -- of our own means of production. I have worked professionally in media since 1980 as an independent producer of my own short experimental works. A primary exhibition venue for me since 1986 has been with the annual New York Lesbian and Gay Experimental Film Festival, now known as MIX NYC. I have self exhibited my own works locally, nationally, and internationally, and have been an arts administrator as co- director of Abc No Rio, and co- founder/co-director of Allied Productions, Inc. I was also an exhibitor of film and video as the director of Naked Eye Cinema, an offshoot of Abc No Rio's film programming. Our current venue for presenting work of other experienced and up and coming artists is Le Petit Versailles the Greenthumb community garden that Cramer and I founded and collectively manage in our neighborhood of New York's Lower East Side. As with our work at Abc No Rio LPV gives us the opportunity wo experience and collaborate with a broad range of artists of all ages and persuasions. Similarly it supports our lifelong interest in and influence by community and collective process
Born October 14th, 1954 Philadelphia, PA
Performance/Multimedia/Dance-
La Mama Squirts
January 3-12 2014
Guests Of Honor
Performers at Helix Queer Performance Network Event
"The Jack & Peter Show"
Co-Host with Peter Cramer
For One Night Stands series at The Gordon Kurtti Project Exhibition
Participant, Inc. , NYC A variety talk show format with Justin Sayre, Carlo Maria Ampil, Connor Donahue,
Ariana Huffenstuff, Jim Hubbard, Ryan E. Roger, and Sarah Schulman
June 12, 2013
Reconstituted Remnants
MIX 25
November 2012
A live remix redoux of "Remnants" with original and added elements.
Untitled Duet
BAAD (Bronx Academy of Art and Dance)
With Peter Cramer May 2010
Subi-Baja ("See-Saw" deconstruction for Spanish Langue)
Spanish language multi media deconstruction of Harvey Firestein's play from his trilogy "Safe Sex". Performed December 2005 at CCCB (Centro Contemporaneo Cultural Barcelona)
See-Saw
Play by Harvey Firestein
Le Petit Versailles Garden Indoors
With Peter Cramer, Text by Harvey Firestein directed by Andy Hamlin
Heat@theKitchen
Discursive inquiries on privacy and civil liberty. A "Theatrical Intervention" in collaboration with Peter Cramer, DanceTube and Members of Queerfist.. Curated by
LTTR, March 2005
Vacas Locas Para La Pau
DanceTube European Tour Summe 2004
Live Wire Remote
Remote Lounge, NYC March 2001
40+
Mazer Theater
THEATER of DESIRE
Sunday September 22nd, 2002
Curated by Brennan Gerard and Ryan Kelly
Performance-based work that confronts risk, danger or the desire to do
something on stage that has never been done before.
Hemispheric Institute of Performance And Politics
Spectacles Of Religiosities with DanceTube
Scriball Center Theater NYU August 2003
Bed–In For Peace and Against Homophobia
"War Is Ovah, or Give Peace A Break"
Avant Garde Performing Art festival Cleveland Ohio's Public Theater
Based on Yoko Ono and John Lennon's Bed-In For Peace
May 30-31 20003
Transpace
Chelsea Art Museum with DanceTube
April 2003
DANCETUBE 2001-2005 co founded and.
SPETTACOLO PROVOLONE - Writer director.
a multi-media surreality-based musical theater intervention based on the
myth of the seduction of Io. Theater For The New City, NYC June 2003
Giornalisti In Maschera
Emily Harvey Gallery, Venice June 2001
BLACK & WHITE STUDY: THE DANCE – Danspace Project, NYC Spring 1999
Miller Studio, Zurich Winter 1999
Nudes, Chiaroscuro, gay relationships Performance and film
collaboration with Peter Cramer.
REMNANTS – Henry Street Settlement, NYC August 1998
Reenactment of multi-screen projection originally premiered at MIX NY
BANQUET OF THE BEHEADED
Script writer for theater performance at La Mama, NYC October 1999
In Collaboration with artist, Nicola
PHILADELPHIA
Solo Dance and monologue
Danspace Project at Saint Mark's Church, 1997
SO LIVE A LITTLE WITH JACKIE KAYE
Solo Caberet performance
Pink Pony, NYC 1996
SPEW
Biographical Multi media theater performance with Peter Cramer
presented by Franklin Furnace at Cooper Union Hall, NYC 1992
THE RING OUR WAY
Treatment of Wagners Ring Cycle performed at:
Anthology Film Archives, NYC September 1992
DCAC, Washington, DC, 1990
BACA ARTS Brooklyn, NY, 1990
Abc No Rio, NYC,1990
RAPP Art Center, NYC199
La Mama Cabaret, 1990
Fuch's Keller, Hamburg Germany1990
FOHO TELL DREAMS
Las Dahlias Sala De Fiestas (Ibiza, Spain), 1984
La Fabrica (Barcelona, Spain), 1984
Danspace At Saint Mark's Church, NY 1985
Choreography:
PERSONNIFICATIONS 1979
Choreography for ensemble (Stravinsky Dumbarton Oaks Concerto)
American Dance Center Repertory Workshop (Ailey III Company), NYC
Shauspeilhaus (Cologne, Germany),
DTW, NYC
A FREE RIDE 1985
APRES MINUIT D'UNE FAUNE 1983
ECHO AND NARCISSUS 1980
FORM AND MEANING 1984-'86
FOHO TELL DREAMS (Ibiza version) 1984
FOHO TELL DREAMS (New York Verision) 1985
POOL ( Co-founded 1981)
A choreographer's collective that also created and performed multi media performance, rituals, site specific installations, and ephermeral events internationally.
Works performed at The Kitchen, Rote Fabric (Zurich), Franklin Furnace, Rapp Art Center, Creative Time (Art On The Beach), Cat Club, Pyramid, Armageddon, La Mama (One Night Stands series), Brooklyn Terminal Show, Abc No Rio, The Saint, Limelight, etc.
(Full list of choreographed works and P.O.O.L. portfolio available on request)
APPEAR IN THE WORKS OF
Slava Mogutin – NYC Go-Go (photo book Brooklyn, NY: powerHouse. 2006 with Inbred Hybrid Collective decor and performance at The Cock)
Barbara Hammer – "Nitrate Kisses" (feature film scene with Peter Cramer) 1992
Josephine Meckseper "March For Peace, Justice, And Democracy" (video installation demo footage with Inbred Hybrid Collective et. Al.) 2007
Perform in works of:
Susan Salinger ("Frames And Sequences", "Surface: A Plane Face", "Dead Languages", "Para-Narrative Performance", "Chops" at P.S.1, The Kitchen, DTW)
Title role in Kembra Pfahler's film, "Straight Jackie" at Millenium FILM WORKSHOP, NYC.
Performed with Kembra Pfahler at 707 Klub, Frankfurt, Germany
Role of Sunman and other roles in band Karen Black at The Kitchen, Pyramid Club, Frankfurt Germany, Groenegan Holland, etc.
Film and Video -
Credits include the creation of many avant-garde shorts that continue to screen internationally.
Works in the Reserve Film And Video Collection of the Library For The Performing Arts at Lincoln Center of the New York Public Library
Works in the Dance Collection of the Library For The Performing Arts at Lincoln Center of the New York Public Library
Video works in the Collection of Royal S. Marks Collection of AIDS Activist Video, The New York Public Library, Astor, Lenox and Tilden Foundation.
Film, The Male GaYze
National Gallery of Art Washington DC July 16, 2011
Film, The Male GaYze
Film-Maker's Co-op out of New York and MOCA at the Pacific Design Center
October 16, 2010
Film Berlin New York screened on Sundance Channel's Fall 2002 Season Underground Shorts: Politics program.
Visiting Assistant Professor of Video at Hampshire College 2002 - present
Film elements and ephemera in the Fales Library and Special Collections
Elmer Holmes Bobst Library, New York University.
Screened FilmThe Male GaYzeatThe Whitney Museum Of American Art
February 1995 At an exhibition titled: Black Male - Representations of Masculinity in Contemporary Art.
NAKED EYE CINEMA, Founder/Curator1985 - present
International Film exhibition, production, distribution of independent features, experimental, avant garde, and underground cinema Also directed Naked Eye Cinema TV for Manhattan Cable Televison.
( Naked Eye Cinema Press Book available on request)
Other media experience :
Systems Manager for "A Question Of Equality", (1993 -1994),
A national public television broadcast of a 4 part documentary series for PBS. The program was also broadcast on British TV (Channel 4), and German TV.
Produced by Testing The Limits which made Voices From The Front , a documentary of the Beginnings of the AIDS Movement.
My job entailed Operation of local and remote computer communications system.
FILM AND VIDEOGRAPHY
Giornalisti En Maschera
Interviews and performances at the 2001 Venice Biennial press viewing featuring Emily Harvey and Mary McFadden
Jack Waters and Peter Cramer @ 30min
Premiered Mlliennium Film Workshop March, 2009
Two Gentleman of Lucca (Signore Due di Lucca)
Peter Cramer & Jack Waters 2008.
04:19,DVD, color, sound.
The Education of Abou Ben Adhem DV 15 min min (in progress)
A cycle of abuse inspired by Victorian poem by James Henry Leigh Hunt.
Occupy My Ass, Not Iraq DV 7 min 2006
An immigrant is lured into an induction as the recruiter's subconscious back story is revealed in voiceover.
On The Cusp DV 36 min 2003
Documentary following three teenagers from the Summer prior to entering high school to 11th grade.
Live Wire/Remote DV 10 min 2002
Document of media performance at NYC's Remote Lounge on pederasty, homophobia, and the Taliban.
Short Memory/No History – Aids, Art, Activism DV 2000 33:04
Documentary tracing a history of the AIDS and Queer activist movements in public consciousness, art, and media
REMNANTS multi screen projection event incorporates Super 8 & 16mm film, video, slide projection, and live performance. MIX NYC 1997
INTRODUCING MR. DIANA Video 27 min 1996
Experimental documentary of notorious comic and zine artist Mike Diana.
"PERCODAN & WISDOM Video 20 min 1995
A video poem reminiscent of the piers.
"THE FLOWER MARKET" Video 15 in 1993
Homoerotic Fantasy of New York City.
"DIOTIMA" 16MM 30 min
A cinematic essay on the pornography debate. A classically stylized setting expounding the contrasting views of Schopenhauer, Dworkin, and the opinions of the cast. 1991
"The Male GaYze" 16MM 10 min meditation on perception,
observation and erotic deception 1990
"The Blond Leading The Blond" Video Experimental narrative. A young dyke coming of age. (scene 1 of work in progress), 1989
"Family Jewels" With Leslie Lowe 16MM 10 - 15 min double screen projection using found footage and film loops with sequential central screen 1988
"Introductory Film Offering" 16MM 3 min Black and White still life 1987
"Nocturnes" With Leslie Lowe 16MM 13 min based on a passage from Husseman's decadent novel, Au Rebours 1987
"Brains By Revlon" 16MM 18 min satire 1986
"Fashion Is" 16MM 5 min comprised of found commercial footage with original footage 1985
"Berlin/New York" S8 20 min showing similarities of two landscapes 1984-'86
"The Ring, Our Way" 16MM and Video - based on Wagner's Ring Cycle; Rhinegold, 30 Min, Walkurie's Rock , 20 min, Die Walkurie, Die 17 min Siegfried part 1 ("Forest Mummers"), 16 min Siegfried conclusion, 25 min 1987 - '92 work in progress
Distributed by New York Film-Makers Cooperative
Collections: Donnell Media Collection, New York Public Library
Fales Library New York University Film Kakers Cooperative
SCREENINGS
NEW YORK CITY-
The Male GaYze at THE WHITNEY MUSEUM OF AMERICAN ART
February 1995 At an exhibition titled:
Black Male - Representations of Masculinity in Contemporary Art.
NAKED EYE CINEMA ABC NO RIO EMBARGO BOOK, LTD. MAGIC EYE SCREENING ROOM HOTEL AMAZON GAS/2B THE PYRAMID CLUB NY FILM FESTIVAL DOWNTOWN MIX FESTIVAL WHITE COLUMNS COLLECTIVE FOR LIVING CINEMA MILLENNIUM FILM WORKSHOP TOMPKINS SQUARE PARK ART FESTIVAL ANTHOLOGY FILM ARCHIVES A DIFFERENT LIGHT BOOK STORE KNITTING FACTORY CANTOR FILM CENTER, UNION DOCS, others
OTHER USA-
Washington DC National gallery Of Art 2013
SILVER SCREEN THEATER PACIFIC DESIGN CENTER , LOS ANGELES
On program "Counter Culture Counter Cinema" with Film Makers Cooperative 10/16/2010
LOS ANGELES FILM FORUM
SAN FRANCISCO INTERNATIONAL GAY AND LESBIAN FILM FESTIVAL (FRAMELINE, Also distributed The Male Gayze)
BERKS FILM MAKERS COOP, READING, PA.
CANADA-
Naked Eye Cinema Cross Country Tour:
WINDSOR; ARTCITE HULL; AXE NEO-7, SAW GALLERY MONTREAL; MAIN FILM, POODLES TORONTO; THE RIVOLI, A SPACE HALIFAX; EYE LEVEL REGINA; NEUTRAL GROUND CALGARY; CALGARY SOCIETY OF INDEPENDENT FILM MAKERS, EM MEDIA VANCOUVER; PITT INTERNATIONAL GALLERIES
SWITZERLAND-
XENIX FILM CLUB; LUCERNE, ZURICH ROTE FABRIC, ZURICH
ENGLAND
NATIONAL FILM THEATER; London
FRANCE-
L,ENTREPOT; Paris
GERMANY-
KINO EISZEIT; Berlin, METROPOLIS KINO, Hamburg
Published Writing-
Starship
(Berlin/Hamburg)
"Reverse The Trend Of Obscuring" Spring 2004
"On "real [homo]sex" Issue #10 2006
Poz Magazine
Portrait Of The Artist As A Sex Bomb
January 2000, NYC
Gay Financial Network
Column for National On-Line Publication
Beginning June 20000
New York Blade News, a weeklyfor NYC's Lesbian and Gay community. Arts reviews.
LGNY, NYC NY's other Lesbian and Gay news weekly.
Former Contributing Editor; Articles and reviews on film, media, and visual arts.
Color Life - NYC
Writing news, journalism and cultural affairs for magazine focusing on Lesbian and Gay community of of Color.
Jumpcut# 37 - Los Angeles
"Truth or Realness" Comparitive review of Truth or Dare and Paris Is Burning
Fuse Magazine- Toronto, Canada
"Madonna, Having It Both Ways" Essay on Madonna's video ouevre
Conde Nast's Brides Magazine - USA
A Cony Island Wedding
October/November 1996 Issue (p 62)
Redaktion Springer - Vienna, Austria
Essays and reviews on cyber culture
:Die Koloniserung des Cyberspace"
November 1996
Ear Magazine -"In The Language Of Dreams Or Legends" Published article on codification of dance and musical notation with illustration of an "ontological score"
December, 1980
Movement Research Journal - NYC
#7 Fall/Winter 93/94 States of The Body
"Dancing in Cyberspace" Fictional review of futuristic performance
"The Male Gayze" transcript
Exhibitions
Ephemera As Evidence
La Mama Galleria
Curated by Josh Lubin-Levy and Ricardo Montez
June 5 – June 29, 2014
NOT OVER: 25 Years of Visual AIDS
La MaMa Galleria, NYC
Curated by Kris Nuzzi and Sur Rodney (Sur)
June 1 - 30, 2013
Short Memory/No History in group show
Not only this, but 'New language beckons us'
Fales Library and Special Collections, NYU
group show Curated by Andrew Blackley
May 23 - July 27, 2013
DIE DROSTEI/ Haus des Barock und der Moderne
September 9.. Oktober 21 2012
Group exhibition curated by Sabine Mohr
http://www.drostei.de/index.php
COCK GOBBLIN'
July 18th 2012 @ The Cock 29 Second Avenue.
Media Installation for Dirty Looks On Location Series
THE RING RELOADED
at MIX NYC November 15- 20 2011
Sonic Chamber installation with aural direction and tone construction by John Schwartz. Extracted tones and moving images from "The Ring OUR Way"
http://mixnyc.org/24/installations-ring-reloaded.php
Art Drecco
Live Fast, NYC
With Peter Cramer, Leslie Lowe, January 2010
Triple Threat
Frise, Hamburg
With Peter Cramer and Marc Arthur September 2009
Head Lines
Rapture Café and Books
With Peter Cramer, Leslie Lowe, and Inbred-Hybrid Collective
May-June 2007
Never Look Back – Retrospective on Alternative art on Mainstream Institution
Shedhalle, Zurich 2001
Post Cards From The Edge – Benefit for Visual AIDS December 2004 - and annually
Time Warp 2000 Media installation with Peter Cramer and Ani Stanley at Anthology Film Archives
MIX - The NY Lesbian and Gay Experimental Film Festival November, 2000
The Color Of Friendship
Short Memory/No History a Case of Cultural Amnesia
Multi Media Installation with Peter Cramer in group show at Shedhalle
Zurich, Switzerland May, 2000
Daily Dispatch
Creative Time June, 2000
Internet work in collaboration with Peter Cramer
Art & the Garden - Times Square Hotel, NYC 1998
Art Affairs Video Installation ‑ Venice Biennial 1993
Out Loud: Artists Against the War ‑ Art In General, NYC. 1991
10 Years / 7 Days:ABC NO RIO ‑ Kunstlerhaus, Hamburg, Germany 1990 *
Police Terror Big Art Sale ‑ Michigan Gallery, Detroit 1989 *
Miami:The Last Resort ‑ Galaxy Gallery, Miami Beach 1989 *
ABC NO RIO: The First Five Years ‑ City Gallery, NYC. 1985 *
* CoCurator
Administrator/Director/Curator-
Lo Vamos A Hablar (Let's Talk About It)
Centre Cultural Contemporaneo Barcelona (CCCB) 2005
Multi Tiered event including film, video , theater, didactic
ALLIED PRODUCTIONS, INC., Co-Founder/Officer/director (1982 - present)
A non-profit multi-purpose arts umbrella functioning as an organization that produces exhibits and presents all areas of the visual and performing arts also providing creative and organizational management consultant services. Also was co- curator and co- director with Peter Cramer of the internationally reknowned Gallery and community Arts Center
ABC NO RIO Co-Director /Board Member (1983 - 1993)
New and experimental forms of socio-political performance media and visual art with roster of artists that included Keith Haring, Jenny Holzer, Claes Oldenburg, Singer Michele Shocked, Poet Alan Ginsberg and many others.
Design and Display experience-
VALORIE HART DESIGNS assistant to floral designer whose clients included
Bob Guccionne, Hillary Clinton, Christies Auction House, Donaldson, Lufkin & Jenrette, Hasbro Toys, Ellen Breslow Newhouse 1992-1993
Display artist at Berdorf Goodman, Barneys, Wampsutta, Federated Department Stores, etc. 1983-1987
South Beach Hotel Project
Artist and Organizer of artists room design in Miami Beach. Pioneer of South Beach "Renaissance" in 1991, Organised and participated in a project where 15 artists created visual environments in rooms of landmark hotel. FEATURED IN NY TIMES HOME SECTION and syndicated nationally.
EVENTS-
Thirty Everything
Dixon Place
October 23, 2013
Remembrances and exaltations on Gordon Stokes Kurtti with a display of excerpts from the storyboard of The Blond Leading The Blond
Series of talks for Dan Fishback's performances of Thirty Nothing
Archiving Performance
New Museum
Critical respondent for "The Sky Remains The Same" project by Julie Tolentino
January 20-22 2013
HPSCHDMAY 4 & 5, 2013
updated version of John Cage's Gesamtkunstwerk
collectively mounted byIssue Project Room, theElectronic Music FoundationandEyebeam Art + Technology Center—in Eyebeam's Chelsea gallery
http://www.nytimes.com/2013/05/06/arts/music/hpschd-at-eyebeam.html?_r=0
The Cock, NYC 2007 –
With Peter Cramer and Inbred Hybrid Collective
Boys Room
Parties for Mix NYC 2008
My Comrade Magazine Launch Ukranian National Home, NYC April 2006
Halloween at Nowhere 2007
HOTEL AMAZON/HYPE/MARS Co-Manager
NYC Renegade Nightclub specializing in Hip-Hop, Reggae, film and performance. events 1987 - 1988
Events Coordinator 1981 - 1996
at Area, The Saint (Abc No Rio Benefit), Pyramid Club (ongoing event series), Danceteria ("1000 Balloons" exhibition, fashion, performance and film/media and ongoing events), Limelight ("Religion" for Collaborative Projects, Inc.), etc in NYC. Also in Miami, Detroit, Berlin, Hamburg.
PUBLICATIONS/REVIEWS-
NY Times
Mention in ART IN REVIEW
'Not Over': '25 Years of Visual AIDS
Published: June 20, 2013
'
http://www.nytimes.com/2013/06/21/arts/design/not-over-25-years-of-visual-aids.html
SMITHSONIAN INSTITUTION/ARCHIVES OF AMERICAN ART
Oral history interview with Peter Cramer and Jack Waters, 2007 Sept.6-Oct. 9
http://www.aaa.si.edu/collections/interviews/oral-history-interview-peter-cramer-and-jack-waters-13659
SCREENCRAVE (on-line publication)
Counter Culture, Counter Cinema Film Festival
Review of The Male GaYze at
the Film-Maker's Co-op out of New York and MOCA at the Pacific Design Center
http://screencrave.com/2010-10-22/what-to-expect-at-the-counter-culture-counter-cinema-film-festival/
The Fragile Emulsion
Jon Gartenberg Newsletter of The Journal Of The Association Of The Moving Image Fall 2002
Reprinted on Lux website 2005 http://kmi.lux.org.uk/casestudies/fragile.htm
The Variable Media Approach
Guggenheim Museum Publications, 2003
Tiffany Ludwig
Leonardo Volume 38, introduction p 193- 200 2005
Martha Wilson
Performa
Martha Wilson and Rosalee Goldberg 2008
Escaping 'Mediocrity's Vast Columbarium
Jon Gartenberg/ Artery 2001 http://www.artistswithaids.org/artery/artist/artist_index.html
Artery (online magazine for the Estate Project 2000
Inches, Montgomery West, October 1999
New York Times, Jennifer Dunning, May 1999
LGNY, Sarah Schulman, April 1999
Der Spiegel , 1990
Stern, 1990
The Guardian, Donna Minkowitz, September 1987
Dancemagazine, Julinda Lewis, June 1985
OCTOBER, Rosalind Kraus & Cara Gendel Ryan, Winter 1984
New Observations; Tricia Collins & Richard Milazzo, Fall 1983
Washington Post, Review of The Ring OUR Way by Marion Jacobson April 1991
Washington Blade, Profile of The Ring Our Way
OUTWEEK, Karl Soehnlein on Naked Eye Cinema screening at Anthology Film Archives and Waters' film, The Male Gayze
New York Times, Miami Herald (various articles), Miami Today, NY Native, Art And Antiques, Orlando Sentinel, Paper Magazine For room installation project at Leonard Beach Hotel (Miami, FL) 1989 -90
The Village Voice, C. Carr on Waters' performance piece, The Ring My Way and Abc No Rio Sept 1989
New York Newsday, Jonathan Mandel on Abc No Rio August, 1989
ABC NO RIO DINERO : THE STORY OF A LOWER EAST SIDE ART GALLERY, "Seven Days Of Creation" Published chapter on group exhibition and various activities 1985
Art Magazine, David Hershkovits on East Village Art 1983
October Magazine, Rosalind Krauss and Cara Ryan on the East Village Art scene's effect on the aesthetic, social and political climate of Ny's Lower East Side 1984
New York Times, Roberto Gautier on underground dance and performance activities 1984
Das Tanz Archives, Review of works 1979 and '80 (Cologne)
COLLECTIONS/ARCHIVES/DISTRIBUTION
FALES DOWNTOWN COLLECTION
NYC PERFORMING ARTS LIBRARY
JACK WATERS
http://nypl.bibliocommons.com/... BY SUSAN SALINGER
http://nypl.bibliocommons.com/... BY PETER CRAMER
http://nypl.bibliocommons.com/... FILM COLLECTION
FILM MAKERS COOP
PANELS/COMMITTEES
Exit Art Alternative Histories "What Is Alternative?" Moderated by Robert Storr October 2010
MOMA Barbara Hammer film retrospective Nitrate Kisses screeningSeptember 2010
College Art Association ­2002
Theater Library Assocition Plenary November 2002
NYU Gender Studies Department Panel on '80s East Village film art and culture June 200
SHEDHALLE - Never Look Back Conference on Critical Art Practice November 2001
Franklin Furnace Future of the Present selection Panel June, 2000
Discussion Panelist Visual AIDS Estate Project For Artists with Aids 2000
Mix Festival Programming Committee 2000
Mix Festival Selection Committee 1999
College Art Association "Collecting the Uncollectible" February, 2000
"The Queer Image In Entertainment And Publication" February 2002
Discussion Panelist NY Lesbian And Gay Experimental Film Festival 1989, 1994, 1995
Review Panelist for Ny State Council On The Arts Visual Arts Program 1987 - 1991
Discussion Panelist San Francisco Intl. Gay And Lesbian Film Festival 1990
MEMBERSHIPS AND ASSOCIATIONS-
MIX New York
Board President 2005 -2009
Board President Emeritus 2009 -
Film Makers Cooperative
Artist and Board Member 2002 –
YADDO Fellow
November 2001
May 2009
P.O.O.L., performance collective combining dance, music, film, visual installation, theater elements
Founding Member 1981 - present / pressbook, performance history, videotapes available on request
COLLABORATIVE PROJECTS, INC. (COLAB), Artists organization
Member 1983 - '87
MILLENNIUM FILM WORKSHOP
Member since 1985
FILM/VIDEO ARTS
Member since 1983
AMERICAN FILM INSTITUTE
Member since 1987
NY STATE COUNCIL ON THE ARTS
Panelist for Visual Arts Program since 1987
RESIDENCIES
Emily Harvey Foundation 2012/13
Harvestworks 2013
Yaddo 2009
Emily Harvey Foundation 2006
Berlin.Temps 2008
Yaddo 2001
TEACHING
A Different Take
Workshop in Film and Video Production
In association with MIX, The new York Lesbian and Gay Experimental Film Festival
1995 - Present
Hampshire College
Visiting Professor of Video
2001 – 2004
University of Elche
Academic residency Fall 2005
CAA Visiting Artist November 2006
UCSD Visiting Artist November 2006
Williams College Film course of Liza Johnson Fall 2003
EDUCATION/TRAINING
BFA Dance Julliard, NYC 1979