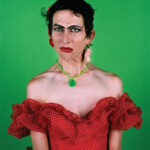 Jerome Caja
1958–1995
Jerome Caja was born in Cleveland into a Catholic family of 11 boys. He majored in studio art at Cleveland State and earned a master's degree in ceramics at the San Francisco Art Institute.
This humble, self-possessed artist painted exquisite miniatures with everything that you would find in a drag queen's handbag: nail polish, glitter, make-up, lipstick, and eye liner. His canvases included pistachio shells, lockets, discarded bottle caps, and small scraps of paper.
Jerome's iconography pays homage to a wide cast of saints and sinners: Jesus, the Virgin Mary, Saint Lucy, Satan, imps, priests, cherubs, demented clowns, cannibalistic birds, pigs, and gay icons.
Jerome died at the height of the AIDS-Art-Activism era in San Francisco from complications related to HIV.
His papers are housed in the Smithsonian Archives of American Art, and his work is collected in major museums around the country.
- from The Jerome Project website
portrait of Jerome Caja by Catherine Opie, 1993
Read Less Read More
"…when I work, I have a working behavior and it's even less intellectual thought; it's more habitual. It's something that I just do. I just go into it and just do it. Usually I'm telling a story and playing and chatting with myself. 'Cause that's what my painting is, it's me talking to myself, telling jokes, or making a statement, or losing my temper, or whatever. Usually that's what I'm doing, when I'm painting, I'm talking to myself, I'm having a private conversation." -Jerome Caja