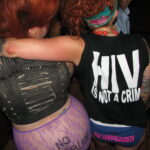 As a queer woman living with HIV, Jessica Whitbread explores her own sexuality and curiosity, often in public places, in hopes of making it easier for others to do the same. Jessica has a masters from York University in Building Communities to Ignite Social Change which she does through her tea parties, No Pants No Problem events, and POSTER/virus project with AIDS ACTION NOW!.
Ongoing social practice projects include:
LOVE POSITIVE WOMEN (2013-current)
No Pants No Problem (2004-current)
PosterVIRUS (2011-current)
Feminist Banner Making (2013-ongoing)
Tea Time (2012-current)
Read Less Read More
As a community organizer, artist, activist, academic and at times a "professional", I am interested in doing work that creates spaces for dialogue about social justice and social change. I do this through public installations, consciousness raising, workshop development and facilitation, engaging in direct action, policy review, research and any other method that allows a variety of stakeholders to engage in a diversity of ways. I believe that acts of kindness are stronger than acts of fear and that strong, united hearts can overcome the inequalities of this world.