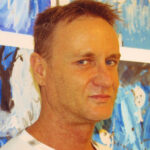 I am an Australian multimedia artist whose exhibitions have received acclaim and caused controversy both in my home country and internationally.
I decided to be an artist and immediately began painting at the age of 8, and have never had any misgivings about this decision to follow the artistic path. I studied at the Queensland College of Art until expulsion in 1984 for being a "disruptive and disturbing influence", after which my career really took off.

I've had had many group and solo exhibitions in Australia, including for the Sydney Gay and Lesbian Mardi Gras festival (1994, 1995, 1997, 2003 & 2005) and an exhibition for Sydney's cultural festival for the 2002 Gay Games. International solo exhibitions include shows in Paris (France), Fort Lauderdale (USA), Bangkok (Thailand), Kuala Lumpur (Malaysia), Geneva (Switzerland) and Shanghai (China).

I'm an internationally published writer of fiction and non-fiction and have been a regular cartoonist and writer for several publications.

My photography encompasses a broad spectrum of styles and themes, including for newspapers and magazines around the world, and for corporate clients.

I worked as the Visual Arts Director for the Queer As Fuck Arts Festival, 1999. I've campaigned as an advocate for the rights of people with HIV as well as disadvantaged children. I successfully lobbied to improve training of New South Wales police in Australia in matters related to HIV-positive people, and have held exhibitions and raised money to support and promote the needs of children in Africa orphaned due to HIV/AIDS.
I was a Teaching Consultant in Art Therapy at Glenside Psychiatric Hospital, Adelaide, Australia and now conduct occasional self-expression art workshops around the world.
In 2004 I was invited as Artist in Residence to conduct painting workshops at Lockhart River Aboriginal Community, Cape York, Australia.

In 2010 the photograph 'Imagine' was given an Inspiration Award for World Peace Day in the USA and participated in exhibitions throughout USA to raise funds to provide crutches for victims of war in Sierra Leone.

My films have featured in international film festivals. In 2010 the film "Ward 9" won the International Outrate Short Film Festival, a film about life in an HIV ward; "Twelve Black Horses" screened internationally for the Digital Fringe Festival the same year.

In 2011 a selection of Twelve Black Horse paintings and the short film "In The Park" were shown at the International Outsiders Festival and Outsiders Short Film Festival in Adelaide, Australia.

A film about the life of gay Australian bush-ranger Captain Moonlite, based on my set of 54 paintings, "Captain Moonlite" was first shown at the 'Wilde in the Country' exhibition in Goulburn, Australia in early 2012.
The 1st anniversary issue of Noisy Rain (January/February 2012) featured a pictorial of the Captain Moonlite paintings.

A feature-length three-screen film "Sex Club", a collaboration with performance artist Strykermeyer, premiered at the Sydney Gay and Lesbian Mardi Gras 2013 exhibition in Goulburn, Australia.

"Caught in the Cottage" - a series of explicit sexually-themed ink drawings done on toilet paper taken from the public toilet where George Michael was arrested in Los Angeles - featured in the summer issue (July/August 2013) of Noisy Rain.

From 2013 onwards I've completed the recording of a suite of fifteen one-hour musical compositions entitled "The Planets", another musical work "My Own Island", plus a two-hour installation film "mantrash".

"Four Golden Candles" short film was shown at the OUTLoud exhibition, Tap Gallery, for the 2015 Sydney Gay and Lesbian Mardi Gras festival.

Exhibitions in Sydney, Australia; Richmond, Virginia, USA and in Rome, Italy in 2015.
New short film (August 2016): https://youtu.be/_2oCjIvPgU4
Read Less Read More
Behind the concerns of subject and theme – sexuality; cultural ideologies; Nature and Man's place within it - I try to observe and experience an inner life, and to convey this in my art with as few subjective filters as possible. To open all the doors and windows and let the work dictate what it wants to be to some extent, then combine this intuitive process with a conscious application of technical skills and knowledge.

What do colors mean – and does the meaning of one color change when placed next to another? Can the position and form of a mark within a composition contain information? Can the relationships of these marks to each other carry still further meanings?
Selected Exhibitions etc.
1984 - Glass Roots, City Hall, Brisbane, Australia
1985 - Solo exhibition, Illudes, Kuranda Gallery, Qld, Australia
Notuvida Jungle, 'THAT' Contemporary Art Space, Brisbane, Australia (with Sue Ryan)
1986 - Solo exhibition, Preliminaries For 'Big Smoke', TAG Arts Centre, Cairns, Australia
1987 - Solo exhibition, Une Nouvelle Couleur, TAG Arts Centre, Cairns, Australia
1989 - Inside The Greenhouse, Tin Sheds Gallery, Sydney, Australia
1992 - Solo exhibition, The Markendeya Story, Inner Circle Gallery, Sydney, Australia
1993 - Solo exhibition, Cassie Clit In Purgatory, Inner Circle Gallery, Sydney, Australia (with text by Victor Barker)
1994 - Solo exhibition, I Am Your Secret Judge, Inner Circle Gallery, Sydney, Australia
Solo exhibition, Iron John, Gallery Cafe, Sydney, Australia
1995 - Solo exhibition, Homo Lives! (In Portrait), TaP Gallery, Sydney, Australia
Solo exhibition, Exhibitionism, Pilier Norde, Paris, France
1996 - Solo exhibition, Myself & Princess Diana, TaP Gallery, Sydney, Australia
Solo exhibition, Love Amulets Of The Clumsy Duchess, Fatz Cafe, Sydney, Australia
1997 - Solo exhibition, Angels Over Australia, Polymorph, Sydney, Australia
Solo exhibition, John Douglas Uses & Recommends, Sydney Metro Area, Australia
2000 - Solo exhibition, Dead Friends, Get Funked, Sydney, Australia
Solo exhibition, From a Fable to a Fool, Neilsen Hayes Library, Bangkok, Thailand
2002 - Solo exhibition, All Together, GLCCSF, Ft Lauderdale, USA
Solo exhibition, Backwards-Head Boy, Lizard Lounge, Sydney, Australia
2003 - Solo exhibition, Auto Da Fé, Istanbul Web Biennial 2003, Istanbul Museum of Contemporary Art
15 Years of Talkabout Covers, National Art School, Sydney, Australia
2004 - Solo exhibition, Caught in the Cottage, SIGNAL, Sydney, Australia
Solo exhibition, My Friend's Bordello, People's Square, Shanghai, China
2007- Solo exhibition, Painting Air, Istanbul Art Web Biennial 2007, Istanbul Museum of Contemporary Art
2008 - Queer Zines exhibition, New York Art Book Fair, New York, USA
2009 - Sketchbook Project 3, Arthouse Gallery, Atlanta; Museum of Contemporary Art, Washington; USA
The Canvas Project, Atlanta Airport; Art House Gallery, Atlanta, USA
2010 - Self Portraits, Brooklyn Art Library, Brooklyn, USA
Peace Project, Gallery 9, Los Angeles; Max Lang Gallery, New York, Meridian Gallery, San Francisco; USA 2011 - Postcards From The Edge, CRG Gallery, New York, USA
Peace Rises, Gallery 9, Los Angeles; EXPO Arts Center, Long Beach; Aperture Gallery, New York; USA
2012 - Postcards From The Edge, Cheim & Reid Gallery, New York, USA
Wilde in the Country, South Hill Gallery, Goulburn, Australia
Nine Lives, Tap Gallery, Sydney Australia (with Loui Jover and Donna Malone)
Solo exhibition, Midnight Gardens, Mines D'Art Gallery, Geneva, Switzerland
Make Peace, Landmark Arts Building, New York; Whole 9 Gallery, Los Angeles; Affaire in the Garden, Beverly Hills; USA
Outsiders Art Festival and Outsiders Short Film Festival, Outsiders Festival Museum; Adelaide, Australia
2013 - Solo exhibition, Midnight Gardens of Potts Point and Elizabeth Bay, Kings Cross Library, Sydney, Australia
Peace, Love and Understanding, Art Zone 461, San Francisco; 29 Pieces, Dallas; Landmark Arts Bldg, NYC; USA
A Book About Death Australia, Tweed River Art Gallery, Murwillumbah, Australia
Snap to Grid, Los Angeles Center For Digital Art, Los Angeles, USA
2014 - Postcards from the Edge, Luhring Augustine Gallery, New York, USA
Peace Starts Here, Landmark Arts Building, New York; Whole 9 Gallery, Los Angeles, USA
2015 - The Resurrection of The Exquisite Corpse, Skylight Gallery, Richmond, Virginia, USA
The Kangaroo's Visit, Galleria Giulia, Rome, Italy


Selected Film Screenings etc.
2006 - Project One short film screened at Brisbane Queer Film Festival, Australia
Painting Air film selected as finalist in Metroscreen Digibytes short film festival
2007 - A Home Exorcism film short-listed in Tropfest Film Festival
2008 - The Truthbary film shown at Squatfest Film Festival, Sydney, Australia
2009 - Entr'acte film shown at Squatfest Film Festival, Sydney, Australia
A Home Exorcism film shown at Caught Short, Tap Gallery, Sydney, Australia
Thank You For Not Singing film shown at Digital Fringe Festival
2010 - A Home Exorcism film shown at Sydney Squatfest Film Festival
cat nap film shown at Queer Pet Project, Dendy Cinema, Newtown, Sydney, Australia
Thank You For Not Singing film shown at IDAHO - The Exhibition, Kudos Gallery, Sydney, Australia
Ward 9 film shown in and winner of Outrate Short Film Festival
Twelve Black Horses film shown at Digital Fringe Festival
2011 - Krate film shown at Connected, Art Systems Wickham, Newcastle, Australia
Man Art 101 film exhibited in the Istanbul Web Biennial 10, Istanbul Museum of Contemporary Art
Pop Men film shown at Pride, Tap Gallery, Sydney, Australia
In The Park film shown at Outsiders Short Film Festival, Adelaide, Australia
2012 - Captain Moonlite film shown at Outsiders Short Film Festival, Adelaide, Australia
2013 - Sex Club film shown at Wilde in the Country, South Hill Gallery, Goulburn, Australia
2015 - Four Golden Candles film shown at OUTLoud, Tap Gallery, Sydney, Australia