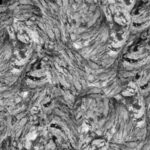 Jonathan Molina-Garcia
Jonathan Molina-Garcia (they/them) is a Salvadoran-American media artist, writer, and educator.
A citizen of the Global South and an American Dreamer, Jonathan's work draws on the politics of immigration, philosophies of madness, and nonwestern esoteric traditions to critique the violence of the Global North. They build assemblages of fiction out of analog media, digital novelties, and written/spoken prose to agitate a trans-of-color resistance.
They hold an MFA degree in Photography+Extended Media from the California Institute of the Arts (CalArts), and graduated with dual degrees in Photography and Art History from the University of North Texas. They are currently Assistant Professor of Photography and Digital Futures at Virginia Commonwealth University in Richmond, VA.
Read Less Read More
My practice bears a fundamental relationship with photography. Over the years, it has been my most consistent medium, and I don't make very much that doesn't involve taking pictures in one form or another. Much of my work, however, manifests the liberties I take with images: how I manipulate, cut, and undo them. The literal act of stitching is one immediate through-line in my projects, formally expressed as collage and photomontage.
I am strongly against photographic discourse that pits analog vs. digital methodologies; instead, I take the position of an artist looking at various iterations of the human-camera relationship, and the relentless need to self-represent and represent others through mechanical media. The entire imaging apparatus - which now includes drones, GoPros, virtual reality tech, etc.- is my main object of study.
Specifically - I consider the cultural and political implications of how such an apparatus is to be used by third-world, hyphenated subjectivities. The ability to determine how advanced technologies can offer pleasure, freedom, and survival to disenfranchised groups is of utmost importance to me, and it singularly drives my need to acquire new knowledge and working practices.
It follows, then, that my projects inevitably address my personhood. My identity as a queer Salvadoran immigrant – along with the attendant political realities it has engendered - has made lasting contributions to my work, and it continues to direct the social engagement of my practice. Questions about for whom and with whom I make art are critical components in my creative research.
EDUCATION
2016 MFA, Photography and Media, California Institute of the Arts, Valencia, California
2014 BFA, Photography, University of North Texas, Denton, Texas (Summa Cum Laude)
2014 BA, Art History, University of North Texas, Denton, Texas (Summa Cum Laude)
SELECTED GROUP/SOLO EXHIBITIONS and SCREENINGS
| | |
| --- | --- |
| 2019 | The Bethesda Brotherhood; solo exhibition. Lawndale Art Center; Houston, Texas. (forthcoming) |
| 2018 | In Sickness; two-person show curated by Benjamin Terry. Texas Woman's University; Denton, Texas. |
| 2018 | Transmission Reentry; curated by Giovanni Valderas. SP/N Gallery, University of Texas at Dallas; Richardson, Texas. |
| 2016 | Queer Cut-Ups; curated by David Frantz, Lucas Hilderbrand, and Kayleigh Perkov Leslie Lohman Museum of Gay and Lesbian Art; New York, New York. |
| 2016 | Exit Interview, CalArts Graduate Group Exhibition, Human Resources; Los Angeles, California. |
| 2016 | Cock, Paper, Scissors; curated by David Frantz, Lucas Hilderbrand, and Kayleigh Perkov (juried group show), Plummer Park, ONE Gallery, Los Angeles, California. |
| 2016 | BETHESDA; MFA Thesis Exhibition (solo), A402 & BB5-13, California Institute of the Arts, Valencia, California. |
| 2015 | COM-MUTINY; curated by Matthew Lax, Jonathan Molina-Garcia, Aubree Lynn (group), (Institution wide) California Institute of the Arts, Valencia, California. |
| 2014 | The Bethesda Brotherhood; MFA Mid-residency Exhibtion (solo); Lime Gallery, California Institute of the Arts, Valencia, California. |
| 2014 | Utopia Now; a film/video community forum by the Queer Artist Community (screening), Bijou Theatre, California Institute of the Arts, Valencia, California. |
| 2014 | Artspace 111 Regional Juried Exhibition (group show), Artspace 111, Fort Worth, Texas. |
| 2014 | POP EXPLOSION: the Artist and Popular Culture (juried group), Sweetwater Center for the Arts, Sewickley, Pennsylvania. |
| 2013 | New Works: Photographs by Jonathan A. Molina Garcia (solo), Cora Stafford Gallery, Denton, Texas. |
AWARDS AND HONORS
| | |
| --- | --- |
| 2017 | Art Tooth : Mind-The-Gap development grant |
| 2014-2016 | CalArts Scholarship and Grant, California Institute of the Arts. |
| 2014 | Jack Kent Cooke Graduate Art Award, Jack Kent Cooke Foundation. |
| 2014 | Outstanding Undergraduate Student in Studio Art Award College of Visual Arts and Design, University of North Texas. |
| 2014 | Outstanding Undergraduate Student in Art History Award College of Visual Arts and Design, University of North Texas. |
| 2014 | Conference Travel Grant, College of Visual Arts and Design, University of North Texas. |
| 2013 | University Scholar's Day Arts and Humanities Outstanding Paper, University of North Texas. |
| 2013 | Creative Project Grant, College of Visual Arts and Design, University of North Texas. |
| 2013 | Arch and Anne Giles Kimbrough Fund Award, Award to Artists, Dallas Museum of Art. |
| 2013 | Student Travel Scholarship, Society for Photographic Education (SPE). |
| 2009 | Art Has Heart' Scholarship, Amado and JB Peña Art Has Heart Foundation. |
SELECTED BIBLIOGRAPHY
| | |
| --- | --- |
| Forthcoming | "Forever Young: Intergenerational Pedagogies and Sex Aesthetics in Jonathan Molina-Garcia's The Bethesda Brotherhood," Richard T. Rodriguez, PhD. |
| 2018 | "How a New Generation of Artists Tackles the Realities of HIV/AIDS," Benoit Loiseau, THEM.us online journal. https://www.them.us/story/artists-tackle-hiv-aids-... |
| 2017 | "Obreros: Jonathan Molina-Garcia," Deep Red Press, online interview. https://www.deepredpress.com/blog/2017/5/26/roofer... |
| 2106 | Jonathan Molina-Garcia and Enrique Castrejon, "Keeping all the Messiness Together: Enrique Castrejon and Jonathan Molina-Garcia in Conversation," Cock Paper Scissors. Exhibition Catalogue. |