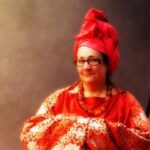 Kim Davis
b.1954
Kim generates major art works, creating intense dialogue for Social­ Change, making visible a vibrant community within a clinical and scientific platform globally to enable thought.
Kim Davis is an artist, an openly HIV positive woman of 20yrs, an activist, a global cross-cultural practitioner. Kim founded GloballyAware97 a non profit org to engage civil society, the broader community, leaders across all sectors, in dialogue around health education, in particular HIV/AIDS, Reducing Harm and Human Rights through arts and cultural practices. Her arts practice of 30+ years addresses Gender Equity, Social Change, Self­ determination, social justice cultural democracy through co-creative strategies.
Kim's global creative works have taken place in the Asian/Pacific region, UK, Europe, India, Nepal, Afghanistan, Egypt, Uganda, Kenya, Zambia, Zimbabwe, Malawi, Mozambique, South Africa South America and Australia.
Read Less Read More
My art is my obsession it is my fear, my clarity, my pain, my governess and it is the still that makes me smile" "You can only be inspired and overwhelmed by the passion of others living with HIV. Their wisdom is vast and their compassion is humbling."
Kim Davis is a renowned global HIV artist, director, producer, advocate, activist and global cross-cultural practitioner of 30yrs+. Kim's work is large vibrant and collaborative, expressing community voices from remote corners of the world. Kim has been creating major artworks long before she was diagnosed with HIV. But since then Kim is driven, passionate and works with people living with HIV from around the globe to make sure they recognise their insight and leadership and that they are heard. She is a chameleon who adapts to the immediate environment, utilising stories, materials, culture, what ever enables her to engage and collaborate. Her public Art performance, films and installations, engage the artists and audience to allow them to step in another's shoes and ponder. Kim combines online platform with innovative engagement strategies through digital media and public art events. Her work is multidimensional that impacts on all involved.
The Untouchable" AIDS98 Geneva
Snow Columbia
Golden Warriors Positive People UnMasked
Art Advocates AIDS Awareness
Pacific Edge
Targets Sulawesi
SENI Ubud Bali
Crocodile YWCA Women's Summit Kenya
The Music of AIDS Youth MDG"s Jakarta
APNSW (Asian Pacific Network of Sex Workers)
GloballyAware Social Change projects enabling collaborative dialogue through innovative arts process. This vehicle was used to create the United Nations HIV + Sex Workers Human Rights Declaration.
Co-­founder Youth-­Empowerment-­Against-­HIV. Co-­ordinated 1st Youth forum ICAAP2001.
The Virus Global
The Magic of Hiv childrens storytelling
Cremation of Discrimination and Stigma Padang Galak Indonesia
Partnering with Australia-­Indonesia Institute, Department of Foreign Affairs­Trade, Australian Embassy, AusAID and Community Partnerships of Australia Council for the Arts
Community Arts, Education, Pilot Program
Viral Pods
Positively Fabulous Changing Women's Lives
Positively Fabulous Adoption Centre
MISS HIV UNIVERSE pageant
Positively Fabulous Docco Women's Voices
Babbling Boudoir
Junkies Pool
Kitchen Chatter
POS FAB Touring Caravan
Rescue
Ma'Dam Kim