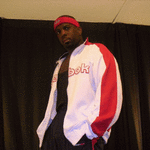 Lee Soulja was born in New York City and raised in the Bronx. He first rose to notoriety as a dancer at the age of 9 when he won a dance competition on a TV show called WONDERAMA. Lee has since traveled the world, appeared in several major music videos and performed on some of the world's most prestigious stages like The Apollo Theatre and Lincoln Center.
As a Visual Artist, Lee has been featured in several international magazines and publications such as VOGUE Spain, SWERV magazine, W magazine and the New York Times. He has also appeared in Independents Films such as WERK, DEEP IN VOGUE and SATURDAY CHURCH. Lee has appeared in two Off-Broadway productions and had a prominent reoccurring role on the EMMY Award winning TV series, POSE. He has also done background work on TV shows, LAW & ORDER and NEW AMSTERDAM.
Lee used his unique fashion acumen to become a Club Kid, Visual Performance Artist and then one of NYC's important Club promoters beginning in 1980s. He has created or been a part of some of NYC's most memorable nightlife events. He is considered a Legend in the House & Ballroom Community as the Founder and Overall Father of the House of Soulja, producing the annual Heritage Ball.
For the last 13 years, Lee has raised over a million dollars to create and organize NYC Black Pride weekend festival. His organization, the NYC Center For Black Pride has created a platform to showcase and celebrate the contributions and history of LGBTQ People of color. This organization affords him the opportunity to advocate for HIV Prevention & awareness, social justice and other issues adversely infecting the community.
Read Less Read More
Every day I choose how I will show up on the world. My Life is My ART!