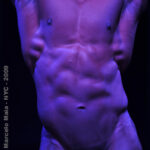 Marcelo Maia
b.1959
Marcelo is from Brazil and moved to NYC in 1989, to study photography at the International Center of Photography. His first photography book, Prometheus, was published in 1996 and he is working on his second book, Eros.
After an HIV an AIDS diagnose, he intensified the work with HIV prevention through GMHC. He became a member of the Client Advisory Board 2006, vice chair and chair in 2010. He was also an active on the NYC HIV Planning Council, Consumer's Committee and Advisory Group and ½ dozen HIV prevention other groups.
After 2010 he focused on Facebook and social networking, creating pages for Connect to Protect (C2P-NYC) and the HIV History Project. He is a scholarship recipient to AIDS 2012, attending as one of the 22 NLAN Embajadores and IAS media member.
In 2013, he joined ACT UP NY and has been very engaged with the activist group ever since. He also created and maintains the HIV History Project group on Facebook and Tweeter. More recently he joined the group Defend Democracy In Brazil in NYC and they have been very active, denouncing the coup d'étatdeveloping in Brazil since the beginning of 2016.
Read Less Read More
On EROS –Sex & Power
Eros is a photographic book project, examining the relationship between power and sex. The Catholic Church defines and represses human sexuality; in an effort remain in power. Thinking about the power and influence of the church, how churches were the main places for congregation, marvels in architecture, wealth, power and ceremony, where believers were exposed to erotic art and repressive discourses on sexuality. The muscular and naked bodies of Christ and saints shape "forbidden desires", guilt and the need for redemption. Those sexual feelings have been exploited and sexual repression becomes the rule, at the expense of self-awareness.
The book has four chapters: Myth, The Body, The Body of Christ and Sebastian. I took inspiration from renascence artists and to tie the project together, models were under a purple light, with its own mythology. At the present, the book has 141 color and b&w photographs.
Myth: The first objects of art were mythical figures. Art produced myth and they populate the imagination, the dreams and the real, they are part of human life. Myths work in the subconscious; they act on pleasure, science, law, business, beliefs, ethics, culture and morals. Ideologies are conveyed through myths.
The Body: Through art, we are able to identify as human, a hand printed on a cave wall, since it was made some 32,000 years ago. We see the hunters and the wild beasts and identify them as well. Humanity can be easily identified; the human figure is our first archetype.
The Body of Christ: Jesus is the official icon, nevertheless, the body of Christ continues being crucified, shot dead. The most powerful instrument of seduction, not only offers you visual pleasure, but promises eternal life. It is fascinating and justifies a whole range of inhumanities, opposed to everything he has ever being alleged to have said.
Sebastian: Seduction, youth, desire, sex, pain and pleasure all in one. The irony of a medieval gay romance gone badly, used to promote homophobia. Sebastian is that first love, which gets killed..."each man kills the thing he loves" *.
Repressed sexuality stops human development into psychologically and spiritually balanced individuals. People are made easier to control, making them better consumers. For the powerful, it is important that sexuality is controlled not only for reasons like "national security", but because it poses a direct challenge to power and the status quo.

Marcelo Maia, June, 29, 2016
*Oscar Wilde
Education
-Mechanical Engineer - University: Santa Ursula, Rio de Janeiro , Brazil , 1979-1983
-General Photography - Major : Portraits - International Ctr. of Photography , NY, NY 1990-1991
Experience
1- Photographer Assistant - Hans Neleman - 1991, Ted Hardin -91-94, M. la Monica -94-96
2- Free Lance Portrait Photographer - 1990 to present
Photographic Projects
1 - Sex and Money - Portraits of male Go-Go dancers in NYC gay clubs- 1990-91
2 - Sex and Race- Portraits of African-American males in NYC, Published by SaintMartins Press under the Title - Prometheus , 1997 - 1992-97
3 - Sex and Power - Portraits of mostly African-Americans and Latinos - 1998 to Present
Exhibitions
- A Bofetada - Solo Show - Salvador, Bahia , Brazil - 1990
- ICP - Graduation exhibition - Group Show - Ledel Gallery, NY, NY, 1991
- Incestuous Photographs - Sex& Money - Solo Show - Wonderbar - NY, NY, 1992
- Gay Photo Annual - Group Show - Leslie Lohman Gallery, NY, NY, 1993
- Queer Bodies - Group Show - Evergreen State College - Olympia, WA, 1993
- Gay Photo Annual - Group Show -Leslie Lohman Gallery - NY, NY, 1994
- AIDS Arts Show - Groups Show, Boston Arts Ctr.(BOCA) , Boston, MA, 1996
- Home is where the heart is - Groups Show - White Columns Gall., NY, NY 1997
- Sex and Money - Solo Show - Phoenix Lounge - NY, NY, 1999
- Falling Landscapes - Solo Show - Water Wheel Rest., Milford, PA, 2002
- Juried Exhibit - Groups Show - Viridian Gall. , NY, NY, 2002
- Juried Exhibit - Groups Show - Viridian Gall. , NY, NY, 2003
- Prometheus on Christopher Street - Solo Show - ChiChiz Lounge, NY, NY 2006
- Erotica in the Arts - Groups Show/Guest Speaker- LGBT Ctr. NY, NY, 2008
Publications
- Prometheus - Photography Book ,Saint Martins Press, NY, NY, 1997
- Exposed: A celebration of the Male Nude from90 of the world's GreatestPhotographers, Phil Braham (Editor), Quarto Publishing, London, UK, 2000
- Blue Magazine – Gallery – 6 pages - Sidney, Australia – Issue Aug. 2002
- Photographer's Forum – Best Photography Annual – 2002
- Vibrant Energy – Larry Cross (Editor) – Tree of Life Press- 2007
Activism / Community Services
- Visual AIDS – Volunteer Photographer – 1995 – 1996
- GMHC – Gay men's Heath Crisis – Volunteer – 2001 to Present
- Peer Educator – Portuguese Speaking Support & Prevention Group (GAPP)
2005 to present – GAPP Movie Nights, Fridays , 7 – 9pm
- GMHC CAB (Consumer Advisory Board)2006 to present
- As GMHC CAB Vice Chair from Jan 2008 to Present
- Advisory Group - Member - 2006 to Present
- Consumer Committee - Member - 2008
- C2P - Connect to Protect Coalition -Member - Mission to reduce HIV infection rates among Young msm of color in NYC – Created & maintain page and groups on Facebook – 2008 to present
- ABAC - AIDS Budget Action Coalition - Policy Committee Chair – 2008
- ACT UP NY – The AIDS Coalition to Unleash Power - . 2013to Present – Created the HASA Work Group and the Meth Work group. Issues of interest: Housing/HASA, Methamphetamine use among gay men in NYC, Sex & HIV Education, HIV Prevention, treatment and care, Drug Policies, PrEP & PEP, End the Epidemic in NY
HIV History Project – 2013 to present - Created and maintain the group on Facebook and on Twitter @HIVHistory