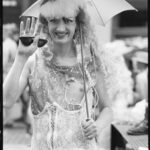 Statement from Kitty Gallery Open Studio, May 29, 1994
"I am a traveling hermaphrodite story-teller... the fool, the minstrel. My art has always been about portraying the glamorous asymmetrical beauty of androgynous peoples. Hermaphrodite magic is the balance between yin and yang, dark and light, sun and moon, death and rebirth. In a recent spiritual awakening I received the knowledge that I was not going to die in the near future. (Only weeks before I had been preparing myself to go.) The message came from the Plaedes; that constellation of Seven Sisters: a Green Healing Force. As I watched all my unpainted paintings come to life, I learned that all of the work that I have ever dreamed of is actually about healing the planet." -Miss Kitty
Bay Area Reporter obituary for Dan "Miss Kitty Litter Green" Jones (1962-1995):

Danny passed on to greener pastures Sunday at Maitri Hospice, surrounded by friends and family. Kitty was known to a wide circle of people in San Francisco and Japan as a performer, model and artist.
Kitty performed at San Francisco clubs solo and with her band, Clipped Out Recipes. Her paintings were shown at the Art Lick Gallery, Product, and Eichelberger's, and were featured in Japanese and American periodicals. She appeared in Hollywood films, including Tokyo Pop and Buffy the Vampire Slayer, and had many roles in campy Japanese movies.
He/she (one pronoun simply wasn't enough) grew up in Berkeley, often attending peace rallies and alternative events with his parents, J.B. and Cleo. He became a vegetarian at age 7, and at 9 staged a protest at Safeway against the killing of animals. At age 10 he dyed his hair green.
At Berkeley High, Kitty was active I theater. After graduation in 1980, he joined the San Francisco Shakespeare Company, touring nationally. After two years, he left the company and began a decade of international travel.
In Tokyo, Kitty became an exotic dancer at the Club Banana Power, an actor, and a model for fashion magazines. His image– in blackface, in drag– loomed over Tokyo on an advertising billboard. His periods in Japan usually were followed by quiet times in the countryside of Thailand.
In Germany, he performed in a circus and appeared in discos as a performance artist. His huge paintings of glamorous drag queens graced the Berlin Wall. Kitty's graffiti art also appeared on walls in New York and Venice Beach.
In recent years, as AIDS reduced his energy, he stayed near the Bay Area. Active in the Faerie movement, he often visited their Wolf Creek gathering place. Though he continued to perform, he became increasingly well known for his paintings. While Dan's style showed the influence of both Modigliani and the Expressionists, its seriocomic, surreal, outrageous tenderness was all his own.
His modeling for Japanese and American photographers yielded many striking, beautiful photographs– largely because of Kitty's artistry and hard work. "She came to our first shoot with eight suitcases of costumes and twelve developed concepts," recalls photographer Dan Nicoletta. "She became my muse."
A selection of photographs of Kitty, and paintings by Kitty, has been acquired by the Wallach Collection of Fine Prints at the New York City Library. In addition to his work, Danny is survived by his parents, Cleo and J.B.; his brothers Sean and Bill; and a diverse circle of loving friends.
Thank you to the friends and family of Miss Kitty (aka Dan Jones) for preserving Kitty's work after Kitty died of AIDS-related complications. Special thanks to Kitty's mother Cleo Jones for her unconditional love to Kitty's friends during Kitty's life and in the years since Kitty's passing.

Tribute page created by Visual AIDS.
Read Less Read More