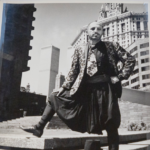 Nicolas Moufarrege
1947–1985
Nicolas Abdallah Moufarrege (1947–1985) was an artist, critic, and curator born in Alexandria, Egypt to Lebanese parents. He received undergraduate and graduate degrees in chemistry from the American University of Beirut, Lebanon in 1965 and 1968, respectively. In 1968 he moved to Cambridge, Massachusetts on a Fulbright Grant and a Harvard University assistantship; it is during this time that he decided to pursue a career in the arts. He returned to Beirut and had his first solo exhibition of tapestries at Triad Condas Gallery in 1973.
With the onset of the Lebanese Civil War in 1975, Moufarrege relocated from Beirut to Paris, France. During this period, his work was included in exhibitions at Mathaf Gallery, London, England (1976); Gallery Kamp, Amsterdam, Netherlands (1977); George Zeeny Gallery, Beirut (1979); and Galeries de Varenne/Jacques Damase, Paris (1980).
In 1981, Moufarrege moved to New York City where he became a central figure in the burgeoning East Village arts scene. His writing for the New York Native, Arts Magazine, Flash Arts, and Artforum is credited with bringing early attention to galleries including FUN Gallery, Gracie Mansion, Civilian Warfare, and Nature Morte, and to artists and friends including Greer Lankton, Jean-Michel Basquiat, Fab 5 Freddy, and David Wojnarowicz. From 1982-84, Moufarrege received a studio through the International Studio Program at PS1, the Institute for Art and Urban Resources (now MoMA PS1), where he mounted two studio exhibitions, The New York Times Front Page (1982) and A Flag for the '80s (1983). Moufarrege had two solo exhibitions in New York: On Pins and Needles at Gabrielle Bryers Gallery (1983) and at FUN Gallery (1985). Moufarrege also curated the exhibitions Intoxication (1983) and Ecstasy (1984) at Monique Knowlton Gallery in New York.
In 1985, Moufarrege passed away at age 37 from AIDS-related complications. He is survived by his sister Gulnar "Nouna" Mufarrij, his brother Nabil Moufarrej, and his family in Shreveport, Louisiana.
In 1987, Tim Greathouse, Cynthia Kuebel, Elaine Reichek, and Bill Stelling organized a memorial exhibition of Moufarrege's work at the Clocktower, the Institute for Art and Urban Resources, founded by Alanna Heiss. Since then, Moufarrege's work has been included in The Downtown Show (2006), curated by Carlo McCormick in consultation with Lynn Gumpert and Marvin J. Taylor at New York University's Grey Art Gallery, and SIDE X SIDE (2008), curated by Dean Daderko for Visual AIDS at La MaMa La Galleria.
- "Nicholas Moufarrege: Recognize my Sign" exhibition, Queens Museum, October 6, 2019- February 23, 2020 organized by Contemporary Arts Museum Houston and curated by CAMH Curator Dean Daderko.
Read Less Read More