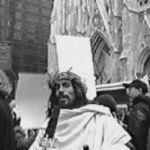 Ray Navarro was an artist, filmmaker and activist from Simi Valley, CA. Through his exposure to the Chicanx queer community in Southern California, Navarro honed his perspective as an artist and activist. The work of Latinx filmmakers helped him understand that entertainment, education, politics, and sexuality can be interwoven into remarkable audiovisual tools in the fight against AIDS in the Latinx community and for people of color broadly. His film work, political performance, and writing centered the urgency of the AIDS epidemic through a distinct Chicano-American lens.
He attended Cal Arts in California before moving to New York in 1988 to go to the Whitney Independent Studies Program, and soon joined ACT UP (AIDS Coalition To Unleash Power). He was also a member of DIVA TV (Damned Interfering Video Activists), a video-documenting affinity group of ACT UP. DIVA TV documented public testimony, the media, and community activism to motivate the fight against AIDS. In 1989, Ray Navarro, dressed as Jesus Christ reporting the news outside of St. Patrick's Cathedral during ACT UP's "Stop The Church" protests against Cardinal O'Connor's position on AIDS and contraception.
Navarro collaborated with artist Zoe Leonard on the photographic series, Equipped, 1990. Each of the black-and-white photographs in this triptych portrays a mobility device used by disabled persons, and is accompanied by a sexy phrase etched on an office-style desk plaque. Ray Navarro created this work after losing his vision to CMV retinitis, an AIDS-related complication. Leonard functioned as his "eyes" in executing the work. The frames are painted a warm pink to evoke the generic Caucasian flesh colors of most prosthetic devices, a color that reinforces the link between the disabled body and the device. Equipped speaks to the complexities of disease, and it's relationship to race, sexuality, and class.
Read Less Read More