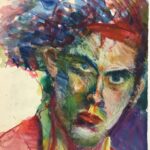 Richard Hofmann
1954–1994
Richard Francis Hofmann, painter, muralist and mixed media artist, was born in Newark, NJ in 1954. After earning a BFA at Pratt Institute, he lived and painted in the East Village during the tumultuous 1980s. His murals decorated such clubs as Danceteria, Pyramid and Limbo Lounge. Displaying a passion for large-scale figurative oil painting, he followed his own interpretation of Neo-Expressionism, exhibiting at such venues as ABC NO RIO, Fashion Moda, Limbo Gallery, Steven Adams Gallery and others. His work tackled the larger questions of sin and redemption, religion and homosexuality, suffering and ecstasy, with fervid brushstrokes and layers of intense color. After a final visit to California, he returned to NYC where he died of AIDs in 1994 at the age of 39.
Hofmann's extraordinary and versatile trove of work, including preserved club murals, oil paintings, portfolios of watercolors, photo lithographs, etchings, mixed media collages and artist books, was unwrapped in a monumental 2016 Brooklyn solo exhibition and subsequently featured in the 2019 About Face: Stonewall, Revolt and New Queer Art exhibition at Chicago's Wrightwood659 Gallery.
Read Less Read More
The Richard Francis Hofmann Art Collection is managed by Artabolic Arts Management. Please inquire for purchase, representation, consignment, loans and documentary showings.
Heinrich von Kesseler
https://qrco.de/bcA64l , artabolicnyc@me.com, 917 862-0965