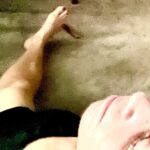 River Huston
b.1960
River Huston has been painting for 35 years. She is self-taught in basements, hallways, bathrooms, and several years living in a van.
She combines her artwork with her career as a poet, performer and writer. Besides both solo and group exhibits in art galleries in New Jersey, Pennsylvania, St. Thomas, US Virgin Islands, Mexico, San Francisco and Los Angles. She has shown her work at her performances which range from international conferences to a rural churches in the south.
River is the author of three books of poetry, Jesus Never Lived Here, The Bones of Susan, and In Which I Lost 1000 Pounds. She was awarded the Dorthea Lang/Paul Taylor award for A Positive Life: Portraits Of Women Living With HIV. She is the creator of Goddess: A New Guide to Feminine Wisdom and SEXED: Tales of a Textrix.
For 11 years River wrote a sex column for POZ magazine and also contributed blogs at thebody.com and ontheedge.com. In 1990 she earned a BA in Health Education and Music from Hunter College and in 1995 she was awarded an Honorary Doctorate from Albright College.
She has performed several solo shows including Sex, Cellulite and Large Farm Equipment: One Girl's Guide to Living and Dying and SEXED in theatres, conferences and colleges nationwide. She currently lives in Santa Monica, California and has a studio at ProjectSpaceLA in downtown Los Angles.
Read Less Read More
Painting is what saves me from sleepless nights, the IRS, hair in inappropriate places, untimely deaths, and enormous amounts of drugs.
Education:
B.A. in Music and Physical Education, Hunter College
Ph.D. Hon. Humanities, Albright College
Selected Exhibitions:
2022, June 3, flotsam&jetsum, sevenminusseven gallery, workes using recylced material.
2022, We Want To Take You Higher, sevenmiinuseven gallery, USVI

2021, Look After Each Other: Intimacy & Community, Tang Teaching Museum's
2021, A Moment Captured, Group Photography Show, sevenminusseven gallery, USVI
2020, Urban Spaces, Stone Mountain Gallery, Lake Worth, FL
2019, The Unfolding Of A Soul,Jennifer Perlmutter Gallery, Lafayette, CA
2018, The Edge Of Time As We Knew It, Solo Show, San Miguel De Allende
2017, Immortal Remains, Sevenminusseven Gallery, Solo Show, USVI
2016, Newal, New York, NY
2015, Open Studio, San Miguel De Allende, Mexico
2014 Bamboula, Solo Show, St John, USVI

2013, Caribbean Colour 2013 2012
2012, Art In The Garden, St Thomas, USVI 2012
2011, You Will Never Amount To Anything Exhibit, USVI
2011, USVI Council on The Arts Exhibit, St Thomas, VI
2010, Less Than Zero Exhibit, St Thomas, VI
2010, The Ice Gallery, St Thomas USVI
2009, The Mill, New Hope, PA
2003, River Run Gallery, Lambertville, NJ
2000, No #9 Gallery, Lambertville, NJ
1999, PNC Bank, New Hope PA
1998, Positive Expressions, St Petersburg, Florida
1997, Philadelphia Museum of Art, Philadelphia, PA
1996, The Gallery Café, New Hope PA

Awards:
2009 Leeway Art and Transformation Award
1999 Dorthea Lange/Paul Taylor Award
1996 Poet Laureate, Bucks County
1995 Karen Sofield Award for AIDS Awareness
1994 Hyacinth AIDS Foundation Contribution Award

Lecture Topics:
Sexuality

Surviving A Pandemic
Body Image

Performances:
Sex, Cellulite & Large Farm Equipment: One Girls Guide To Living & Dying.
It Looks Like a Banana But It's Really a Dog
How HIV Made Me a Pain In the Ass
The Dominatrix Next Door SEXED
Publications:
2011 Bucks County Poet Laureate Anthology,
2010-2011, Making our On Light
2009, blog for the edgenewyorkcity.com
2005, In Which I Lost 1000 Pounds
2000, A Positive Life Portraits of Women Living With HIV
1994-2007, blog for thebody.org
1994-2008, columnist for POZ

1999 Goddess: The New Feminine Guide to Wisdom.
1998 The Chicago Tribune: Road Trip 1998

1997 Hand Offering God
1996 Live at Karla's, An Anthology of Performance Poetry
1995 The Bones Of Susan by River Huston
1995 Black Oak Press Collection
1995 The Poets Attic
1994 It looks Like a Banana But It's Really a Dog
1993 North Star Bar Poetry Series
1992 Jesus Never Lived Here by River Huston
Positions: 2011-2012, Resident artist, sevenminusseven gallery, St Thomas, USVI