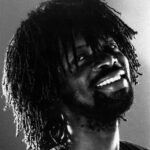 Rotimi Fani-Kayode
1955–1989
A seminal figure in 1980s black British and African contemporary art, Fani-Kayode's timeless photographs constitute a profoundly personal and political exploration of complex notions of desire, diaspora, and spirituality.
A son of a prominent Yoruba family who left Africa as political refugees in 1966, Fani-Kayode received a BA at Georgetown University in Washington, DC in 1980, and an MFA at Pratt Institute in New York in 1983, before returning to the United Kingdom where he lived and worked until his death in 1989.
In his large-scale portraits, the black male body becomes the focal point of a photographic enquiry to imaginatively interpret the boundaries between spiritual and erotic fantasy, cultural and sexual difference. Ancestral rituals and a provocative, multi-layered symbolism fuse with archetypal motifs from European and African cultures and subcultures – inspired by what Yoruba priests call 'the technique of ecstasy'.

This tribute page was created by Visual AIDS.
Read Less Read More
"Both aesthetically and ethically, I seek to translate my rage and my desire into new images which will undermine conventional perceptions and which may reveal hidden worlds."
"On three counts I am an outsider: in matters of sexuality, in terms of geographical and cultural dislocation; and in the sense of not having become the sort of respectably married professional my parents might have hoped for. Such a position gives me the feeling of having very little to lose."
-Rotimi Fani-Kayode, "Traces of Ecstasy," Ten.8, No 28: Rage & Desire, 1988.