Wednesday January 17, 2018
ALTERNATE ENDINGS, RADICAL BEGINNINGS Video & Artist Statement: Cheryl Dunye & Ellen Spiro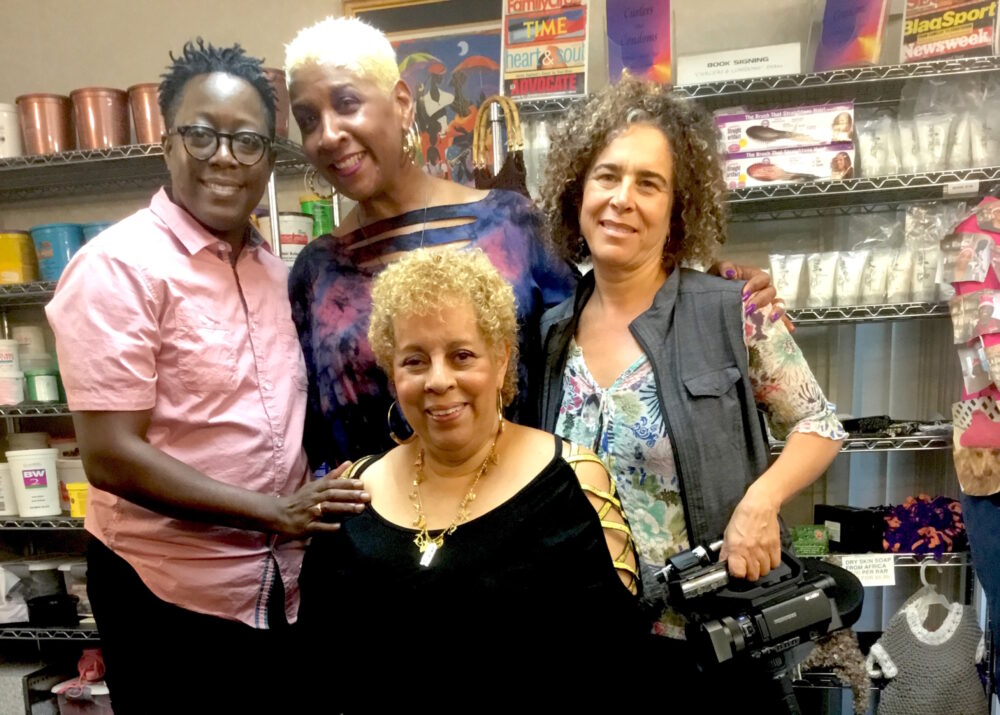 Cheryl Dunye, Bambi Gaddist, DiAna DiAna and Ellen Spiro in South Carolina. Production still courtesy of Cheryl Dunye & Ellen Spiro. Photo: Bailey Goff.
Cheryl Dunye & Ellen Spiro, DiAna's Hair Ego REMIX
ALTERNATE ENDINGS, RADICAL BEGINNINGS is the 28th annual iteration of Visual AIDS' longstanding Day With(out) Art project. Curated by Erin Christovale and Vivian Crockett for Visual AIDS, the video program prioritizes Black narratives within the ongoing AIDS epidemic, commissioning seven new and innovative short videos from artists Mykki Blanco, Cheryl Dunye & Ellen Spiro, Tourmaline, Thomas Allen Harris, Kia LaBeija, Tiona Nekkia McClodden and Brontez Purnell.

Below, Day Wit(out) Artists Cheryl Dunye and Ellen Spiro discuss their contribution to the program, DiAna's Hair Ego REMIX

All seven artist statements are also printed in our Day With(out) Art 2017 publication, available here.
Ellen Spiro: I met DiAna DiAna in 1988 at an ACT UP protest in South Carolina. The protest was against quarantine laws against people who had HIV, who were being locked in their homes. DiAna had initiated safe sex education out of her beauty salon, Diana's Hair Ego, in the mid-1980's when she noticed her clients were potentially at risk because they were married to closeted men. We activists in New York thought we were on the cutting edge of sex education and then we show up in South Carolina and meet this hairdresser who had been promoting safer sex in her hair salon for a few years.
I had been making experimental film before, but DiAna's Hair Ego was my first documentary, which I made in 1989. It was just one of the stories screaming to be told and two women's voices who needed to be amplified. DiAna DiAna, the hairdresser and salon owner of Diana's Hair Ego and her PhD partner in crime, Bambi Sumpter. Bambi had all of the academic knowledge of HIV/AIDS while Diana had the hands on personal knowledge of what she was hearing from her clients. She said, "I'm like the priest people confess everything to me." She knew exactly what kind of sex people were having and she knew certain sex was not safe and that people could potentially die. DiAna and Bambi have become very important voices in the HIV/AIDS discourse and Bambi is now running one of the only free clinics to survive during this presidential era.
DiAna's Hair Ego was the first film to address AIDS with humor. I think people needed to laugh, and you felt that in the first screenings. I needed to laugh, I was in my 20's and so many of my friends were dying. People needed to laugh and they needed to have sex, and that's what got us through those times.
Cheryl Dunye: Humor can be another political strategy, it is okay to laugh instead of cry. It is interesting how my film The Watermelon Woman (1996) and Ellen's film Diana's Hair Ego (1989) are now such hot topics because of that. My work is centered around women of color, particularly queer women who are dealing with issues around visibility and Ellen's film was dealing with these topics in a personal way that also let the community speak.
It's been a pleasure to collaborate on this project and to re-connect with Ellen, who now lives in the Bay Area. Being that we're in Oakland, one of the epicenters of Black Lives Matter, a question that I have is what does Black Lives Matter mean to those black bodies who are impacted by this epidemic? That's the kind of question that I put on the table with Ellen and it just turned into this beautiful remix of the original film.
What has changed in the community of South Carolina is that people are still battling this epidemic but many of the safe sex initiatives that were set in place have been eradicated in this political climate, except for Bambi's clinic. A friend of mine, Linda Villarosa, wrote an article about the epidemic in the South for New York Times Magazine "America's Hidden HIV Epidemic. The number of people affected being greater than ever. One thing popped out to me is that there's a complacency with some of the young people who are poor, of color or disenfranchised, who don't see any hope. DiAna's salon is a beacon that teaches people how to engage, be active and make choices, because young Black and Brown people are our future.
There's a whole new discourse in the gender identity spectrum now that is alive in the Deep South about being trans, and the fluidity of gender. We see the discourse vibrantly in the salon. A lot of the work is mainly occurring in Bambi's clinic which goes into different communities and clears up incorrect notions around HIV/AIDS. Bambi took us through her clinic and was so proud, and DiAna has all of these women, men and friends who are doing the work. What I think is the most important thing is that it's okay to be sexually active, and to prepare yourself for whatever might come.
This is an 8-minute film we made and we hope it can be used as a catalyst, and will be short enough so people will watch it and it will be shared on social media. The omission of Black and Brown people from the initial articles that came out about HIV is what we're trying to deal with, because in the beginning it was labeled as the "white man's disease" and all of these people were unaccounted for. What can I do? What else can I use my visibility for? I stand together in all that I do and that's it. This is how we do it, just like the song.
~As told to Erin Christovale
Cheryl Dunye emerged as part of the 1990's "queer new wave" of young film and video makers. Dunye has made over 15 films including HBO's Stranger Inside and her debut film, The Watermelon Woman, recently restored by Outfest's UCLA Legacy Project for the films' 20th anniversary. In 2016, Dunye received a Guggenheim Fellowship and became a member of the Academy of Motion Picture Arts and Sciences. Presently, Dunye is an assistant professor in the School of Cinema at San Francisco State University, is at work on her next feature film Black Is Blue, and recently joined the directing team of the TV series Queen Sugar, created by Ava DuVernay for OWN. Dunye lives and works in Oakland, CA.

Ellen Spiro is an Emmy-award winning indie filmmaker whose work champions mavericks and renegades with wit, inventiveness, and emotional depth. Her critically acclaimed documentaries include Diana's Hair Ego, Greetings From Out Here, Roam Sweet Home, Atomic Ed & the Black Hole, Are the Kids Alright?, Troop 15OO,Fixing the Future and Body of War, shortlisted for an Academy Award. Spiro received fellowships from Guggenheim, Fulbright, Rockefeller and National Endowment for the Arts. Spiro's films are housed in permanent collections of the Museum of Modern Art in New York, Academy of Motion Picture Arts and Sciences, UCLA Film and Television Archive, Peabody Collection of The Paley Center for Media and the New York Public Library. Spiro is currently a Fulbright Fellow and Professor of Radio-TV-Film at the University of Texas in Austin.