Saturday December 15, 2018
Day With(out) Art 2018: ALTERNATE ENDINGS, ACTIVIST RISINGS videos now online!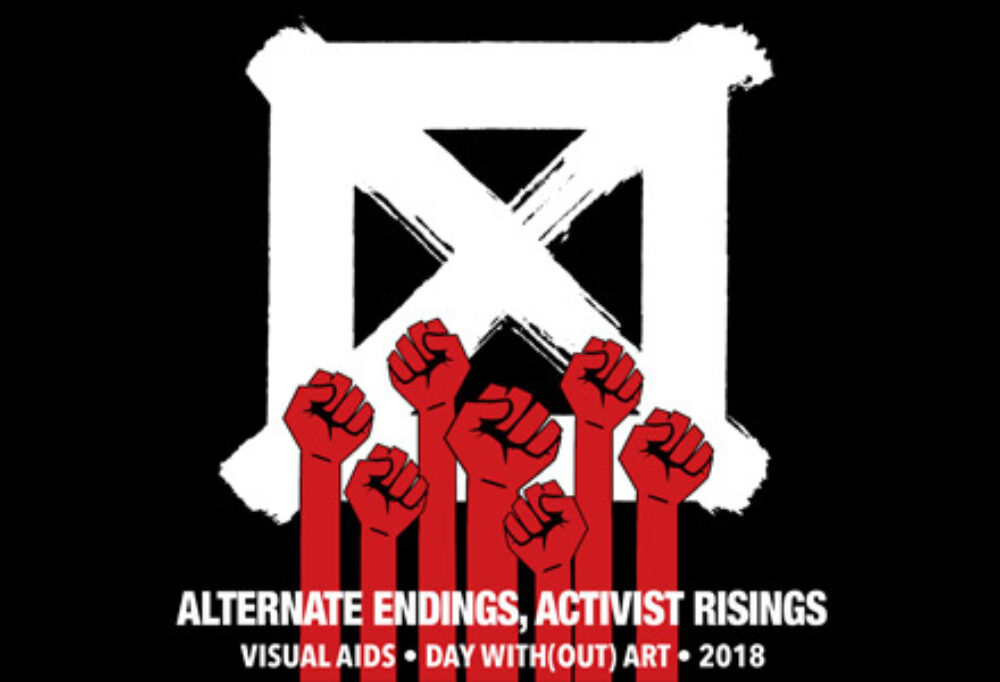 ALTERNATE ENDINGS, ACTIVIST RISINGS highlights the impact of art in AIDS activism and advocacy today by commissioning compelling short videos from six inspiring community organizations and collectives—ACT UP NY, Positive Women's Network – USA, Sero Project, The SPOT, Tacoma Action Collective, and VOCAL-NY. The program represents a wide range of organizational strategies, from direct action to grassroots service providers to nation-wide movement building, while considering the role of creative practices in activist responses to the ongoing AIDS crisis.
ALTERNATE ENDINGS, ACTIVIST RISINGS seeks to reflect the persisting urgencies of today's HIV/AIDS epidemic by pointing to pressing political concerns. In their commissioned videos, organizations address intersecting issues including anti-Black violence, HIV criminalization, homelessness, and the disproportionate effects of HIV on marginalized communities. At a moment of growing interest in the histories of AIDS activism, ALTERNATE ENDINGS, ACTIVIST RISINGS foregrounds contemporary engagements between activists, artists, and cultural workers on the front lines.
Visual AIDS for ALTERNATE ENDINGS, ACTIVIST RISINGS, 2018
Working with artists, curators, and art institutions on a national and international scale, Visual AIDS has never stopped commissioning and distributing projects at the intersections of art, AIDS and activism. Visual AIDS uses art to combat AIDS by provoking dialogue, supporting HIV-positive artists, and preserving a legacy, because AIDS is not over. To introduce ALTERNATE ENDINGS, ACTIVIST RISINGS, Visual AIDS reflects on its thirty years of fighting AIDS with the power of art.
VOCAL-NY for ALTERNATE ENDINGS, ACTIVIST RISINGS, 2018
VOCAL-NY (Voices Of Community Activists & Leaders) is a New York-based grassroots membership organization that builds power among low-income people in order to create healthy and just communities. VOCAL is intentional in drawing connections between homelessness and the HIV and AIDS epidemic, understanding that access to housing impacts access to medication and the ability to maintain a regimen. In this video, VOCAL explains how it uses political theater and direct action as creative tactics to address housing policies as part of their work to end the HIV and AIDS epidemic.
ACT UP NY for ALTERNATE ENDINGS, ACTIVIST RISINGS, 2018
Since 1987, ACT UP NY has held weekly Monday meetings. In 2018, an arm of the collective organized #HIVPreventionDay in conjunction with Prep4All, calling on Gilead Sciences to release their patent for Truvada, a drug that has the ability to reduce HIV transmission by 99%. In this video, the ACT UP Graphics and Visual Tactics Working Group pairs audio from planning meetings with seven political cruising grounds in New York while highlighting the values and strategies the collective uses to build power.
Positive Women's Network – USA for ALTERNATE ENDINGS, ACTIVIST RISINGS, 2018
Positive Women's Network – USA (PWN) is a national membership body of women living with HIV and allies that exists to strengthen the strategic power of all women living with HIV in the United States. In this video, women reflect on how collective creative projects have helped them create comfortable, intimate spaces where they can build community and provide support for each other while also working to advocate for changes that improve lives and uphold rights.
The SPOT for ALTERNATE ENDINGS, ACTIVIST RISINGS, 2018
The SPOT (Safe Place Over Time) is dedicated to providing services and opportunities for wellness, empowerment, and leadership to young men in Jackson, Mississippi. 40 percent of gay and bisexual men in Jackson, the majority of them black, are living with HIV—the nation's highest rate. Housed in the Jackson Medical Mall among healthcare and service providers, The SPOT offers a place for young men to openly discuss issues and challenges, work to improve their quality of life, and to promote the concept of self-worth in a variety of ways, including dance and creative expression.
Tacoma Action Collective for ALTERNATE ENDINGS, ACTIVIST RISINGS, 2018
Tacoma Action Collective is a partnership of Black community organizers working in grassroots action and education. This video chronicles how the collective organized in response to the whitewashing of the exhibition Art, AIDS, America at the Tacoma Art Museum. The collective also reflects on their work at the 2016 International AIDS Conference in South Africa, responding to interconnected structural violences with the demand #StopErasingBlackPeople.
Sero Project for ALTERNATE ENDINGS, ACTIVIST RISINGS, 2018
The Sero Project is a U.S.-based network of people living with HIV (PLHIV) and allies fighting for freedom from stigma and injustice. Sero is particularly focused on ending the inappropriate use of one's HIV status in criminal prosecutions of PLHIV, including for non-disclosure, potential or perceived HIV exposure or HIV transmission. The 2018 conference, co-produced with Positive Women's Network-USA, included a showcase of visual art and poetry made by advocates working against HIV criminalization.