Past Event
Beyond the Water's Edge
Instagram Live Performance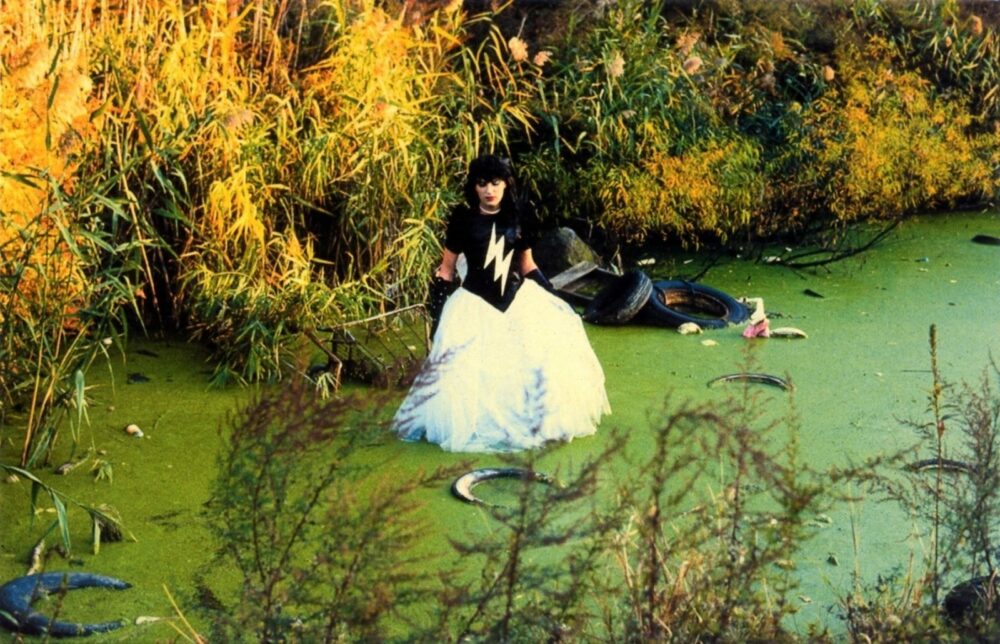 Rafael Sánchez, Swamp Piece, 1993, Jersey City, NJ. Performance still by Claire Barnier
Visual AIDS presented a special online performance by Sebastián Castro Niculescu, curator of the October web gallery, Of Dirt & Water, alongside Artist+ Member Rafael Sánchez.
In this video performance, Niculescu worked in collaboration with Sánchez and Tracy Fenix, Artist Engagement & Archive Associate, in a re-investigation of Sanchez's 1993 performance "Swamp Piece."
Documenting a series of meetings at the Ridgewood Reservoir on the Brooklyn-Queens border, Beyond the Water's Edge wanders through the layered histories of the site, the organic and inorganic matter that make up this post-industrial zone, and the attraction of the collaborators to the water's edge. A series of scenarios and gestures by the reservoir's edge offer an expanded citation of "Swamp Piece," meditating on how the femme by the water can be such a haunting image.

The video performance was streamed with English captions, and followed by a Q&A with the artists.

Sebastián Castro Niculescu is a trans Latina writer, artist, and organizer from New York, by way of Ecuador and Romania. Her work considers the relation of her marked body to many others, through fleshiness, leaks, abjection, and other corporeal stagings beyond the hold of respectability. In her critical writing, she seeks to offer a "trans of color critique" through embodied strategies in performance work by racialized trans women artists from the 1970s to the present. Her performance work is reviewed in Artforum, and her edited book on personal ads is forthcoming from Pink Jacket press. She co-organizes the NYC Trans Oral History Project.
Rafael Sánchez is a Cuban-born artist based in New York City whose practice
spans four decades of painting, sculpture, photo, video, and performance. Their
first solo exhibition, Look Don't Touch at Aljira Contemporary (Newark, NJ, 1985)
utilized the nearby underpass at NJ HWY 278 as an interzone of emotional and
generative potential. Over the years, Sánchez has created performance and
installation works for rooftops, lakes, canals, fields, and numerous urban settings,
including the outdoor bookstand run collaboratively with artist Kathleen White.
Exhibitions and theatrical works include A Goat's Song (Ex-Teresa, Mexico City,
1995), The Libation Bearers (Thread Waxing Space, NYC, 1999), Les Fluers des
Vents (Fruit Farm Film Festival, McMinnville, OR, 2002), REVOLVER (Participant
Inc, NYC, 2004), Double-Bill (Art in General, NYC, 2010), The Street Files (El Museo
del Barrio, NYC, 2011), An Evening with Rafael Sánchez (Artists Space, NYC, 2017),
and more recently Tree of Heaven (Viewing Room—curated by Leo Fitzpatrick at
Marlborough Contemporary—NYC, 2018) and Rafael Sánchez, Life of a Flower,
with Ellen Cantor, Jim Fletcher, Mark Morrisroe, and Gail Thacker (Galerie Max
Mayer, Düsseldorf, Germany, 2019).
---