Past Event
ALTERNATE ENDINGS, RADICAL BEGINNINGS: MOCA LA Screening and Discussion
Los Angeles premiere followed by a performance by Kia Labeija and a discussion featuring Tourmaline and Kia Labeija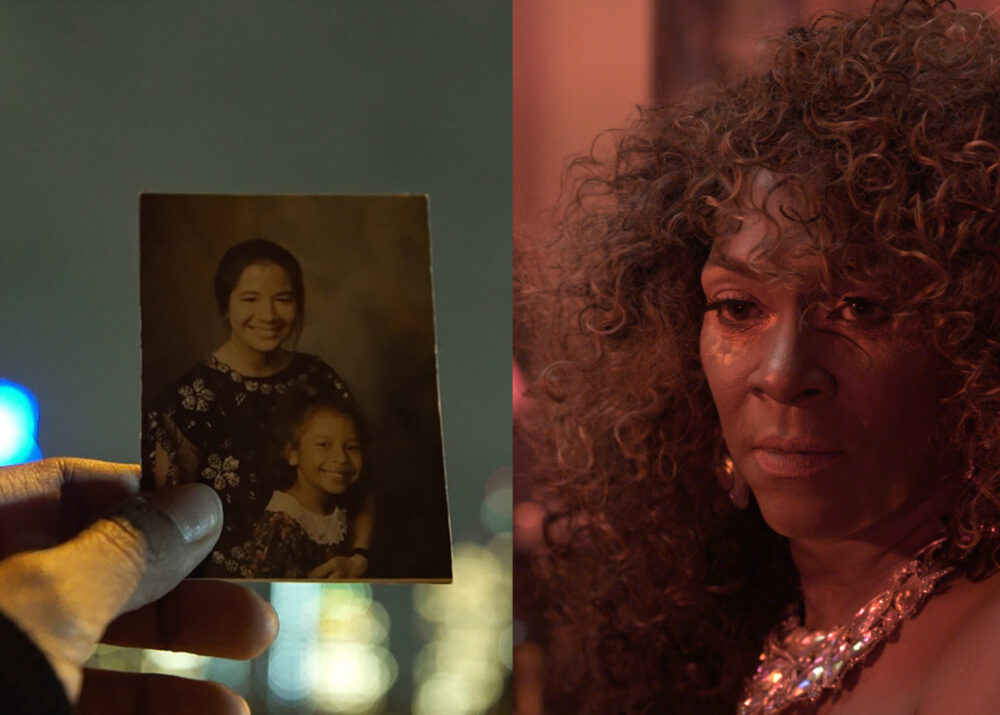 Kia Labeija, Goodnight, Kia, 2017 and Tourmaline, Atlantic is a Sea of Bones, 2017. Video stills courtesy the artists.
Newly commissioned videos by Mykki Blanco, Cheryl Dunye & Ellen Spiro, Tourmaline, Thomas Allen Harris, Kia LaBeija, Tiona Nekkia McClodden and Brontez Purnell.
ALTERNATE ENDINGS, RADICAL BEGINNINGS screened at the Museum of Contemporary Art Los Angeles, in collaboration with ONE Archives at the USC Libraries and the ONE Archives Foundation, followed by a performance by Kia LaBeija and a discussion featuring Tourmaline and Kia LaBeija in conversation with Day With(out) Art curators Erin Christovale and Vivian Crockett.
(MOCA event page) (ONE event page) (Facebook event page)
Watch the full video program:

ALTERNATE ENDINGS, RADICAL BEGINNINGS was the 28th annual iteration of Visual AIDS' longstanding Day With(out) Art project. Curated by Erin Christovale and Vivian Crockett for Visual AIDS, the video program prioritizes Black narratives within the ongoing AIDS epidemic, commissioning seven new and innovative short videos from artists Mykki Blanco, Cheryl Dunye & Ellen Spiro, Tourmaline, Thomas Allen Harris, Kia LaBeija, Tiona Nekkia McClodden and Brontez Purnell.

In spite of the impact of HIV/AIDS within Black communities, larger artistic and historical narratives constantly exclude Black stories and experiences. In 2016, African Americans represented 44% of all new HIV diagnoses in the United States. Given this context, it is increasingly urgent to feature a myriad of stories that consider and represent the lives of those housed within this statistic. ALTERNATE ENDINGS, RADICAL BEGINNINGS seeks to highlight the voices of those that are marginalized within broader Black communities nationwide, including queer and trans people.
The commissioned projects include intimate meditations of young HIV positive protagonists; a consideration of community-based HIV/AIDS activism in the South; explorations of the legacies and contemporary resonances within AIDS archives; a poetic journey through New York exploring historical traces of queer and trans life, and more. Together, the videos provide a platform centering voices deeply impacted by the ongoing epidemic.
Tourmaline is an artist and the 2017 Activist In Residence at Barnard College Center for Research on Women (BCRW). While at BCRW, she recently directed The Personal Things, an animated short starring iconic trans activist Miss Major and the everyday ways people fight back. Tourmaline often makes her art through collaboration. Along with Sasha Wortzel, Tourmaline directed Happy Birthday, Marsha! about legendary performer and activist Marsha P. Johnson. Tourmaline is an editor of the anthology TRAP DOOR about trans art and cultural production, to be published by the New Museum and MIT Press in October 2017. A longtime community organizer, Tourmaline worked as the membership director at the Sylvia Rivera Law Project, Critical Resistance, Queers for Economic Justice, where she directed the Welfare Organizing Project and produced A Fabulous Attitude, documenting low income LBGT New Yorkers. Tourmaline moderated Visual AIDS' 2015 event AGING FIERCELY WHILE TRANS and was a featured artist in Visual AIDS' Playsmart safer sex kit project, exhibited and distributed in The Brooklyn Museum exhibition Agitprop. Tourmaline lives and works in New York City, NY.
Kia LaBeija is a contemporary artist who provokes awareness, acceptance and activism for HIV/AIDS through her portraiture and performance art. Her work explores the intersections of community, politics, fine art and activism. As a visual artist she stages digital portraits as theatrical and cinematic re-imaginings of non fictional events to spark conversation, complicating the way we view her subjects and the spaces they occupy. LaBeija's portraiture utilizes the medium of story telling, to preserve histories and make sociopolitical commentaries on current events. LaBeija was a featured artist in Art, AIDS, America, alongside Keith Haring, Annie Leibovitz, Nan Goldin and Robert Mapplethorpe and more; she was the only woman of color; the only woman living with HIV; and the only artist born with HIV included in the exhibition. A performer by nature, LaBeija is a member of the Iconic House of LaBeija and uses Voguing as performance practice and community based work. LaBeija lives and works in New York City, NY.
This project was supported in part by an award from the National Endowment for the Arts and the generous support of The Shelley & Donald Rubin Foundation. Visual AIDS would also like to thank the artists for the time and resources they have contributed to this project.
---
| | |
| --- | --- |
| | Friday, December 1, 2017 |
| | Friday, December 1, 2017 from 6:30pm–9:00pm |
| | Monday, December 4, 2017 from 6:30pm–8:30pm |
| | Tuesday, December 5, 2017 from 6:00pm–8:00pm |
---
Related Projects
---
Related Artists