Past Event
Brooklyn Poets Workshop Showcase with Constantine Jones
61 Local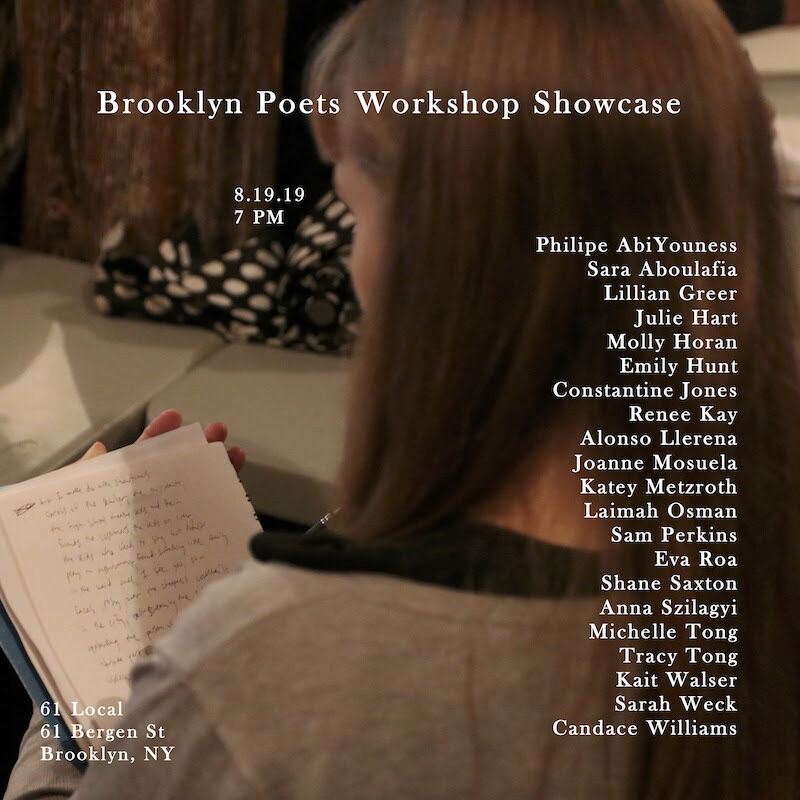 Brooklyn Poets will host their Workshop Showcase on Monday, August 19, at 61 Local to celebrate the work that their students and faculty have been doing in our summer workshops with a group reading. Profs Julie Hart, Emily Hunt and Candace Williams will read from their work and personally introduce readings by their students, along with students from Hala Alyan, Cynthia Cruz, Jay Deshpande, Laura Eve Engel, Shira Erlichman and Vanessa Jimenez Gabb's workshops. Visual AIDS Artist Member Constantine Jones will present his new work.
Student readers include Philipe AbiYouness, Sara Aboulafia, Lillian Greer, Molly Horan, Constantine Jones, Renee Kay, Alonso Llerena, Joanne Mosuela, Katey Metzroth, Laimah Osman, Sam Perkins, Eva Roa, Shane Saxton, Anna Szilagyi, Michelle Tong, Tracy Tong, Kait Walser and Sarah Weck.
Free and open to the public. Doors open at 7 PM.

---