Past Event
Darrel Ellis Exhibition
OSMOS Gallery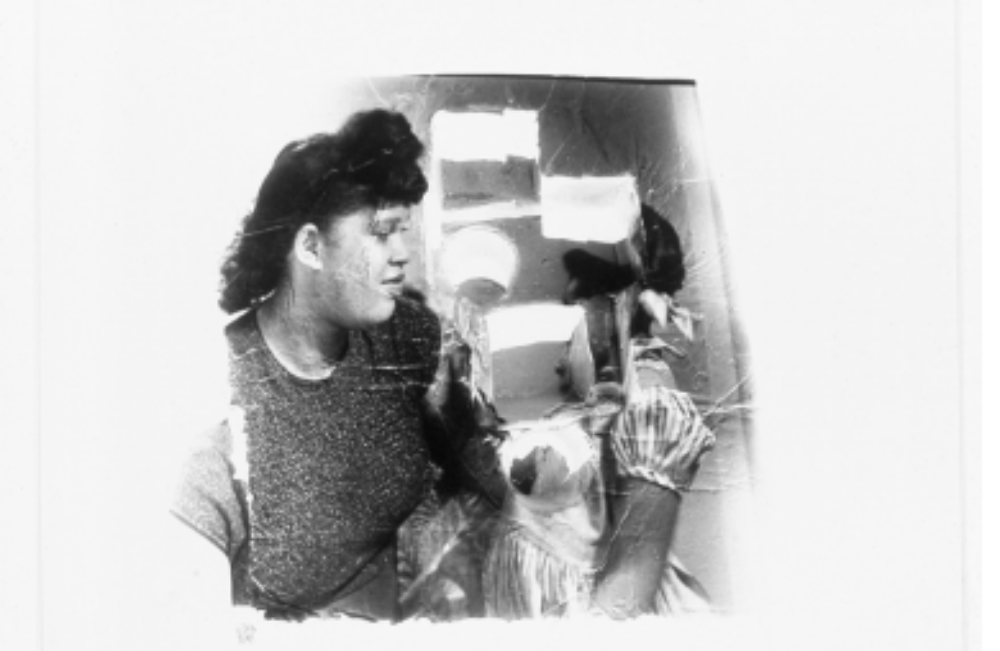 Darrel Ellis, Untitled (Jean and Laure), ca. 1990 Silver Gelatin RC print, 11 x 14 in
OSMOS will present the first exhibition of the work of Visual AIDS Artist Member Darrel Ellis in nearly fifteen years. After featuring his paintings, drawings, and photographs in the Fall 2018 issue of OSMOS Magazine, with an essay written by Drew Sawyer (Curator of Photography, Brooklyn Museum), the response to revisiting Ellis' work in this moment has been overwhelming. OSMOS has taken on representation and will present a selection of his work in various media with an emphasis on the artist's unprecedented use of photography.
A talk among his artist peers and curators will be scheduled on April 10, 6-8PM.
The bulk of Darrel Ellis' artworks were made by projecting negatives left behind by his father, a studio photographer from Harlem and the South Bronx who died in police custody in 1958, a month before Ellis was born. The pictures made by his father, Thomas Ellis, portray abundance—family gatherings at home, picnics in Central Park, beautifully dressed people at ease being close and showing joy. Several pictures feature small groups of women—his mother with her sisters, his sisters with their cousins, et.al.—smiling at each other or smiling at themselves, but not just for the camera or for the moment. In Darrel Ellis' work they personify not the paradise they lived, but rather the paradise he lost. Ellis conveys his interrupted experience by staging interferences: projecting his father's images over reliefs mounted onto the surface of his apartment wall, allowing the keystone of a simple overhead projection to distort the image, and masking out parts between the source image and the projected one. Ellis intervenes performatively. These newly generated images—skewed, distorted, staggered and multiplied—served as Ellis' source for multiple generations of artwork, which exemplify his resourceful use of an archive and the depiction of self, identity and family displaced.
Darrel Ellis's work gained national attention when it was seen in the landmark exhibition,Witnesses: Against Their Vanishing, curated by Nan Goldin in 1989 at Artists Space. Witnesses was the first major exhibition of art about AIDS in New York and the show became a rallying cry against censorship when the NEA withdrew funding because of a catalogue essay by David Wojnarowicz. And it was Ellis' self-portrait (based on a photograph of Ellis by Robert Mapplethorpe) that became the publicity picture most widely used for the Artist Space show, appearing with articles in The New York Times and Art in America, among many others


Ellis died of AIDS in 1992 at the age of 33. The same year, his photographs were included in MoMA'S New Photography series, and again, one of his photos became the most widely used pictures in press about the show, appearing on the cover of Photography in New York and in a review in the New York Times. In 1996, Allen Frame curated a retrospective at Art in General which travelled to Wolfson Galleries at Miami Dade County, Florida, Space One Eleven, Birmingham, Alabama, and The Art Museum of the University of Memphis, Tennessee. After inclusion in a few smaller exhibitions in the early 2000s, Ellis' works have not been exhibited in nearly fifteen years. As a result, Ellis' work has been overlooked in the current dialogue about queer histories in photography, as Ariel Goldberg has pointed out in a recent article in Art in America, even though he was part of an intimate but important scene of East Village photographers in the1980s that included Alvin Baltrop, Peter Hujar, David Wojnarowicz, Robert Mapplethorpe, and other artists who died of AIDS and whose posthumous reputations have become enormous.

Gallery Hours: Wednesday to Friday, 11am to 6pm and by appointment
For more information, please contact:
646.559.5347 / osmos.address@gmail.com

---
| | |
| --- | --- |
| | Wednesday, April 10, 2019 from 6:00pm–8:00pm |
---
Related Artists