Past Event
Voguing Ball, Luna Luis Ortiz Artist Talk, and RADIANT PRESENCE Screening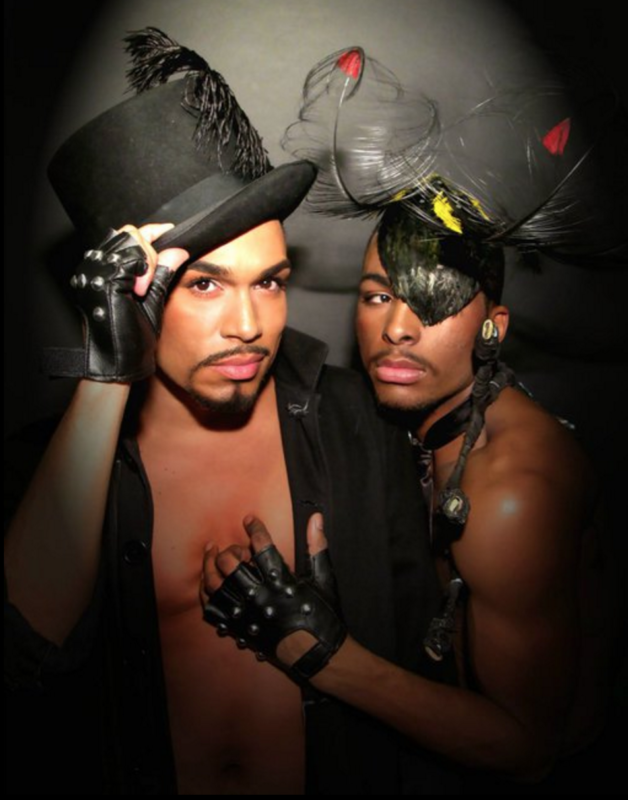 Luna Luis Ortiz. Showstoppers, 2009, Digital.
The Queens Museum's Open AIR Artist Services program in collaboration with Visual AIDS presented a screening of "Radiant Presence", an artist talk by Luna Luis Ortiz, and a Voguing Ball honoring the 26th annual Day With(out) Art in conjunction with Worlds AIDS Day.
Day With(out) Art was launched by Visual AIDS in 1989 as a day of action and mourning in response to the AIDS crisis in recognition of World AIDS Day. This event is free and open to the public.
Schedule of Events
3-5:30 pm Radiant Presence Screening on Loop
For this 2015's Day With(out) Art, Visual AIDS worked with nine influential artists, activists and curators—Bill Arning, Ian Alteveer, Chris Vargas, Rae Lewis-Thornton, Mark S. King, Allen Frame, Maria Mejia, Jack Mackenroth, and Kimberly Drew—to present RADIANT PRESENCE. Radiant Presence is a digital slideshow with images from the Visual AIDS' Artist+ Registry, the largest database of works by artists with HIV/AIDS.
3-4 pm Artist talk with Luna Luis Ortiz
Artist and Activist, Luna Luis Ortiz talked about his work as a photographer and living with HIV since 1986. He discussed the evolution of ballrooms, voguing and the impact of AIDS in the house and ball scene.
4-5:30 pm Voguing Ball
Come ready with some fierce looks for a chance to win one of the prizes! DJ and Commentator TBD. Host: Luna Luis Ortiz Prizes: $100 Open to All Vogue, $100 Open to All Runway
About Day With(out) Art
Visual AIDS launched Day With(out) Art in 1989 as a day of action and mourning in response to the AIDS crisis in recognition of World AIDS Day. At its height Day Without Art included over 8,000 national and international museums, galleries, art centers, AIDS Service Organizations, libraries, colleges and high schools. In 1997, Day With(out) Art became a day with art, to recognize and promote increased programming of cultural events that draw attention to the continuing pandemic. It had become clear that active interventions through the annual program were far more effective than actions to negate or reduce the programs of cultural centers. Though the name was retained as a metaphor for the chilling possibility of a future day without art or artists, Visual AIDS added parentheses to the program title, Day With(out) Art, to highlight the proactive programming of art projects by artists living with HIV/AIDS, and art about AIDS, that were taking place around the world. As the AIDS crisis and our understanding of it evolve, so must our actions. Visual AIDS continues to produce year-round program of thought-provoking exhibitions, events and artist editions promoting HIV prevention and AIDS Awareness.
About Luna Luis Ortiz
Luna Luis Ortiz was born in New York City in 1972. In 1986, he was infected with HIV at the age of 14 from his first sexual experience. In 1988, he began his journey as an HIV awareness spokesperson for youth living with HIV under the leadership of Ann Northrop and Andy Humm at the Hetrick- Martin Institute. Over the years Luna has dedicated his life to HIV prevention for youth in New York. New York City Mayors Edward Koch and David Dinkins notice his early work as a youth activist and artist, which rewarded Ortiz to receive letters of appreciation from both Mayors. He then studied photography at the School of Visual Arts and has worked with photographers, David LaChapelle, Lisa Ross, Shedrich Williames and Nan Goldin. He became a member of the Archive Project at Visual AIDS in 1995; where the work of artist living with AIDS is preserved and celebrated. His photography has been included in photography exhibitions at New York galleries as well as the Boston Center of the Arts and the New Museum of Contemporary Art in NY. He was a featured artist living with HIV on MTV and VH1, TeleMundo, ABC, NY1, MSNBC, LOGO and PBS documentaries. His work graced such publications as The New York Times, The London Observer, The Advocate, POZ, The NY Daily News, OUT, VIBE, Gay Times (London), Teen People, BLUE and A&U.
About Open A.I.R. Artist Services Program
The expanded Queens Museum features a new, expanded slate of artist services, including a brand new Studio Program, with professional development features and a networking Lecture Series that draws on human resources at the Queens Museum. Open A.I.R. programs will offer professional development topics targeted specifically to all interested emerging artists.
---
| | |
| --- | --- |
| | Tuesday, December 1, 2015 |
| | Sunday, December 1, 1996 |
---
Related Artists