Past Event
Ecstatic Skin
BROADCAST Screening Series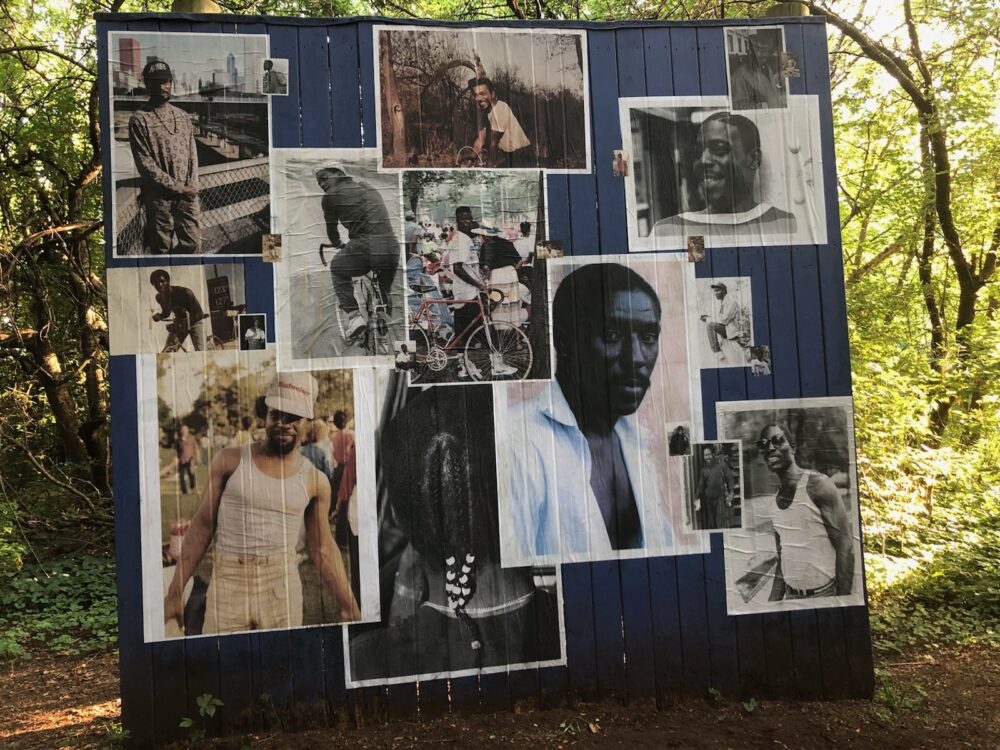 Derrick Woods-Morrow, still from 'much handled things are always soft', 2019. Commissioned by Visual AIDS for STILL BEGINNING
Visual AIDS presents Ecstatic Skin as part of BROADCAST, a free summer screening series featuring contemporary artists' responses to the ongoing AIDS crisis through the medium of video.
Ecstatic Skin

Curated by Chayanne Marcano
Wednesday, July 6, 7pm at Weeksville Heritage Center
Featuring work by Derrick Woods-Morrow, Devin N. Morris, Katherine Cheairs, and Kiyan Williams.
Followed by a conversation with curator Chayanne Marcano and Katherine Cheairs.
Entities of the natural world surface as ally, collaborator, and witness in a series of shorts exploring care acts on family land, desire in public parks, and HIV & AIDS activism on land occupied by a women's prison.
Ecstatic Skin considers the connection between land stewardship and bodily autonomy, how caring for the land is synonymous with the care we apply to our own bodies, and the ramifications when this relationship becomes disrupted. For Black people in particular, the relationship between body and land is still under repair and not separate from the ways in which Black people continue to be impacted by HIV/AIDS.

This program is presented in partnership with Weeksville Heritage Center, a historic site and cultural center in Central Brooklyn that preserves, documents, and engages with the history of Weeksville, one of the largest free Black communities in pre-Civil War America. Ecstatic Skin is an invitation to consider relationships between the earth, bodies, and health in a setting where the weight of history and land is palpable.

Born and raised in The Bronx, New York, Chayanne Marcano is an artist, writer, and the Associate Producer at Abrons Arts Center.

BROADCAST features six unique screenings from June 8–July 9 at venues across New York City. Full details are available at visualaids.org/broadcast.


Screening Program
Runtime: Approx. 37 minutes

Derrick Woods-Morrow, Much handled things are always soft, 2019

Much handled things are always soft unearths the unwritten and undocumented histories of public sex culture in the south-side of Chicago. Through conversation with longterm survivor Patric McCoy, the film traces the height of activity in the 1970s, the downfall of cruising culture in the 1980s, and the prevailing summer heat, which continues to linger. Together, McCoy and Woods-Morrow reflect on their relationship to cruising, to photography, and to each other; attempting to bridge the gap between what was, and what still remains to be explored. (9 min)
Devin N. Morris, Bushes Low, 2019

Bushes Low sees artist Devin N. Morris perform an act of care. As Morris mows the lawn, notions of discipline, duty, and domestic care are engaged while the artist interacts with memories of his grandfather. (11 min, excerpt)

Kiyan Williams, Notes on Digging, 2020

Kiyan Williams shares the process of researching and installing a new set of sculptures called Reaching Towards Warmer Suns (2020). Resembling arms with outstretched hands, the sculptures are made of earth from—and rise up out of the banks of—the James River in Virginia.As a form of care, Williams finds refuge in touching, digging, and creating with soil. The video was commissioned by The Shed for its Up Close series, digital works presented virtually during the onset of the COVID-19 pandemic and quarantine. (9 min)

Katherine Cheairs, Voices at the Gate, 2021

Voices at the Gate juxtaposes the bucolic landscapes inhabited by women's prisons with archival and contemporary audio recordings of poems, essays, and interviews produced by women of color in the early 1990s at the intersection of incarceration and HIV & AIDS activism. (8 min)
Weeksville Heritage Center COVID Protocols:
As an organization founded with Black liberation in mind, we aim to support all Black people––always, and especially through the on-going COVID-19 pandemic. This includes disabled, immunocompromised, and otherwise vulnerable community members who are artists, local residents, visitors, and staff members.
As such, we require face coverings that cover nose, mouth, and chin indoors at all public programs. We highly encourage the use of high-quality masks such as KN95s and KF94s at all times, and ask that all who come on-site remain mindful of maintaining a safe physical distance when sharing space indoors and outdoors.
---