Past Event
Gallery Conversation | Darrel Ellis: Regeneration
The Bronx Museum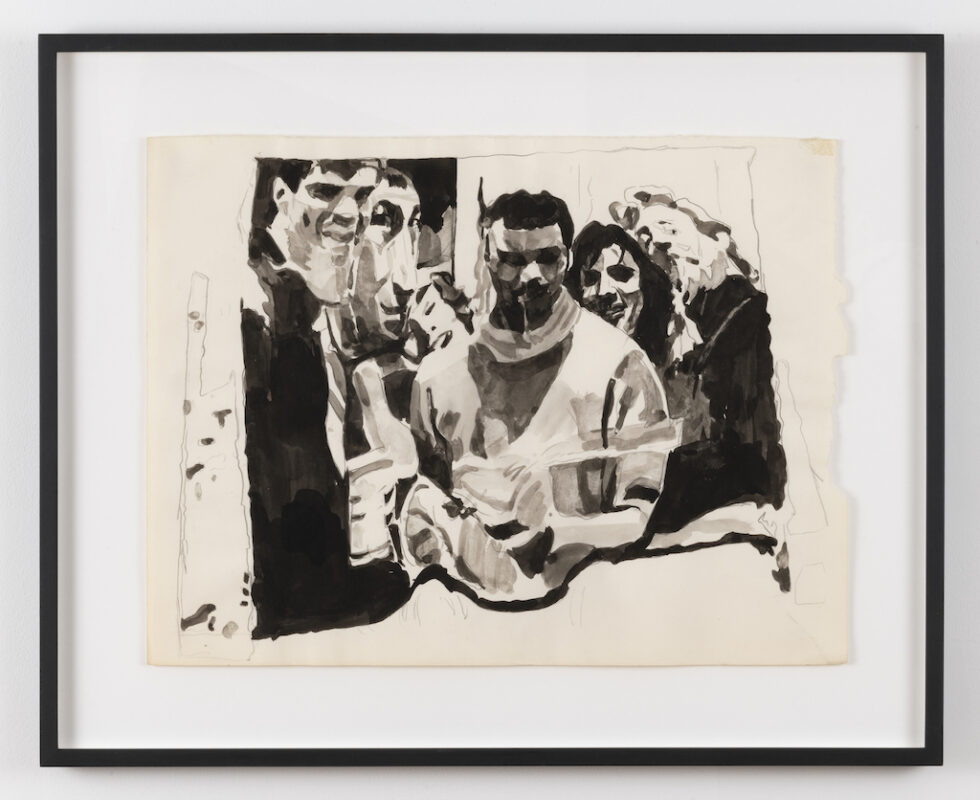 Darrel Ellis, Untitled (Friends), 1990. Graphite, ink, and ink wash on paper. Framed 24 3/4 x 30 3/4 in. Courtesy of Candice Madey, New York, Hannah Hoffman, Los Angeles, and the Darrel Ellis Estate.
Join The Bronx Museum and Visual AIDS for a gallery conversation around Darrel Ellis: Regeneration. Artists Susan Spencer Crowe, Joe Lewis, Liora Mondlak, and James Wentzy will reflect on their friendships and collaborations with Ellis, the alternative art spaces that supported his practice, and the resonance of his work today. The conversation will be facilitated by Kyle Croft, Visual AIDS Interim Director and Bronx Museum Curatorial Fellow.
Please RSVP for this free event.
This program is presented in partnership with The Bronx Museum on the occasion of Darrel Ellis: Regeneration, the first comprehensive, scholarly survey of this pioneering artist, whose highly original merging of painting, printmaking, and photography anticipated current artistic interest in archive, appropriation, and personal narrative.
As moving as it is complex, the multifaceted work of Darrel Ellis (1958–1992) restages a lost vision of Black selfhood and domesticity. His oeuvre has presented a formidable challenge to curators and scholars over the last thirty years for its unfinished tenor, a perception heightened by his untimely death due to AIDS-related causes at age 33. Although Ellis' work was included in important contemporary surveys during his lifetime, including the 1989 exhibition Witnesses: Against Their Vanishing, organized by Nan Goldin, only now is it beginning to garner the attention it deserves.
Visual AIDS' 2021 monograph Darrel Ellis is available for purchase at visualaids.org/store.
Speaker Biographies
Susan Spencer Crowe is an artist, who has enjoyed a long career as an arts administrator in New York City (1985-2004) and later an assistant professor in the Studio Art Program at Queens College 2004-2020). In the mid-1980s, she was the Executive Director of the Lower East Side when it was located at 59-61 East 4th Street when the East Village art scene was happening. Crowe met Darrel Ellis at Fashion Moda in the South Bronx in late 1983 during his solo show, Drawings from My Father's Photographs. Throughout her career, she actively exhibited her work in alternative spaces and galleries in New York City and upstate. She is the recipient of two NYFA fellowship awards in sculpture (1987 and 2001) and the Kuniyoshi Fund Award in 2018. Crowe received her BFA with honors from Pratt Institute in 1974 and her MFA in Visual Arts from Vermont College of Norwich University in 1996.
Joe Lewis is non-media-specific artist, writer, and Professor of Art at the University of California, Irvine. He is also President of the Noah Purifoy Foundation, a Co-Founding Director of Fashion Moda, and former publisher of Appearance Press. Lewis exhibits frequently, most recently in group exhibitions at the Museum of Contemporary Art, Oaxaca, Mexico; Museum of Modern Art, and a solo show at the James Fuentes Gallery, New York. His work is in notable collections, including The Los Angeles County Museum CA; Studio Museum in Harlem; Deutsche Bank, and Museum of Modern Art, NY.
Liora Mondlak is a poet and visual artist. She grew up in Mexico, London, and New York. She's taught art and poetry to children and adults in NYC, where she's lived most of her life. In the 1980s she exhibited the work of Darrel Ellis at Casa du Monde, an exhibition space on the Upper West Side.
James Wentzy arrived in New York City in 1976 and met and befriended Darrel Ellis shortly afterwards. The two shared an artist studio together at PS1 from 1979 until early '82. After leaving PS1, Wentzy began homesteading in a SoHo basement for 31 years, while working part-time printing for a commercial photographer-of-art and hiking long distance backpacking trails. In the 1990s he became a prolific producer of video work, documenting over 700 hours of actions and demonstrations, conferences, and community responses to AIDS. He produced over 160 documentary programs for the weekly series AIDS Community Television and his own feature-length documentary Fight Back, Fight AIDS, which has screened at numerous local, national, and international festivals and venues.

Kyle Croft is the Interim Director of Visual AIDS. He co-edited Visual AIDS' recent monograph on Darrel Ellis and is the curatorial fellow for the Bronx Museum's presentation of Darrel Ellis: Regeneration. He holds an MA in art history from Hunter College and has published writing in Art in America, Bookforum, Sleek Magazine, and Hyperallergic.
---
| | |
| --- | --- |
| | From Wednesday, May 24 at 1:00pm–Sunday, September 10 at 6:00pm |
---
Related Projects
---
Related Artists