Past Event
Last Address Tribute Walk
IFC CENTER FOR DIRTY LOOKS: ON LOCATION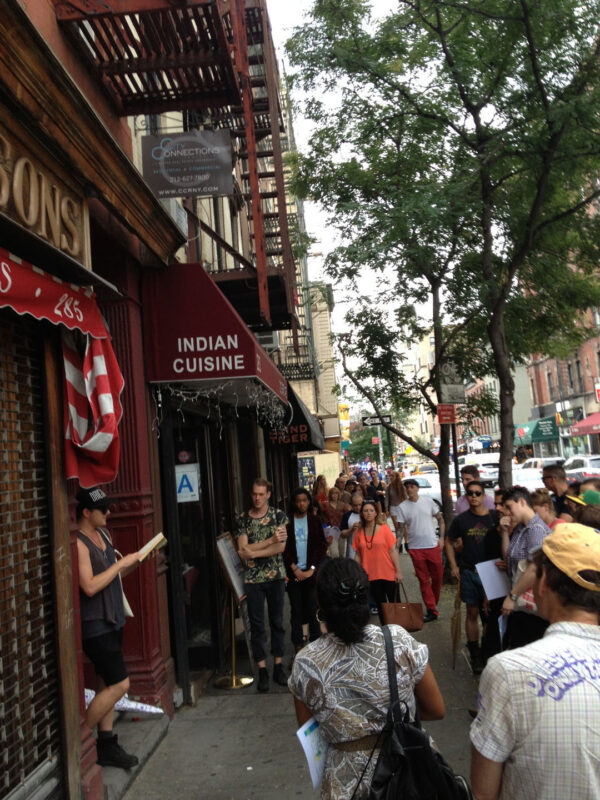 Bradford Nordeen reading a salacious scene from Ask Dr. Mueller at 285 Bleecker St
Ira Sachs' Last Address is a subtle, poetic meditation on the loss that the AIDS epidemic ravaged on the queer arts community in New York City. The film consists of a stream of scenic street views of the last residential addresses where twenty-eight celebrated gay artists and filmmakers lived in New York City before they passed away as a result of AIDS-related complications. Birds chirp, bikers pass, and taxis honk in Sachs' exterior shots in front of the former haunts of LGBT creatives; despite the filming of this elegiac tribute, NYC life seems to proceed as usual, a contrast that speaks to the sense of loss on which Last Address meditates. In Last Address, Sachs intimately links the inextricable social and sexual histories of New York City's creative scenes through a site-specific awareness of the deeply historical and queer nature of our everyday environment.
After the screening, a Last Address tribute walk visited the last addresses of six of these artists: Cooke Mueller (285 Bleecker Street), Keith Haring (542 La Guardia Place), David Wojnarowicz and Peter Hujar (189 2nd Avenue), Robert Mapplethorpe (35 W 23rd Street), and Felix Gonzalez-Torres (London Terrace, 405-465 W. 23rd Street). Readings from the journals and personal writings of the artists paid tribute at each stop along the way.
On the Visual AIDS blog, Alex Fialho reflects on the tour, which has since developed into an annual Visual AIDS program.
Ira Sachs is a writer, director, professor, and community organizer based in New York City. The Museum of the Moving Image, QNS hosted Sachs' first major film retrospective in New York in 2012. His most recent film Keep the Lights On (2012) won the Teddy Award for LGBT films at the 2012 Berlinale and Outstanding U.S. Dramatic Feature Film at Outfest 2012 in Los Angeles. Sachs is an Adjunct Professor in the Graduate Film Department at the Tisch School of the Arts at NYU. He is also the founder and co-curator of Queer/Art/ Film, and organizes the Queer/Art/Mentorship program and monthly Queer/Art/Brooklyn gatherings.
---