Upcoming Event
Last Address Tribute Walk: Harlem
Presented by Visual AIDS and the Studio Museum in Harlem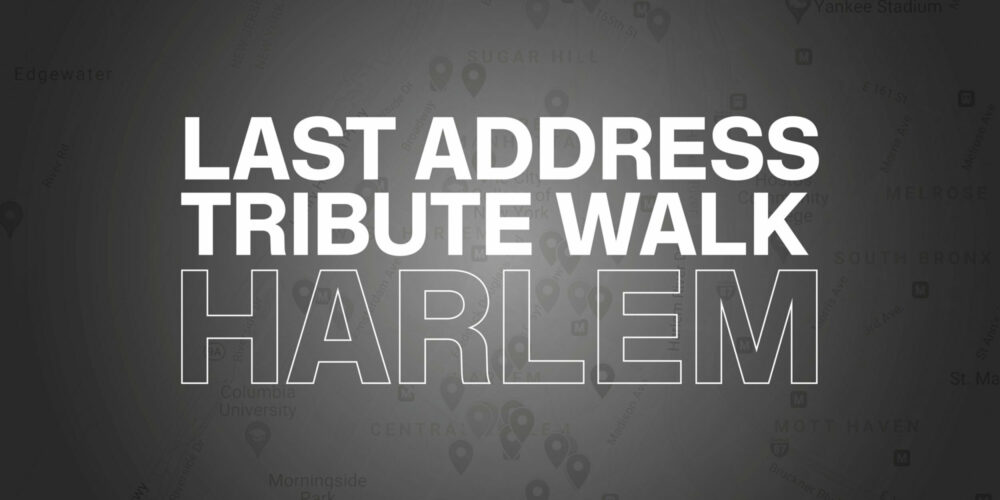 Visual AIDS and The Studio Museum in Harlem are thrilled to present Last Address Tribute Walk: Harlem. Initially proposed by poet, artist, and activist Pamela Sneed, the project honors sites, people, and histories of Harlem critical to understanding the artistic and creative aspects of the AIDS epidemic.
The event will begin at Maysles Documentary Center with a short screening of Ira Sachs's film Last Address (2010) and opening remarks by Pamela Sneed. Doors open at 2:30 pm and the screening will begin promptly at 3 pm. The tribute walk will depart from Maysles at 3:30 pm.
Please RSVP for this free event here.
Starting location: Maysles Documentary Center | 343 Lenox Avenue and Malcolm X Boulevard, New York, NY 10027
Access Note: The walk will be approximately 1.3 miles in length. ASL interpretation will provided by ProBono ASL. The event will be livestreamed on Instagram via @studiomuseum, and a video documentation of the speakers will be available after the event.

★ Tracey Africa and David Ultima at the former address of Elks Lodge (160 West 129th Street)
Elks Lodge was an important site in Harlem's ballroom scene during the 1980s. Featured in Paris is Burning, it served as an underground creative performance venue and fostered a community that provided care and support to those living with HIV/AIDS. Pioneering Legendary Ballroom Icons Tracey Africa and David Ultima both walked balls at Elks Lodge in the 1980s.
★ Michael Henry Adams at the former address of Lenox Lounge (288 Malcolm X Boulevard)
Lenox Lounge was an iconic Harlem bar that hosted a popular LGBTQ party in the early 2000s. Michael Henry Adams is a Harlem-based historian, preservationist, and writer.
★ Robert Penn at the last address of B.Michael Hunter (123 West 117th Street)
B.Michael Hunter was a member of the Black gay writers collective Other Countries, an educator, and community advocate for Black queer people. He passed away in 2001 in this home, with loved ones by his side. Robert Penn was a friend of B.Michael Hunter and a fellow member of Other Countries.
★ Suki Terada Ports at the former address of Minority Task Force on AIDS (92 St. Nicholas Avenue)
Minority Task Force on AIDS provided support services to people of color living with HIV/AIDS, as well as to their families, friends, and caregivers. Over time, the organization shifted its focus and continues to provide services in Harlem as FACES NY. Suki Terada Ports was the first executive director of Minority Task Force on AIDS.
Learn more about Harlem AIDS histories
In the summer of 2021, in preparation for the Harlem Walk, Visual AIDS and the Studio Museum gathered archival materials and abundant community knowledge in collaboration with AIDS activists and artists documenting Black queer histories, resulting in the Last Address Tribute Walk: Harlem resource page.

Although the information here points to a specific time in Harlem's past, it also captures a living history. In Harlem, balls still happen, AIDS housing and services are still offered, and many early AIDS organizations, such as Harlem United and Gay Men of African Descent, have since grown and expanded.
About the Last Address Tribute Walk
Visual AIDS' annual Last Address Tribute Walk revisits the former home addresses of artists lost to AIDS, as well as locations shaped by HIV and AIDS activism and queer cultural history in New York City. Inspired by Ira Sachs's film Last Address (2010) and conceived and led by curator and art historian Alex Fialho, past iterations of the Last Address Tribute Walk featured doorstep readings in the neighborhoods of the East Village (2014), Chelsea (2015), the Lower East Side (2016), the West Village (2017), the Meatpacking District (2018), and Times Square (2019). This is the eighth Last Address Tribute Walk and the first of its kind in Harlem.
The Studio Museum in Harlem gratefully acknowledges the support of inHarlem donors including the Stavros Niarchos Foundation, Institute of Museum and Library Services, and JPMorgan Chase & Co.; additional support is generously provided by The New York City Department of Cultural Affairs, New York State Council on the Arts with the support of the New York State Legislature, and the New York City Council; the Museum recognizes the generosity and knowledge of community members in realizing this project.
Visual AIDS' public programming is supported by the Lambent Foundation Fund of the Tides Foundation, The Shelley & Donald Rubin Foundation, Alphawood Foundation, Marta Heflin Foundation, NYC Department of Cultural Affairs, and other foundations, corporations, and government entities.
---